Written by Daily Bulletin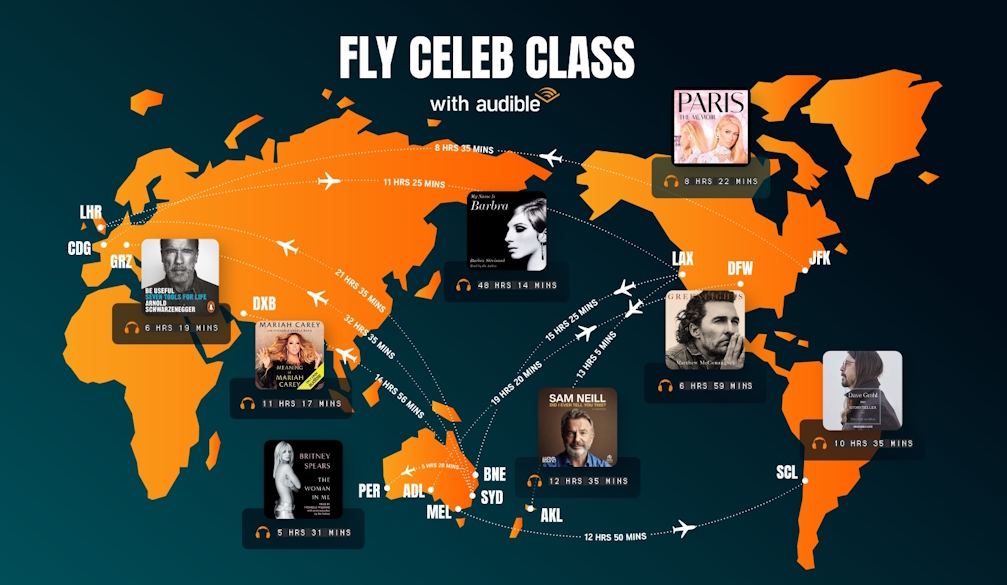 Despite a cost-of-living crisis, two-thirds of Aussies (65%)* are planning to travel via plane this summer, with the majority (63%) loathing the length of the journey and a whopping majority (79%) declaring their dislike for the usual inflight entertainment. Half of us (50%) are so bored by the inflight entertainment that we can't wait to switch it off.  

It's no surprise then, the entertainment Aussies crave most when they're flying is to lose themselves in a good story (61%). Celebrity memoirs top the list, with a third (31%) saying they'd choose a celeb-narrated audiobook over scoring the window seat.  

The research also found that:

Most are worried about the length of the flight (63%), running out of things to do (30%).

Aussies don't enjoy using inflight entertainment because it's boring or dull and needs an upgrade (24%), the connection is interrupted by annoying air host updates (20%) and the content is a snooze fest (18%).

Most Aussies (52%) noted they watch the inflight entertainment as it beats having nothing to do. Over a third (37%) of Aussies are unable to afford a seat upgrade due to the cost-of-living crisis
To make flying more entertaining, Audible presents Fly Celeb Class – an upgrade to inflight entertainment without the pricey seat upgrade.  

Audible's Fly Celeb Class connects travellers to the perfect celebrity memoir to make their journey fly by. A bespoke map recommends 7 celebrity memoir audiobooks available for purchase on Audible to accompany popular flight routes around the world. Each route is based on audiobook lengths, flight durations, and locations referenced in the memoirs. For example: 

Aussies say Matthew McConaughey or Sam Neill are the celebs they'd love to listen to most, and Audible offers memoirs from both of these stars, along with celebs like Mariah Carey, Patrick Stewart and Arnold Schwarzenegger ready to go when you Fly Celeb Class with Audible. 

"Our research shows travellers love listening to audiobooks, especially if they're narrated by the author. Many say it feels like they are sitting right next to them (47%) so Audible can be the perfect companion. Demand is only set to rise with four-in-five (78%) travellers more likely to listen to an audiobook during a flight than at any other time." Ben Rolleston, Audible Australia Country Manager said.  

Comedian Josh Hawkins (Hi Josh) gave Aussies a sneak peek (or listen) of what Audible's Fly Celeb Class could feel like high in the clouds – giving his take on some of the best scenes and scenarios from Audible's top celeb memoirs in his famous style.  

"We all know inflight entertainment gets repetitive and boring, so why not let Matthew McConaughey whisper in your ear from Sydney to Dallas with Greenlights? Fly Celeb Class is the ultimate upgrade for less. It even makes sitting in the dreaded middle seat bearable. It's the perfect inflight entertainment hack, particularly when you consider most Aussies (94%) have never experienced a seat upgrade," Hi Josh said. 

"Anyone can Fly Celeb Class. Simply purchase and download an Audible celebrity memoir pre-flight matched to your flight time, press play and be entertained by your favourite A-lister." 

To Fly Celeb Class, visit audible.com.au/celebclass to discover the perfect celebrity memoir listen for your next flight.