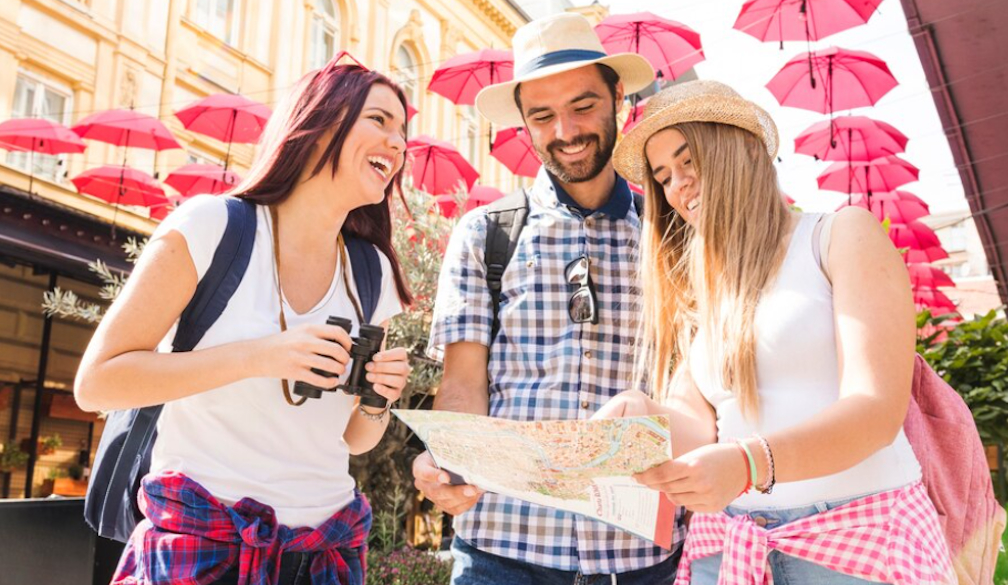 Dear Travel Enthusiasts, have you ever wondered why Melbourne, with its bustling streets and vibrant culture, is a hive of activity for both planes and people? 
From the iconic Sydney to Melbourne flight route, this city is not only famous for its unique attractions but also serves as a significant hub for business, arts, and gastronomy. Join us as we unveil the wonders of Melbourne and why this city should top your domestic travel list!
Tourist Attractions in Melbourne
As one of the most famous cities in Australia, what exactly can you see and find in Melbourne? These are some of the popular attractions to visit while in this city.
1. The Royal Botanic Gardens
The Royal Botanic Gardens in Melbourne are an urban sanctuary of plant life and tranquility, offering a lush landscape that stretches over 38 hectares. Visitors can explore a global selection of flora, enjoy themed gardens like the beautiful Aboriginal Heritage Walk, and participate in various educational activities. It's a perfect spot for a peaceful retreat amidst the city's hustle, attracting both nature enthusiasts and those seeking a serene stroll.
2. Melbourne Cricket Ground (MCG)
Melbourne Cricket Ground (MCG) is not only an iconic sports venue but also a cultural institution in Australia. It's a must-visit for sports fans, offering the chance to witness exciting cricket and Australian football matches, as well as hosting a museum showcasing the rich sports history of the nation. When there's no game, you can take a tour to experience the MCG's impressive facilities and learn about its significant sporting legacy.
3. Federation Square
Federation Square is a pulsating hub of culture and public events in the heart of Melbourne. It seamlessly blends art, restaurants, and an innovative calendar of events to provide an ever-changing and dynamic public space. Whether it's to visit the world-class art installations, enjoy a meal with a view, or just immerse in the vibrant atmosphere, Federation Square is an essential experience for any visitor to Melbourne.
Recommended Airlines for Flight Routes to Melbourne
For those looking to embark on the Sydney to Melbourne flight, several airlines cater to both domestic and international passengers:
1. Qantas Airways
Qantas Airways is Australia's largest airline and offers extensive flight options to Melbourne, It is known for its premium service, reliability, and comfortable flying experience. With a vast network connecting various domestic and international locations to Melbourne, Qantas ensures a seamless travel experience for business and leisure travelers.
2. Virgin Australia
Virgin Australia provides competitive service and value, focusing on customer satisfaction. Offering a combination of friendly service, quality in-flight amenities, and an extensive flight schedule, Virgin Australia is a favored choice for many travelers flying to Melbourne, striking a balance between comfort and affordability.
3. Jetstar
Jetstar is the go-to budget airline for those looking to fly to Melbourne without a hefty price tag. Despite being a low-cost carrier, Jetstar doesn't compromise on safety or convenience, offering an economical way to explore Melbourne while enjoying a pleasant travel experience.
Tips for Flying to Melbourne
To make your journey to Melbourne from Sydney easier, below are some tips for flying to Melbourne from Sydney you need to know:
1. Compare Airline Prices
Before booking your flight from Sydney to Melbourne, it's wise to compare prices across different airlines. Utilize online travel aggregators and the airlines' websites to find the best deals. Price variations can occur based on the time of booking, day of the week, and season, so use these tools to ensure you're getting the most value for your money. Keep an eye out for special promotions or discounts that airlines might offer, especially during off-peak travel periods.
2. Plan Your Activities
Melbourne is brimming with events, cafes, galleries, and landmarks. To make the most of your trip, plan your activities ahead of time. This can include booking tours, making restaurant reservations, or even checking the local event calendars to catch festivals or shows that coincide with your visit.
3. Book Tickets Early
Securing your flight tickets early can lead to better prices and more choices in seating and timing. Additionally, early booking often provides the flexibility to change or cancel flights if your plans evolve, which can be more restrictive or expensive closer to the date. 
Melbourne is a treasure trove of culture, sports, and nature, seamlessly accessible via the Sydney to Melbourne flight path. Embark on your next adventure by booking your ticket through Traveloka, where convenience meets travel. The vibrant cityscape of Melbourne is just a flight away!