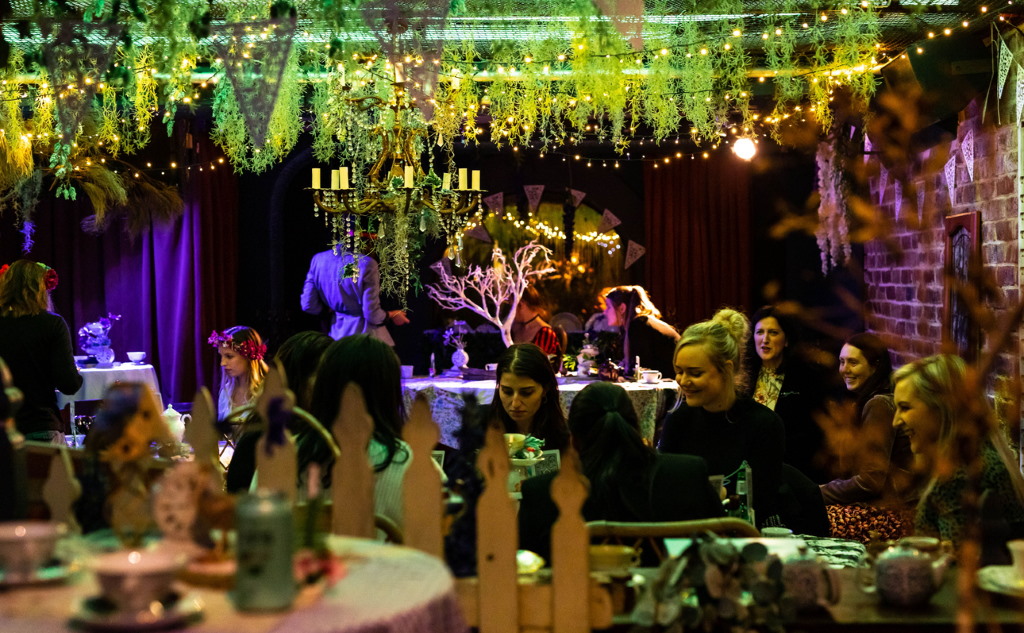 Sydney's famous paint and sip studio, Cork and Canvas, is back with another epic Champainting® experience: The Queen of HeARTS at Wonderland Bar. 
Combining their creativity, Cork and Canvas meets Wonderland in this exclusive pop-up immersive experience combining art, cocktails and riddles! 
Across two and a half hours guests will be asked to solve clues to find ingredients for their teapot cocktails, whilst deciphering clues to the whereabouts of their painting materials.
The Mad Hatter will take guests down the rabbit hole and into the land of the topsy turvy, where they will embark on a very mad adventure. The Queen Of Hearts has requested her portrait be painted by all inhabitants of Wonderland, so whilst making cocktails, Hatters must paint the Red Queen to the best of their abilities or it's off with their heads!
Sydneysiders may dare to take on the Queen Of Hearts Picasso portrait on the 14th of February, or they can mate their mate Picasso style in March on the 13th and 14th. The 15th of March will also see Cork and Canvas turn 8! What better way to celebrate the milestone than with a new immersive painting experience. 
Complete with bottomless bubbles, beer and wine as well as nibbles, this will be the maddest trip down the rabbit hole. 
Package Includes:
30 minutes immersive riddling solving to create a steaming teapot cocktail

2 hours bottomless drinks (house wines, house beer and bubbles) with nibbles

2 hours paint and sip session
Tickets are $120 per person and are available to book via the Cork and Canvas website.


ABOUT CORK AND CANVAS: Melinda single-handedly created a whole new category in the Australian entertainment market, specifically, painting and sipping. Prior to migrating to Australia, Melinda noticed the paint and sip concept hadn't yet hit the Australian shores and thus the concept of Cork and Canvas was born.
Since opening her first small, suburban studio in Moonee Ponds, Victoria, the business has exploded into two studios in the heart of South Melbourne and two Sydney studios located in the heart of Darlinghurst on Oxford Street and in the heart of Crows Nest.
ABOUT WONDERLAND BAR: Australia's first immersive bar has taken over the former World Bar site and turned it into an mesmerising cocktail space. Across a main bar and three themed spaces customers can solve riddles, partake in challenges to receive ingredients to make cocktails in fun and different actor-led shows. Wonderland Bar features the signature Alice & Wonderland experience, Tinsel Town - a dedicated Christmas themed bar, and The Wizard's Den. Created by Viral Ventures, the group that brought Sydney 'Byond Cinema' and 'Bumper Cars on Ice'. Visit www.thewonderlandbar.com for more details.