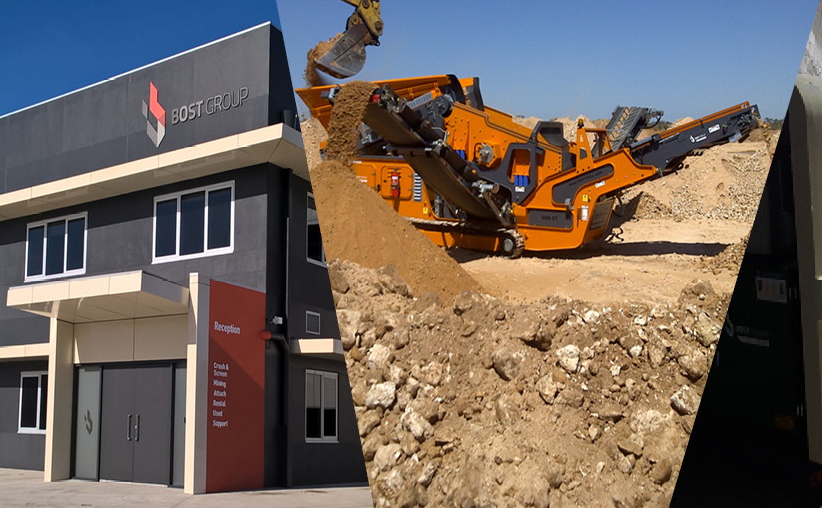 A primary piece of equipment in the mining industry, a Jaw Crusher is a standard for any worksite. It is a compression type crusher and is popular for its ability to be used in many applications, breaking down a range of materials and sizes. A good example would be Bost Group's Gasparin GI 129C, whichclients use for projects across Australia and internationally.
How a Jaw Crusher Works
A Jaw Crusher uses compressive force to break down materials. It uses two jaw dies. One jaw is stationary and v-shaped while the other moves to crush the material between them. As the material in the Jaw Crusher is broken down into smaller parts, the discharge is then forced through a gap at the bottom of the crusher. The remaining material is only discharged once it is small enough to exit the crusher.
Types of Crushers:
Crushers are classified into three types, based on the stage of crushing that they each accomplish. These three stages are Primary Crusher, Secondary Crusher and Tertiary Crusher. The Primary Crusher receives material directly from the run-of-mine (ROM), and after breaking it down into smaller material, it is sent to the secondary crusher. The Secondary Crusher breaks it down into even smaller material before sending it to the Tertiary Crusher, and so on.
What a Jaw Crusher Is Used For
Jaw Crushers are Primary Crushers and are generally used for large-sized materials, reducing them into smaller rocks, rock dust or gravel. They are commonly used for mining materials such as ore. They are a popular alternative to Gyratory Crushers because Jaw Crushers can handle large amounts of materials quickly. They are also chosen for their smaller size and mobility, being able to be easily transported and placed in tight spaces such as underground sites.
Bost Group's Range of State-of-the-Art Mobile Jaw Crushers
Bost Group provides the Mining Industry's most innovative and cost-effective Mobile Jaw Crushers. Our versatile range of crushers are chosen to meet a range of clients' needs and budgets, from smaller-scale projects to larger projects. Our Jaw Crushers have many benefits including low fuel consumption, optimum productivity and mobility. We are proudly partnered with some of the world's most effective manufacturers of Crushers, including Gasparin, Portafill and Keestrack.
Some of Bost Group's Mobile Jaw Crushers include:
Gasparin GI 129C

Gasparin GI 118C

Gasparin GI 106C

Portafill MJ-9

Keestrack B7

Keestrack B5

Keestrack B4

Keestrack B3
Choose the Right Mobile Jaw Crusher for Your Project with Our Free Consultation, Training & Support
Bost Group is passionate about providing clients in the mining industry with not only the most state-of-the-art Jaw Crusher equipment but with end-to-end support. This includes set-up, training and free consultation. Through our support services, clients are guaranteed to get the perfect Jaw Crusher for their project. They also guide them to use their Jaw Crushers for maximum productivity, reduced downtime and lower risk. Contact one of our professional consultation team today, and we'll happy to help you to optimize your mining worksite.
Contact Bost Group Today
Bost Group is uncompromising in our pursuit of excellence. When you choose us for your next Jaw Crusher, you get the guarantee of exceptional workmanship, reliable technology and a customer-centric service which prioritizes a culture of client support.
Contact Bost Group today at 1800 093 317or get in touch with us online