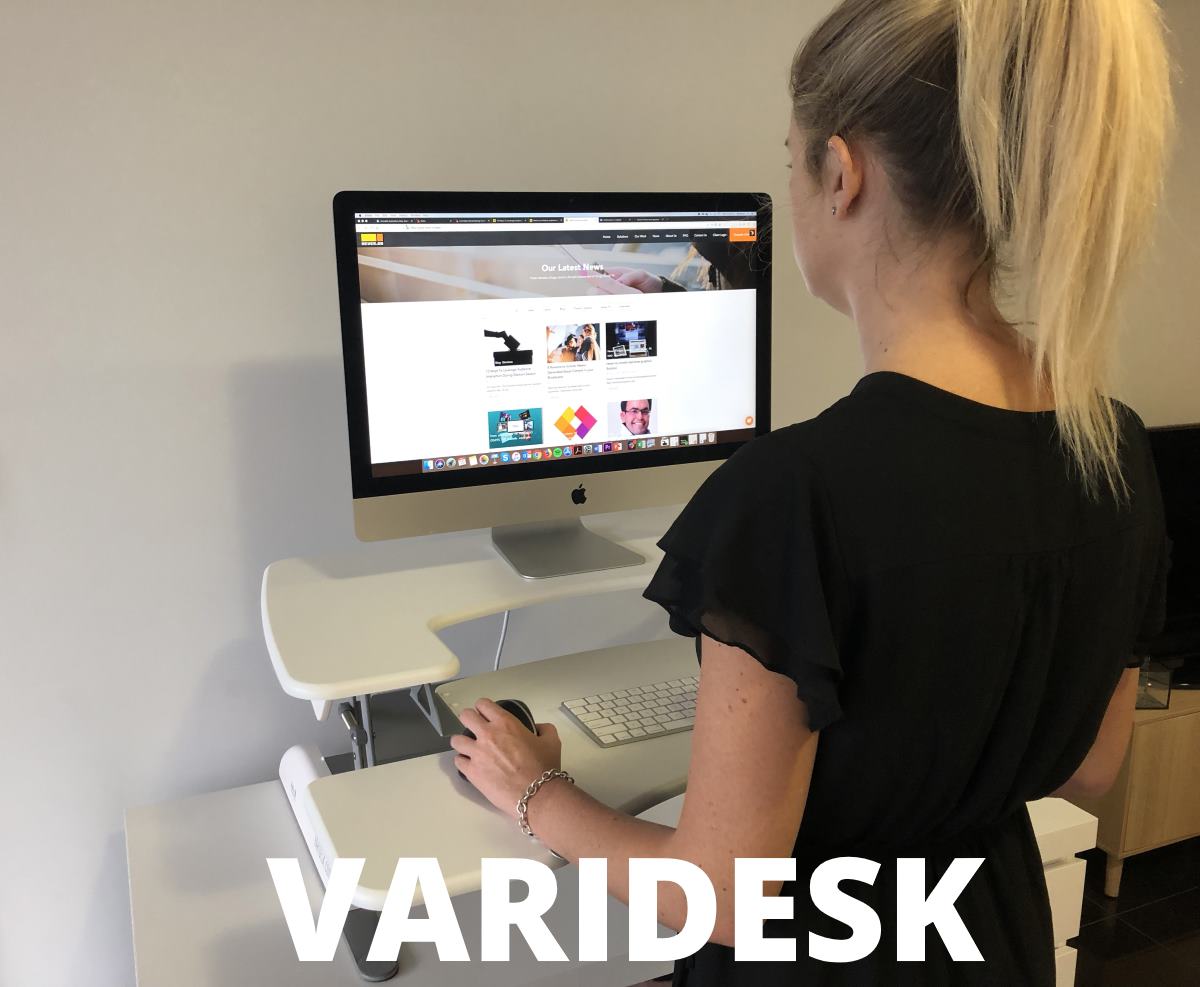 Benefits of Height-Adjustable Desks and Flexible Workspaces
We all know that sitting down for eight hours a day isn't great for our health. We're encouraged to take regular breaks, to walk around a bit when possible and to maintain correct posture but traditional office workspaces aren't always conducive to being able to stretch your legs and to take a break when fatigue strikes.
Varidesk height adjustable desk top workspaces overcome an older style work environment's space restrictions by offering a portable solution that makes it easy to go from a sitting position to standing in seconds without interrupting work flow.
I've worked in offices since the age of 20, surrounded by people who are all seated for huge portions of the day. Sure, we would get up for the occasional coffee/biscuit/chat/stationary run but aside from that, it's nearly ten hours a day just sitting in front of a computer, typing or on the phone with little thought for movement, posture or health.
Recently we've seen the rise ( pun intended ) of stand up work stations in our workplaces and our homes. Health blogs praise the benefits of these promoting longer term comfort, increased productivity and even, that they may make you live longer.
When setting up this VARIDESK in my home office (which was as easy as taking the product out of the box and popping it onto my workstation) I was impressed. It can take a lot of weight - in my case a 27" iMac - without issue. It would easily accommodate dual screens in both space and weight. In the seated position, it elevates the screen nicely to eye level, which means I'm not craning my neck or straining my eyes down to look at the bottom icons anymore.
The desk raises easily with two levers that are hidden under the top portion of the desk and you can set it to any height within range - there are no restrictive settings. This flexibility encourages movement and I enjoy being able to stand and stretch my back. It's certainly not for all day, but it's great to have the options to mix up postures during the work day when I need to stretch my legs, or focus in on an important task.
I've also found it more useful for showing others what's happening on the screen. Rather than have them bend over or squat down to see what I'm working on. I can just pop the desk to standing height and we can have a more constructive meeting at our desks without going away to a meeting room.
We're seeing some of the largest companies in the world continuously adapting to their employees' wellbeing whether it's flexible work hours, the ability to work from home, bringing dogs to the office or offering truly ergonomic workspaces.
More and more offices globally, are getting behind this 'new normal' and the results that they are seeing are a generally more productive, healthier workforce with a lower rate of absenteeism - a huge benefit to all businesses be it a sole trader or an ASX top 100.
While the long term effects will be found in due time, for now I'm happy to be typing on my feet nice and comfortably thanks to my
VARIDESK
.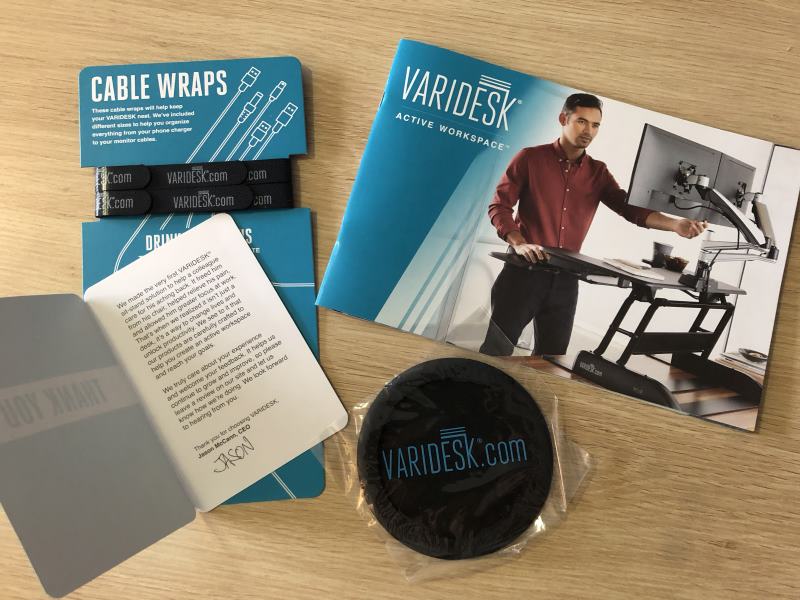 About Varidesk

Varidesk offers different model offers that suit everyone's working style, habits and shape. Standing desks help burn up to 50 calories per hour, when used for 4 hours per working day, that's 1,000 calories per week, or 48,000-52,000, which is the same calories burnt as running over 18 marathons!

Varidesk offer a range of desks to suit everyone. Varidesk's sit-to-stand desks allow you to go from sitting to standing throughout the day, quickly and easily. Using a standing desk can help you benefit from lower cholesterol, blood pressure and blood sugar, whilst helping reduce and prevent pains from sitting all day. The desk lifts in under 3 seconds and is easy to do. It has an app which reminds you to stand through the day and can be custom set.


Weight Loss
Most people don't realise that sitting at a desk all day can negatively affect your weight. On average offices workers put on over 8lbs in their first year of work, and also sit for around 16+ hours a day including commuting and watching television at home.
Standing desks  help to burn calories. Sitting for the full day can significantly slow your metabolic rate and can negate any workouts you do get in that day. Getting your blood flowing and increasing your metabolism is only a good thing.


Reduced Back Pain
Back pain often occurs from prolonged inactivity and sitting. One study has found that switching between sitting and standing throughout the workday can lead to a 54% reduction in neck and back pain. Also, 95% of standing desk users felt some relief from lower back pain within 15 days.


Brain Health
Using a standing desk can increase productivity by 46%, a study by Texas A&M shows that continued utilisation of the stand-biased desks was associated with significant improvements in executive function and working memory capabilities. Making the decision to reduce occupational sitting time may have mental health benefits. This includes anxiety, depression, memory loss and any feeling associated with being overwhelmed and causes you to just not be yourself. Work smarter, not harder.


Heart Health
Your heart needs exercise, the right foods and spending less time sitting and more time standing lowers blood sugar, cholesterol and weight, which means a lower risk of heart disease.


Prices start from just $250 from AU.Varidesk.com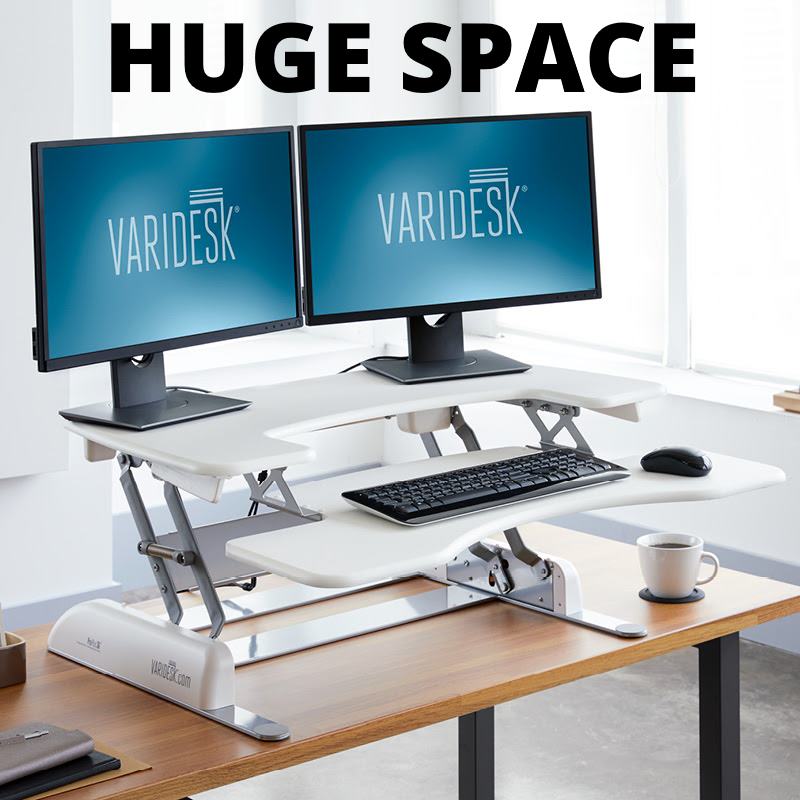 Standing Desk Pro Plus 48 | VARIDESK® AU from VARIDESK® on Vimeo.