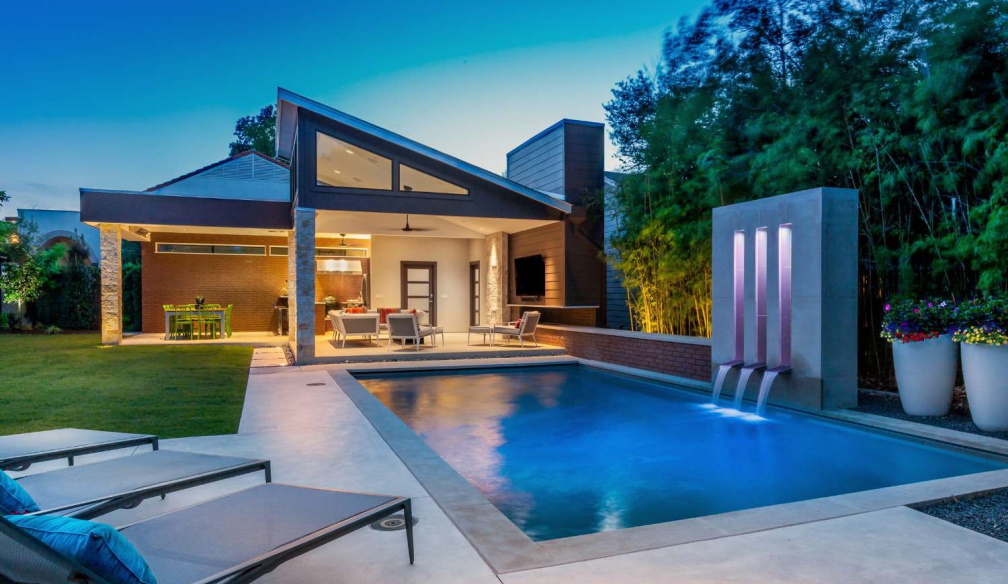 After being through the Covid-19 pandemic and staying home for months, don't you feel you need to refresh and rejuvenate this summer? Wait! The pandemic is not over yet and it is important to follow the protocols and stay safe. Instead of a vacation, why not plan a staycation this year?
Why not get a pool that incorporates the latest trends and enjoy a unique summer right in your home?
Pool trends are changing and today we have a range of options to help you create a stunning look for your dream pool. There are options to enhance the pool functionality and safety too.
Go through the following lines if you are interested to learn the new pool trends that will stay for the near future. You can also consider these options for renovating your existing pool.
Modern ledge loungers
Get some ledge loungers to transform your backyard into a resort. These seaters allow you to get a good tan while offering the comfort you always wanted to experience. They come in contemporary styles and colours, and you get the flexibility to choose between umbrellas, rockers and plain seaters. You can find both in-pool and outdoor loungers. Relax on these ledge loungers while you keep an eye on your children and pets in the pool.
Add one or more water features
Become your creative best and add a couple of enthralling water features to your backyard pool. Add small enticing fountains, beautiful waterfalls and bubblers to enhance the appearance of your pool area. These features, besides adding to the beauty of the pool can turn out to be soothing as well. Their sounds are simply pleasing!
Upgrade your pool today if you already have one. You can talk to your pool builder about the best water features if you are getting a new pool installed. These water features make your pool area look extraordinary while enabling you stay in the trend for many more years to come.
Dark pool colors
Gone are the days of white, light blue, green and neutral pool colors. Dark pool colors are ruling this year.
Choose a dark shade and create a lagoon theme for your pool space. Darker hues as well retain the heat better than the lighter shades thereby lowering your energy bills. Further, dust and dirt are not easily visible in darker pools, so they are practically a better choice.
If you want your pool to be as unique as you, go for a dark hue finish. Match or contrast the surrounding to bring in an ultimate sight.
Rustic vibe with natural elements
Add natural elements such as rocks, small pebbles and plants to your pool area. While rocks and stones can be used with the water features, pebbles and wood can be placed along the poolside to create a truly unique look. Lush plants can be a good option too. Together, the natural elements can generate a rustic appeal.
These are only suggestions. There are no boundaries to creativity. Use the natural elements to bring alive your thoughts and create a tropical themed backyard to enjoy for years down the line.
Seamless pool edges
Seamless edging is a smooth and modern edging used to create stunning pools. The beautifully flowing edges with no subsidence or gaps offer the ultimate luxury at an affordable cost. Seamless pool edges can be effortlessly used on fiberglass pools while making maintenance easy. The seamless treatment as well blends your pool and backyard, increasing the overall appeal.
If you are exploring pool options, we recommend you buying a fiberglass pool. It is cost-effective, looks contemporary and easy to maintain.
Shallow-depth pool
As said earlier, the pool trends are changing. People no longer admire pools with varying depths. The inclination in recent times is towards pools with completely shallow depth. Such pools are safe and easy to clean. Shallow-depth pools also work out cost-wise since they involve lesser excavation and construction work.
A shallow-depth pool is the ideal option if you are budget-conscious and have a family with small kids and senior members. The design is also new and is going to be seen in a lot more homes in the future.
Smaller pool
Smaller pools are here! Yes, people are getting smarter and planning smaller pools for their backyard. But why? To make space for other purposes! Small fibreglass pools are amazing!
Create a plush garden, add outdoor furniture, plan an outdoor kitchen and have enough space to host small parties, all while having a small, cute pool beside!
Are you worried about the look? Simply add loungers and water features to create a luxurious appeal.
Smart LED Lighting
This is the era of technology. It is going to get even better by the day. Get a few eco-friendly LED lights and install them wherever you feel is appropriate near the pool. Choosing multi-color lighting allows you to set the color and lighting of your pool, so you can achieve the mood and ambiance you want.
Self-cleaning pool
Cleaning and maintenance come along with pool installation. There's no denying that. But do you know there are pools today that self-clean? You read that right. These pools keep your pool water clean, require fewer chemicals and eliminate cold spots without you having to use any equipment. Cool trend, don't you think so?
Self-testing pool
Consistently monitoring pool water quality is quite a challenge. You need to regularly test your pool water and add chemicals in appropriate doses to ensure it is safe for swimming.
Today however the scenario has changed. There are self-testing pools available, so you don't need to test water and dose chemicals manually. This means, you can keep your pool clean and hygienic with minimal manual intervention.
Contact your local pool builder.
If you are interested in buying a modern, smart pool for your home, contact your local pool builder today. A reputed pool company inspects your space, recommends the ideal pool type and design, and helps you achieve the pool space you imagined.
For more information on the newest pool trends, get in touch with us right away.