Written by News Feature Team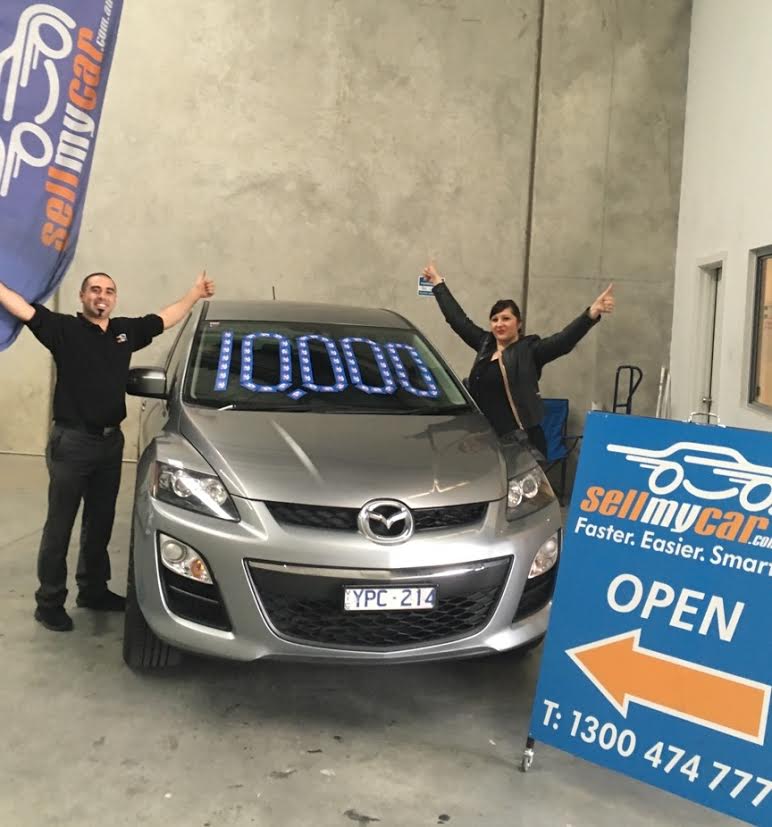 Sell My Car (SMC) has expanded from humble beginnings into a business that has representation across the country. With 16 buying centres busily purchasing cars, the business has just purchased its 10,000th vehicle, which is a remarkable achievement given it has just turned 2 years old.
Purchasing almost 120 cars a week on average, SMC has now bought over $51.5m worth of vehicles from satisfied customers.
The 10,000th customer was Vicky who sold her car to Abdo, a vehicle buyer from our Coburg SMC centre. Vicky sold her Mazda CX-7 to SMC as she and her husband were looking to downsize into a smaller vehicle.
They visited the branch 4 weeks before the eventual sale, to firm up the purchase price before looking for a new replacement vehicle. Abdo kept in touch with the couple during this period and offering great customer service, he also helped them with some advice on the purchase of their new vehicle.
As soon as they had taken delivery of their brand new VW Golf, they came back into the Coburg buying centre and sold their CX-7 to SMC. They told Abdo the reason they used our services was for the convenience and not having to worry about selling their car privately.
They did not want the hassle of having to advertise the car and wasting time dealing with interested purchasers on the phone and in person.
By using SMC's services the couple saved time, money and didn't have to deal with the inconvenience associated with selling a car privately. The purchase of SMC's 10,000th vehicle is a great achievement and the background story also perfectly encapsulates the benefits the company offers vehicle owners looking to sell their car the quick and easy way.
Visit
SellMyCar.com.au

How does Sell My Car Work?
*  As a national car buying service the company buys all makes and models, including luxury vehicles. To sell your car, it takes only three easy steps –
*  Online valuation – just enter your vehicle details online to receive an estimated value
*  Book an appointment – online or on the phone at one of Sell My Car's convenient locations
Attend an appointment – present your vehicle and the required paperwork and after verifying the condition of your car, a final valuation will be presented with guaranteed payment within 24 hours if you are happy with the offer.
Selling your car this way is a simple, step by step process. With no roadworthy required it makes it a fast way to convert your car into cash, within 24 hours of sale.

About Sell My Car
Sell My Car is owned by Cox Automotive, one of the largest automotive services firms in the world.
We purchase vehicles directly from owners offering a fast, easy and simple way for car owners to sell their cars. Payment is guaranteed on all vehicles and paid into customer's bank accounts within 24 hours of sale.