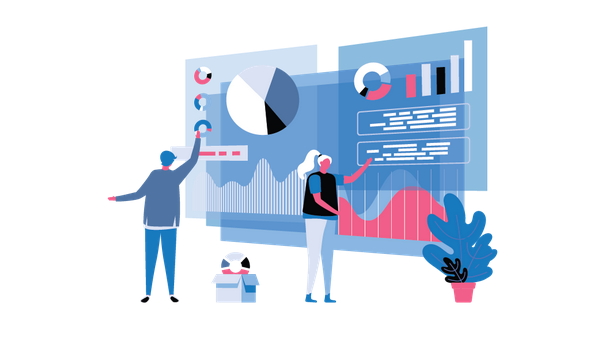 Warehouses play a critical role in numerous supply chains. Warehouse real estate is booming, and warehousing has become a growth industry for entrepreneurs. Some retailers even warehouse their own product to save costs or integrate vertically. 
Warehousing seems like a "cut-and-dried" business—just install shelves in a big empty room and put merchandise on those shelves—but there's more to it than that. As foolproof as the business model may seem, a lot can go wrong. Warehouses require meticulous monitoring in order to operate effectively. Failing to monitor a warehouse can lead to disastrous losses of inventory and the collapse of the business.
If you own or operate a warehouse, it is critical to get this right. Here are three crucial best practices for warehouse monitoring ...
1. Security


Compared to the volume of real estate and the value of the inventory stored in that real estate, warehouses tend to come up short in the number of watchful eyes. Hundreds of thousands, even millions of dollars' worth of company or client merchandise may be stored in a fairly expansive space with only a handful of employees physically looking after it. In many cases, the thief actually turns out to be one of the employees.
Without proper attention to security, financial disasters can ensue. LPM Insider reported a Q3-2016 increase in facility thefts by 98%, with theft value increasing 266% to an average loss of $120,298. Warehouses were the most common crime scenes for these thefts. Entire truckloads were the most common target, and holiday weekends were more common dates for theft by 40%. 
Warehouse owners and operators can reduce the likelihood of theft, as well as increase their ability to respond quickly and produce favorable outcomes in the event of theft, by implementing the following practices:
Install Security Systems.

Choose state-of-the-art digital, cloud-enabled security cameras with adequate resolution and contrast to function in both dark- and bright-light conditions. Cameras should be enabled for 24/7 monitoring and offer thorough coverage with no blind spots. Cameras should also be obvious, with signs drawing attention to them to discourage thieves. 
Automated and remote-access lockdown procedures should be implemented. Motion sensors during off-hours can alert the chosen security management vendor of unauthorized access, allowing you to alert law enforcement while crimes are still in progress.
Install Fencing.

Adequately barricading the property perimeter with high fences and controlled-access gates can go a long way towards deterring and preventing theft, forcing thieves to abandon the cover of darkness and expose themselves to camera angles and motion capture.
Employee Screening.

Perform proper background checks on

every

employee who will have authorized access to facilities and inventory.

Insurer Hiscox estimated

that 68% of workplace thefts are committed by employees.

2. Data Management


Warehouses can be both massive and labyrinthine. Without adequate data management, finding the right piece of merchandise at the right time can be like finding a needle in a haystack.
Warehouses should pick a proven data management model and stick to it, preferably using automation-friendly, cloud-enabled databases that integrate with other systems. 
Best practices for warehouse data management include:
Logical Schema.

Schema

in data management refers to any group or subgroup you choose to organize data into. Whatever categorization system you choose, make it consistent across all schema for the warehouse.
Give Objects Meaningful Names.

This includes schema, columns, rows, relations between columns and rows, and whole databases. Use descriptive names if possible. If code names are necessary, make sure key stakeholders have a way of deciphering the code.
Use Separate Usernames for Each Credentialed User.

Don't allow sharing of usernames. Changes in the database need to be attributable to the source of the change for the data to have integrity.
Establish and Follow a System for Granting Database Privileges.

Tier privileged credentials by seniority, longevity, proven trustworthiness, or whatever criteria you choose to determine which users can be trusted with which privileges. 
Limit Who Gets Supervisor Privileges.

Even if it can seem more convenient to grant a junior employee supervisor privileges, the risk of abuse of supervisor privileges is not to be taken lightly. 

3. Environmental Monitoring


Because humans don't have to live there, "occupancy standards" of warehouses are not as strict as they are in homes. However, that doesn't mean that the merchandise stored in them is any less sensitive to extremes or changes in temperature, pressure, or humidity. Whole inventories can be ruined by failure to monitor environmental conditions.
Especially when storing sensitive merchandise like pharmaceuticals or food items, warehouse owners and managers must pay keen attention to environmental monitoring. Best practices for environmental monitoring include:
Thermal Mapping.

Especially in large warehouses or facilities, conditions can vary wildly from one corner of the facility to the next—or, in extreme climate zones, from one season to the next.
Warehouses that store temperature-sensitive materials should execute a program of "thermal mapping," which takes readings of the temperature at strategic positions within the facility—near exits, in the corners, at floor level, at roof level, etc.—and at strategic times of year—deep winter, dead of summer, etc.
Effective thermal mapping can tell warehouse managers what parts of the warehouse tend to be hotter or colder than others and at what times of year, allowing them to customize and optimize their storage plan, as well as their HVAC calibration.
Installation of Cloud-Enabled Data Loggers.

Particularly in regulated industries like pharma and food production, a thorough system of monitoring conditions with data loggers

from experts like Dickson

is an important part of warehouse management.
Digital data loggers use a sensor--a thermometer, pressure sensor, or barometer--to measure the ambient conditions around the device. A microprocessor interprets the measurement, and imprints the measurement on a built-in data stick. Data loggers offer automation, as well as greater data integrity than hand-recorded measurements.
Even more effective are wireless-enabled data loggers that upload data directly to cloud storage, where it can be interpreted by software and automatically collated into reports that the warehouse manager can submit to regulatory agencies to verify compliant conditions.
—————————————————————
Warehouses are not decreasing in importance. With the boom in eCommerce retail and last-mile storage value, effective warehouses will be
more
in demand, not less. Implementing these best practices of warehouse monitoring will help warehouse owners and managers safeguard the prosperity of their essential business.