An air conditioner is still considered a relatively modern invention. It's a considerable investment that you don't make very often so you need to make sure you buy one that will serve you comfortably for years.
Some of the factors to consider when selecting an efficient air conditioner are;
Budget
The worst thing you can do is go to the market looking for an energy efficient air conditioner without a budget. Whereas there super affordable ACs such as the Honeywell mm14ccs, it is good to have a specific amount of money that you want to spend on this appliance. Don't go for one that is too expensive because it might not be a measure of quality. Additionally, don't go for one that is too cheap because it could be made with substandard materials. Always go for the best that you can afford because will save you money today and in the future.
However, it is good to go to the market with a flexible budget and an open mind. This way, you will get something that will best satisfy your needs.
Warranty
It is essential to buy a machine with a warranty and also to read and understand the warranty requirements. A warranty protects you if something goes wrong before the warranty period is expired. You are guaranteed for free services from the suppliers or manufactures and also the replacement in case of breakdown. It's important to note the manufacturer's conditions of installation and usage that will guarantee the validity of your warrant.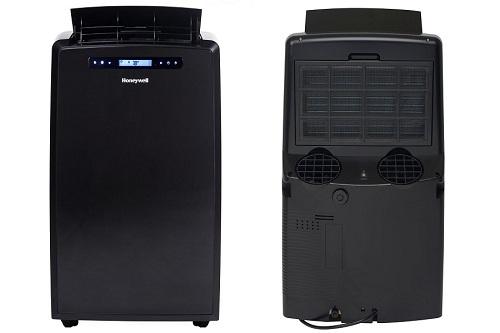 Size
The most critical factor to consider when buying an air conditioner is the size of your space. It is important to note that a large unit will cool the air but unfortunately leave it damp and clammy whereas a small unit air conditioner will be required to work overtime in order to maintain the already set temperatures hence ending up using a lot of electric power increasing energy bills.
Wi-Fi enabled A/C
Advanced technology has enabled home smart Wi-Fi air conditioners. If you have a Wi-Fi enabled thermostat that is adjustable to your smartphone you can consider installing an intelligent air conditioner in your home.
There are diverse smart versions of all types of air conditioner units including window, portable split unit, mini, ductless and many more. The fact that these units are adjustable they are capable of saving your energy power in surprising ways allowing you to fine-tune your usage.
EER and SEER ratings
Ratings are a measure for a particular units' energy efficiency which is measured in BTU's. The two are kind of related, but they are not interchangeable.
EER stands for Energy Efficiency Rating whereas SEER stands for Seasonal Energy Energy Efficiency Rating.
Having a higher rating for both guarantees greater efficiency. Both ratings for SEER and EER can be used for both central and room air conditioners.
Programmable Temperatures and Energy – Saving settings
Modern technology has designed even basic window units to have digital features that can be set to work automatically. Air conditioners have such digital displays that allow you to set precise temperatures and schedule when to turn off and on depending on when you're in or out.
Another additional feature to look for when purchasing an air conditioner is the availability of energy saving settings. This means your air conditioner is automatically capable of turning off the compressor and fan once space has cooled off. This feature enables you to save and conserve energy.
In conclusion, like any other gadget its important to ensure you take proper care of your air conditioner by cleaning the air ducts regularly, removing the mold before they get hold of the air condition system, dusting air, clothes, furniture, and surfaces to increase the efficiency of your air conditioner system.