Written by

NewsServices.com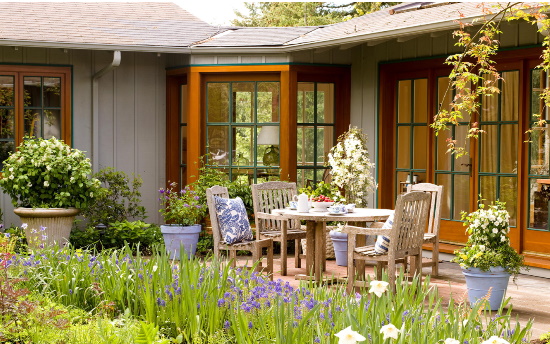 Winter can be a frightful time for the Aussie garden. Our weather can be unpredictable and downright rude, hurling around dust, leaves and other debris. This can wreak havoc on our outdoor furniture and even the home itself!
But there are ways we can maintain our garden throughout the year and especially the winter months. Jobs like decluttering our garden, cleaning on a dry day and keeping your furniture covered with outdoor table covers in rectangular, circular and other shapes can help maintain your garden even in the frightful months of the year!
Let's take a look at some of the jobs that can keep your backyard tidy even when you can't always be out there…
Clean the decking when it's dry outside
There's no point in trying to clean your decking (and backyard) on a day when it's only going to get messed up again. So, the best thing to do is head out there on a dry, sunny day (hopefully when it's not too cold) and get to work on cleaning your decking.
There are a whole host of awesome decking/tile cleaning products that can ensure your deck stays clean, tidy and shapely even in these more rowdy weather months of the year, and a clear day is the best day to put them to good use.
Declutter the garden & decking
As we said, winter can throw up some pretty harsh conditions, and this includes hurling dirt, dust and other debris around your garden. Unfortunately, these situations can make your garden look incredibly unsightly and only build up if storm after storm keeps rolling in.
So, once again, go to work on decluttering your garden on a day when it's not just going to get messed up again. Do your weeding by pulling them out of the garden floor, grab your broom and brush away all the unwanted leaves that are covering your garden or decking and use a leaf blower to keep your space ultimately clear.
Store chair cushions & keep your furniture covered
Because what's the point of buying all that expensive outdoor furniture if it's only going to get damaged in the wild winter months? The best thing you can possibly do for the longevity of your outdoor furniture is to ensure it's clean and protected from the elements in the winter months.
This may include storing your outdoor cushions inside until you are ready to use them in the warmer months, covering your outdoor furniture with high quality protective coverings or even moving the furniture into the garage until it's time to fire up the barbie and have your mates around for a party!
Keep your outdoor umbrella closed
Keeping your outdoor umbrella open in the wilder months only makes it susceptible to dust and debris build up. If you've ever had to clean out an umbrella in time for the warmer, festive months, only to find it's chock-full of leaves, dust and dirt, then you will know how annoying this job can be! Keep it closed during the wilder months and you will save yourself from this unpleasant job when the time comes to keep it open!
Clean glass
The winter months can wreak havoc on our outside windows. So, why not ensure that your windows and other glass surfaces are ready to be enjoyed in the warmer months by giving them a good clean before it's time to start having people around for barbies and enjoy your garden?