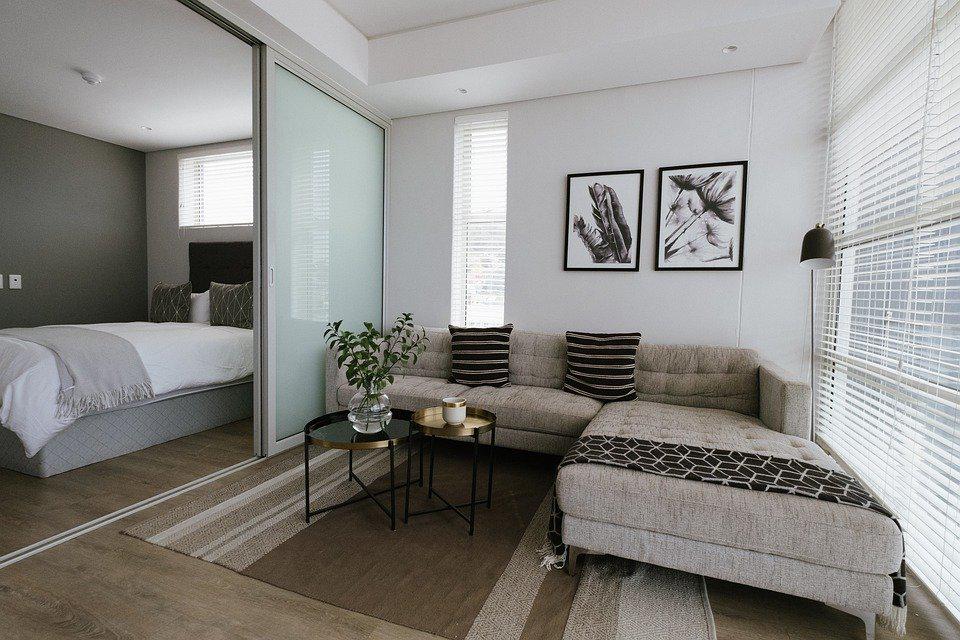 Are you looking for innovative storage solutions? There couldn't be anything better than multifunctional sofa beds. These are available in countless designs and styles, making it difficult to pick one. So, look below to explore different types and designs to enjoy a comfortable living experience.

Traditional Sleeper Sofa
These are typically 3- seater sofas, making a perfect king-sized bed. The lower portion of the sofa has to be pulled to take out the bed. It can accommodate all mattress sizes, depending on your need, and leaves enough space for cushions and blankets too. Usually, seat cushions are solid, eliminating the need for pillows. It is available in many designs, so you choose the material as per your preferences.
You might have second thoughts about the comfort level, and it comes with a slight spring bounce. Thus, you can maintain a perfect posture while reclining on it. These sofa beds are a perfect fit for apartments where you have limited space and high traffic. At the same time, you can even accommodate guests without any hustle.

Daybed with Tufted Back Rest
Some people are very particular when it comes to choosing a sleeping space. For them, it is all about having a cozy bed, and daybeds can be your best choice. They allow you to rest your back against the sofa conveniently. It is up to you whether you want a queen- or king-sized bed since both, 2, and 3 seaters daybeds are available.
Do you know what the best part is? It can even support an 8 inches thick mattress, leaving you with comfy and warm sleeping space. Besides, there are some impeccable designs available, helping you add style to your living room without taking loads of space. Also, if you are living in a small apartment, then consider investing in a designer sofa bed, rather than coughing up money on fancy furniture.

Pull-Out Sofa Beds
Are you struggling with your one-bedroom apartment? Don't worry, pull-out sofa beds can convert your living room to a bedroom in minutes. Alongside saving space, it is very simple to use. You have to pull out the seat underneath the sofa and spread the back. It would provide sufficient space for two persons to enjoy a peaceful sleep.
However, if you are skeptical about the size, whether it would be spacious enough or not, there are a variety of sizes available. You can check online at different brands to find the one that fits under your requirements. It is essential to check for the thread count sheet because higher sheets ensure a thicker material and more comfort. Besides, it is covered in multiple layers, offering you warm living space, you can take out the layers as per your liking.

Futon Sofa Beds
Futon sofa beds are delicate, especially for people who want to opt for simpler interiors. They have a low profile, which means it won't cost you much. As far as the design is considered, you can find futons in versatile colors and style. So, pick something that goes along with the theme of your house.
Similarly, it doesn't have fancy pull-out functions either. These more like fold-out sofas, where you have to fold in the to make it a sofa and fold-out to use it as a bed. It is an ideal option for people living in apartments with minimal space. Alongside this, they are a lot more durable because it gives you the option to change mattress without any hustle. Besides, if you get bored of the same design, then you also have the option to slip a fresh cover, making it look like a new one.

Sleeping Chairs
Sleeping chairs have become very popular due to their trendy style. People are obsessing over these chairs since they have an appearance like a traditional chair, but comfy like beds. Well, it has a compact shape, which means you can fit it anywhere in the house. Hence, they are easy to move from one place to another because of their lightweight.
Sometimes, people are looking for space-saving furniture, but their budget is not giving a green signal to invest in a fancy daybed. Sleeping chairs are super affordable with almost the same features as a sofa bed. Also, it is very easy to disinfect and clean than sofa beds, helping you maintain proper hygiene.
Besides, if you have a budget, then consider investing in recliners. It comes with warmers that soothe your body by increasing blood circulation. Sometimes, it also helps in relieving joint pains. Besides, it gives an option to adjust the seating, allowing you to maintain a healthy posture that supports your spine. Although people have spacious homes, these chairs are becoming a necessity. After all, it is providing a relaxing spot to enjoy a movie or have snacks.

Power Open Sofa Beds
Do you think technology is making people lazy? It is providing countless benefits in every aspect. Even with sofa beds, customers have the option to go with automated beds. Here you don't have to pull out or fold in the bed because everything is a press away. You have to push the button, and the sofa would automatically turn into a bed, and with another click would turn it back. Thus, with minimal effort, you can enjoy the benefit of a sofa and bed at the same time.
Also, it is the ideal option for people with severe back problems who face difficulties in bending. Old age people can also relish the perks of these sofas because they don't have to put any effort at all. Hence, the option of sofa beds is not restricted to any age group because the power open system is making it available for everyone.

Single Chair Pull-Out Bed
These are those exotic looking chairs that can turn into beds in seconds. It is for one person available in varying designs and styles. It is quite simple and requires minimal effort; there are wheels attached to the chair. You have to pull the seat to take out the bed due to the wheels; it doesn't require any strength. Grab some pillow and a blanket to make it cozy and have a peaceful sleep. It is a must-have for small spaces. Besides, you have an option to carry these anywhere since it can fit inside every car.

Storage Sofa Beds
Believe it not, but some spaces are so small that it makes it difficult to make room for blankets and pillows. In such cases, look for storage sofa beds, offering space to keep your essentials inside the sofa. It gives an option to place your blankets and pillow inside the sofa and take them out while converting it into a bed. Similarly, you can place them back, eliminating storage concerns.
Alongside this, some have ample space to store other things also. However, they might be a little expensive than ordinary sofa beds, it is worth investing in these, especially if you have storage and space issues. After all, it is providing an ideal way to declutter your house. Coming to the designs, you can find incredibly beautiful ones in different shapes and sizes.

Corner Sofa Beds
Usually, people are looking for intelligent designs, something that complements their living space. It becomes difficult to pick furniture for the corners of the house. So, how about you get corner sofa beds? Alongside providing more sitting space, they are easily convertible into beds too, with more space.
It is not only suitable for small spaces, but you can also place it in a theatre room since it provides enough space for a family. These corner sofa beds are available in many designs and sizes, making it easy to choose.

Benefits of Sofa Beds
We are moving towards smart and multifunctional furniture designs. Here are some unique benefits of sofa beds.
It provides a great level of comfort, allowing you to watch movies and shows while reclining on your sofa bed. They have a particular sturdiness, which makes it feel like a bed.

It saves much space, the finest choice for the people struggling with space issues. Honestly, this is a very common problem with people living in apartments.

It allows you to accommodate guests without any hustle or chaos.

Lastly, they are super convenient since it would take you minutes to convert the bed into a sofa and vice versa. You can also move it from one room to another since they have a compact size.

WRAPPING UP
Gradually, you would witness many smart living solutions and intelligent furniture designs. Some tables fit inside the wall and beds with a whole cupboard inside. Alongside helping people manage small spaces properly, it is helping people utilize space in every possible way. Similarly, these sofa beds are no different. You can place them anywhere you like and convert it to a bed whenever you want. So, look above to see the best sofa beds and their benefits.