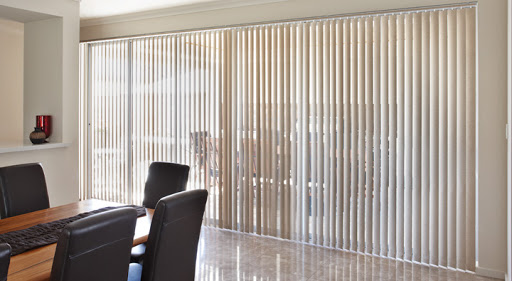 Next to curtains, vertical blinds are one of the most common choices of window covering in all of Australia. They are found in homes, apartments, rental properties, office space, garages. Anywhere there are windows, vertical blinds have been the go to choice for decades.
In this post we'll take a look at some of the key reasons why you should consider vertical blinds next time you're in the market for practical and stylish window coverings.
#1 - Vertical Blinds Are a Great Option for Rental Properties
Because vertical blinds are often a more cost effective choice when it comes to the range of curtains, blinds and shutters on the market, many landlords choose them for their rental properties. Cost isn't the only reason though.
This style of blinds is very practical, wears well, are easy to keep clean, and replacement of the panels due to damage is relatively simple.
If you go into any rental property, there's a very good chance the windows will be covered with vertical blinds, as they are the most practical choice all round.
#2 - You Have Full Control
Pull on the cord and you can open your windows right up to let in the light and view the scenery. With them closed, simply twist a rod to adjust the panels to the desired angle.
These fine adjustments allow you to let in the light or the breeze on any angle you desire. You also don't have to have the blinds completely closed to give yourself some privacy from outside prying eyes and passers by.
#3 - You Can Choose From a Varied Colour Palette
The material that the panels of vertical blinds are made from means they can be manufactured in practically any colour you desire. Your options will depend on your supplier, but make no mistake, you'll have a broad colour selection to pick from.
White, light grey or beige are the most common colours because they are neutral and go with any colour scheme or decor. However, you can opt for more bold and darker colours too, with the latter a good choice for bedrooms to keep the morning sunlight out.
#4 - Easy Cleaning and Low Maintenance
Due to the fact that the panels hang vertically, there are no flat surfaces for the dust to collect. For this reason, vertical blinds stay cleaner for longer, which is one major advantage they have over Venetian blinds that have horizontal slats or panels.
If a panel gets stained or damaged and needs replacing, all you have to do is remove that particular panel and replace it with a new one. Easy.
When it comes to cleaning vertical blinds, to remove any dust, simply brush over with something like a feather duster. If for some reason the panels really do need a more thorough clean, then they can be steam cleaned, or hire a professional to clean them for you. For the most part this won't be necessary though.
#5 - Choose Vertical Blinds That Absorb Sound
One of the really cool things about modern day blinds is some of the materials they are manufactured from. You can order vertical blinds where the panels are made with honeycomb cells. What this means is there are tiny pockets of air inside the panels, and it's these air pockets that help to absorb noise from outside.
This equates to a better night's sleep if you have them in the bedroom, but really this technology is handy in any room in the house.
The honeycomb design also works as an insulator, keeping the room warmer in winter and cooler in summer. It really is a fantastic and very practical innovation to make your life more comfortable.
#6 - Vertical Blinds Protect the Room
Most forms of window covering will help protect the room and its contents from the harsh rays of the Australian sun, but the extra advantage you have with vertical blinds is you can angle the panels to let in light and air, while at the same time directing the light away from your furniture and other items you wish to protect.
When you add it all up, not only do vertical blinds look stylish in a simple way, but they also offer many practical benefits as well. If you need the best coverings for your windows, you really can't go wrong with vertical blinds.