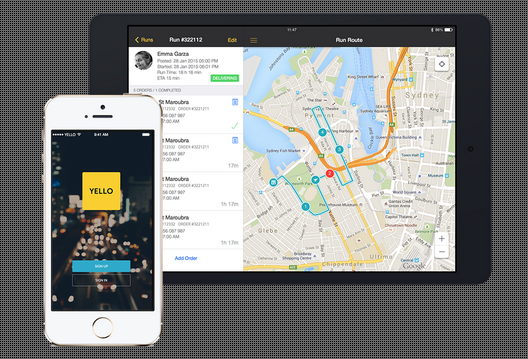 Food delivery services are taking advantage of consumers' desire to stay put on the couch watching Netflix and eating take-away and as a result, are multiplying by the minute. Consumers simply jump online and order from the delivery service's website, where they have many restaurants partners to choose from. The service's driver will then deliver the dish straight to your door. It's a close-to-perfect recipe, missing one key ingredient. Brands are essentially giving away their customer base and losing control of the brand experience. Wouldn't it be ideal for businesses to be able to deliver meals themselves, to their own customers, under their brand identity and manage the whole process seamlessly through customised software? Unfortunately, many restaurants simply do not have the time or resources to manage the logistics of delivery. That's where Drive Yello comes in.
Drive Yello is revolutionising the way food is delivered. It is a delivery management platform and market place with a difference, allowing vendors to outsource their delivery capability completely. Franchises, restaurants, chains, cafes and small food producers simply post delivery jobs and the Drive Yello team provide them with a reliable, trusted delivery driver on-demand. The platform allows vendors to search, hire, manage, track and pay drivers for either one-off deliveries or full shifts. As a result, businesses save significant time and money on managing deliveries internally.
Some iconic restaurants who are taking advantage of this technology include Mad Pizza, Crust Gourmet Pizza, McDonalds, Delivery Hero, Elvis Pizza, Tropicana Cafe and Zeus.
Jono Spragg. Head of Operations at Mad Pizza says "Being able to outsource delivery is absolutely key to our success as a business. As an established multi-store pizzeria brand, we need to be able to offer a delivery service to our customers but managing this ourselves would take a great deal of time and resources. However, we were keen to keep control of our customer experience rather than outsource this and take the risk of things being handled poorly at the customer interface."
"By working with Drive Yello, we feel that we can control the customer experience to make for a seamless Mad Pizza experience from the online ordering, through to the hand-over at the front door; everything comes from Mad Pizza. For us, we're in control of the customer's experience with the brand from the moment they hop onto our website or pick up the phone. The Drive Yello team feel like a partner in our business, rather than simply another distribution channel," says Spragg.
Co-founder of Drive Yello Steve Fanale says, "A one-stop-shop-style app is ideal for a consumer, and it's an excellent resource for businesses too. However, our offering means that businesses still have control over their customer experience and know who their customers are. They can control the pricing 100% and they can work at promoting their own brand, rather than the brand of the delivery service."
"Drive Yello gives businesses the opportunity to grow by saving costs and time associated with managing deliveries. A lot of businesses just don't have the management tools, systems in place or time to manage delivery drivers. Simply finding good drivers and training them is hard work, let alone the hours involved in managing shifts every day," says Steve. "It also provides an exciting business opportunity for vendors who currently can't offer home delivery to increase revenue."
Increased efficiency, improved monitoring, reduction of administration and accessibility to a crowd-sourced work force makes Yello very attractive to businesses across the food service industry. From independent vendors to major franchises and menu aggregators, Yello is a platform that the industry is crying out for.
For more information visit www.driveyello.com