Written by

John Hawkins, Assistant Professor, School of Politics, Economics and Society, University of Canberra
Later today we'll know what the bushfires and the coronavirus did to the economy in the three months to March: whether gross domestic product grew (as is usual) or whether it shrank (as is rare, and heralds a recession).
Gross domestic product (GDP) is an imperfect measure of everything that's produced in the three months (and also everything that's spent and earned).
Imperfect or not, it is measured the same way every time, which is why changes in it give us a good idea of changes in what we produce and earn.
Most likely it will tell us that what we produced and earned shrank.
Read more: Australia's first service sector recession will be unlike those that have gone before it
There is a minority view, held by five of 25 economists surveyed by Bloomberg, that it could tell us the economy grew, perhaps because of panic buying of toilet paper and the like in March, although much of the demand will have been satisfied by running down inventories in March rather than producing more.
This has led to headlines saying Australia might avoid a recession.
It would come as a surprise to those who have lost their jobs, had no work or closed their businesses. It reflects the media's common, but flawed, definition of a recession as two consecutive quarterly falls in real GDP.
The 'technical' definition is wrong
This is sometimes referred to this as a "technical" recession, which is an odd distinction given that no-one refers to a "generic", an "artistic" or a "lay" recession.
The inadequacy of the definition is illustrated by looking at the Australian economy's response to the 1973 oil shock and subsequent global economic slowdown.
Quarterly change in GDP, seasonally adjusted 1960 - 2000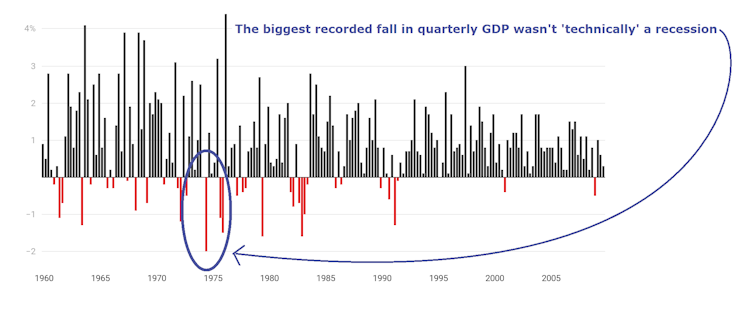 Authors: John Hawkins, Assistant Professor, School of Politics, Economics and Society, University of Canberra
Read more https://theconversation.com/our-needlessly-precise-definition-of-a-recession-is-causing-us-needless-trouble-133694