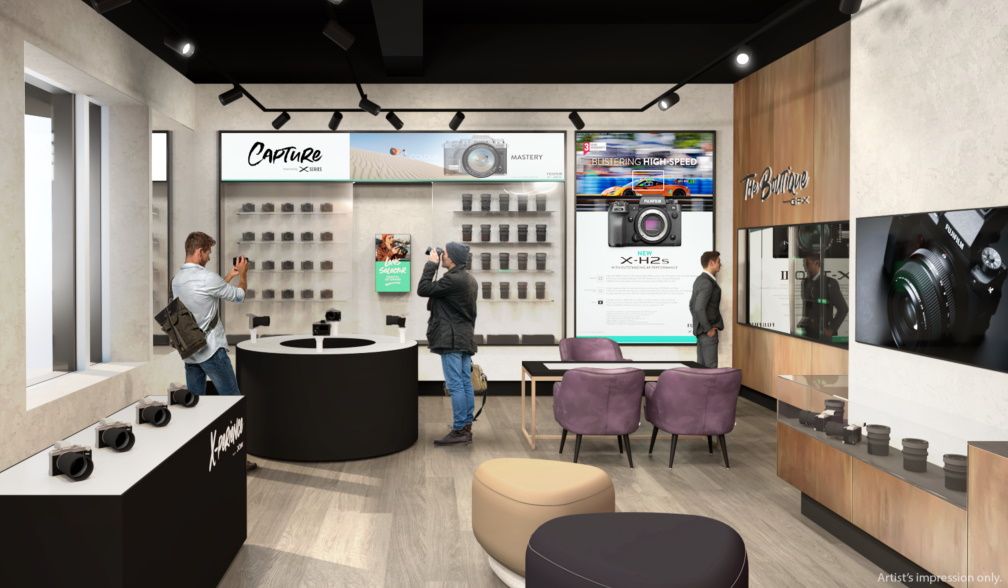 FUJIFILM Australia is set to open the nation's first Fujifilm House of Photography on Thursday 7th July, 2022. The experience centre will be an interactive hub aimed to inspire and encourage consumers to immerse themselves in the world of photography and experience all Fujifilm has to offer, from photo taking to photo making.
Located in the buzzing Sydney Central Business District (CBD), the new Fujifilm House of Photography offers consumers hands-on experience with the brand's portfolio of consumer products, access to an in-store studio, bespoke photo printing services and personalised consultations with Fujifilm X-Perts. The experience centre also features an interactive lens selector, an in-store gallery and a programme of exclusive workshops and events for photography enthusiasts to explore.
This new experience centre is only the second Fujifilm House of Photography in the world and follows the successful launch of the concept in the UK in 2019.
Speaking about the grand opening, Tyler Yanase, CEO of FUJIFILM Australia, said: "The Fujifilm House of Photography was launched to elevate a photographer's experience with the Fujifilm brand, acting as a hub for them to explore, touch, trial and learn more about our portfolio of products and services through interactive play tables and spending quality time with a Fujifilm X-Pert, making it a must-visit for all photography enthusiasts."
Hands-on experience with the latest Fujifilm X Series, FUJINON lens range and instax
The House of Photography features several interactive Play Tables showcasing Fujifilm X Series; our compact and high-performing APS-C range, FUJINON lenses and the instax range. Play Tables are complemented by art pieces in the centre and have been designed to provide consumers with a subject in which to test out cameras and various lenses. There is also an interactive Lens Selector to help consumers navigate through the entire FUJINON lens range and select the one that is right for their photography needs.
instax consumers will be able to try out different instax cameras, capturing selfies in the store to take away with them. They will also have the opportunity to print instant photos directly from their smartphone using a range of instax printers available on the Play Table.
"We are thrilled to bring the Fujifilm House of Photography to Sydney, and we hope our customers; whether they are photo takers or memory makers, are just as excited to experience it." said Mary Georgievski, General Manager, Photographic Imaging, Recording Media & Industrial Products.
X-Pert consultation at The Boutique, powered by GFX
The Boutique, powered by GFX, offers seasoned photographers a premium sit-down, one-on-one personalised consultation with a Fujifilm X-Pert team member, giving them hands-on experience and the opportunity to talk all things related to our Large Format GFX System cameras and GF lenses.
Speaking about the experience centre, Shaun Mah, General Manager, Electronic Imaging & Optical Devices Division at FUJIFILM Australia, said: "This is a complete hub focusing on the experience of photo taking to photo making and gives photography enthusiasts and professionals the chance to challenge what they thought was possible with our GFX System."
The Studio
Consumers can put the Fujifilm X Series and GFX System products to the test in the Studio. The studio is professionally set up, featuring lights on boom stands for optimal lighting, product display stands and a tripod, allowing consumers to try out our cameras and lenses at ease.
Preserve memories at the Printing and Personalisation station
To celebrate and showcase all aspects of Fujifilm's innovative photography and imaging products and services, the Fujifilm House of Photography encompasses a Printing and Personalisation station, featuring two photo printing kiosks with same-day printing and an extensive range of personalised products to order for delivery to home. Whether it is on lustre paper, in a photo book or on a mug, consumers will have the opportunity to preserve their memories in a creative and premium format.
"The Fujifilm House of Photography also features The Gallery, showcasing content created on our X Series and GFX System taken by our very own Fujifilm X-Photographers" said Mah. 
Complementing their Photography product range, Fujifilm will also showcase their renewed high-end FUJINON Binoculars range, coveted by their outstanding performance and reliability. The stand features many FUJINON award-winning models for different life experiences whether you are into bird watching, landscape or sailing adventures.
Located conveniently next to Town Hall Station, consumers can visit the Fujifilm House of Photography at 2 Park Street, Sydney NSW 2000.
Fujifilm House of Photography opening hours:
Monday – Wednesday 10am – 6pm
Thursday 10am – 9pm
Friday 10am – 6pm
Saturday 10am – 6pm
Sunday 10am – 5pm