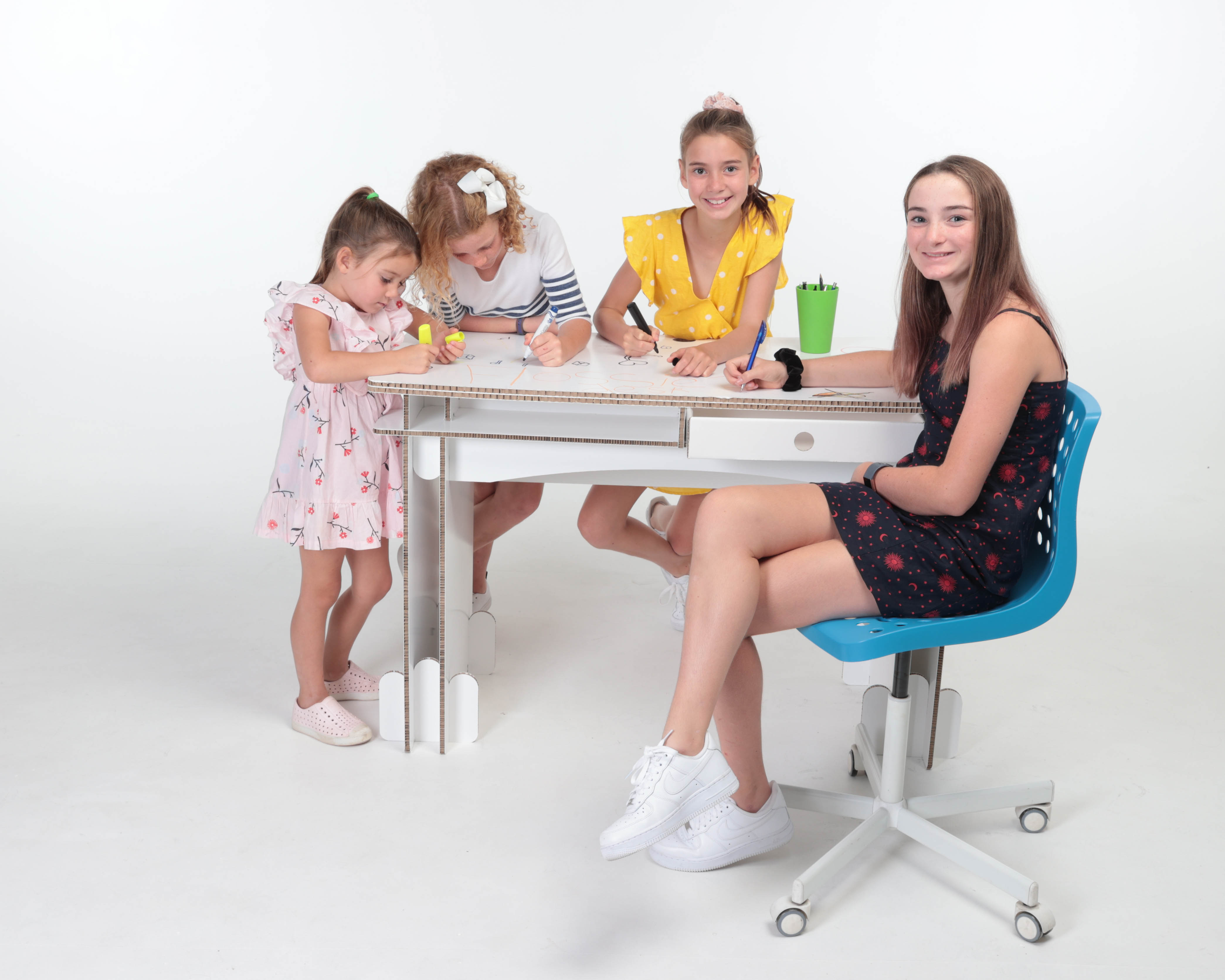 A shortage of office desks has led one Sydney dad to create an easy-to-assemble desk that connects like a simple jigsaw puzzle which children can help put together in less than 10 minutes. 
Benn Murphy came up with the idea for Build-A-Desk when his dining room table became a permanent school zone leaving the family nowhere for sit down meals and he was facing the prospect of reducing staff at his manufacturing company Clarke Murphy Print. 
"I couldn't buy a desk anywhere because everything was sold out so within seven days, we created Build-A-Desk, a lightweight durable product that's made from all Australian products and is 100 percent recyclable," says Mr Murphy.
"You don't even need an allen key to put it together.
"It's not only made life easier at home but also in the workplace because by creating this new product I've been able to keep my 65 staff in a job during COVID-19.
"Being in the printing and design industry we were looking at sales halving for our business which would have forced me to scale the business down – instead we decided to get creative. 
"Keeping staff employed was a priority so we quickly repositioned ourselves to initially make and meet demand for protective face screens.
"Then when I couldn't find a desk for home schooling and neither could many of my colleagues and friends, we designed one to ensure families can have it in their home within 48 hours. 
"We sourced the materials from Lithgow and it is manufactured in our warehouse in Chatswood and comes in two colours – white and kraft."
"We've also made them educational, with some desks having timetables, the alphabet and even a measuring ruler on them to help make learning fun." 


About Build-A-Desk
The Australian made Build-A-Desk is designed and manufactured by Clarke Murphy Print delivered to your door within 48 hours. Dimensions 1200 x 600 x 780mm(height)  in white and Kraft colours.