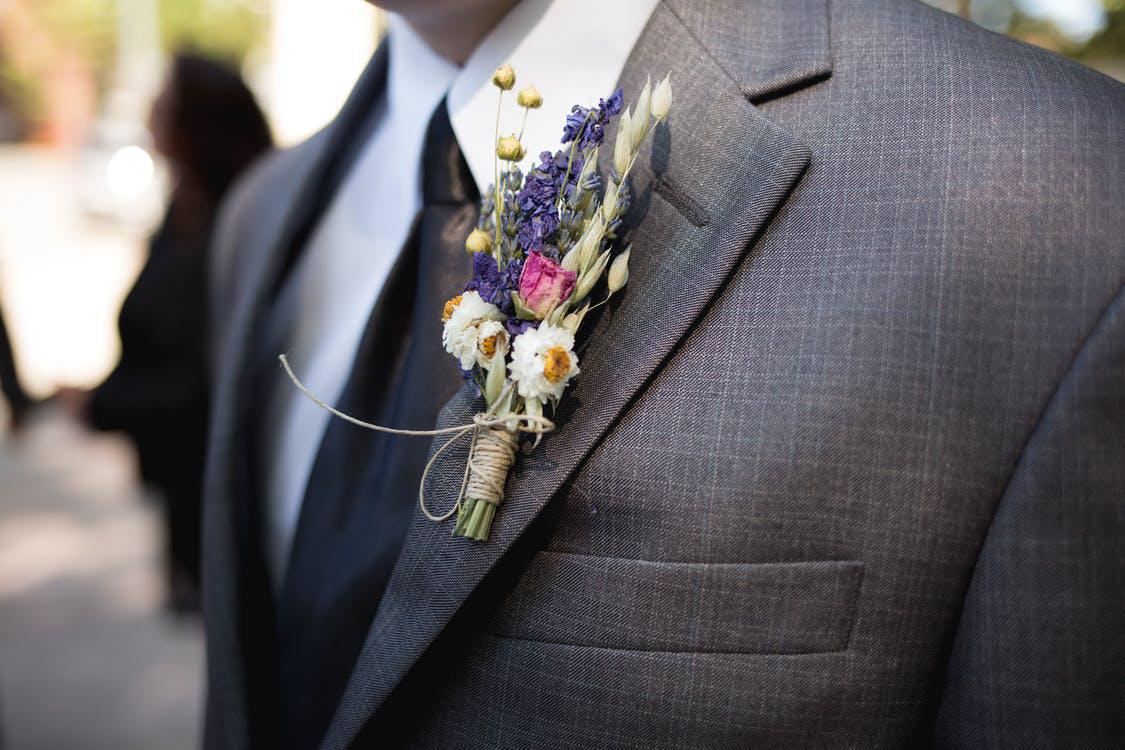 Selecting the perfect suit for the wedding day is a daunting task for any groom. The last thing a groom wants is to look like they turned up to their wedding without giving their outfit much thought. You do not want to pick the very first suit you see, and you want to look good standing next to your beautiful bride. For this reason, it is just as necessary for the groom to go on a shopping spree as the bride so that he can see the colors and fabrics he likes and also explore the most suitable suit style according to the season and their wedding theme.
To help you pick the best wedding suit, here are the five most popular groom suit styles:


1.THE CLASSIC THREE-PIECE SUIT
The classic three-piece is a timeless and elegant wedding outfit choice. It is something you can never go wrong with. Especially if you are planning a winter wedding, a three-piece is likely to be a great choice as it will have the layers needed to keep you warm. The waistcoat automatically helps achieve the sought-after V-shaped physique without the need to hit the gym. And you look smart and formal even if you choose to take off your jacket at some point during the event.


2.THE MORNING SUIT
For those in search of traditional wedding suits for men, a morning suit can be a great choice. It includes a tailcoat, striped trousers, and a waistcoat. The single-button jacket is cut from the front to show the contrasting pants, with a pair of matching shoes used to complete the look. You can opt for a blue coat with grey trousers and a white waistcoat for an elegant look. Alternatively, a black jacket with grey trousers works just as beautifully. However, keep in mind that morning suits are best suited for daytime weddings.

3.THE DINNER JACKET
The Dinner jackets are all the rage nowadays, and you are likely to have seen them at all kinds of formal events. They are comfortable to wear yet have a sophisticated and stylish vibe to them. Also known as tuxedo jackets, these jackets do not have tails and feature satin or grosgrain lapel facing. People wear it with a bow tie. If you are after a modern-day groom look, a white dinner jacket with a black bow tie can help you achieve it; it is different from the traditional groom attire, and with so many celebrities having rocked the look, it is very much in style. If white sounds too bold for you, even classic black or velvet dinner jackets look very trendy.

4.TWEED SUITS
There is something classy about tweed suits, and this is the reason why a lot of grooms have been opting for them lately. It is a look that works particularly well for winter weddings or those with a relaxed, outdoorsy theme. The watch can be worn in several ways, depending on the vibe you wish to create. You can opt for a trendy dark blue two-piece tweed suit paired with a crisp white shirt and bowtie. You may even choose to rock a cravat with a tweed coat.

5.LOUNGE SUITS
For grooms who are not into traditional wedding wear, a lounge suit is a great alternative. Lounge suits are less formal, featuring a shorter jacket. They are also referred to as business suits and can wear to any formal event. You can wear it as a two-piece or three-piece and even mix colors and patterns. For instance, you can pair a plain jacket with a patterned waistcoat or vice versa; it is all a matter of personal preference.

THE BOTTOM LINE
Our final piece of advice to you is that no matter what style of suiting you choose for your big day, it is essential to get the fit right. The right color, fabric, and detailing will do nothing for you unless the suit is made according to your body type and complements your physique. Get the appropriate right, and you won't go wrong. Good luck!