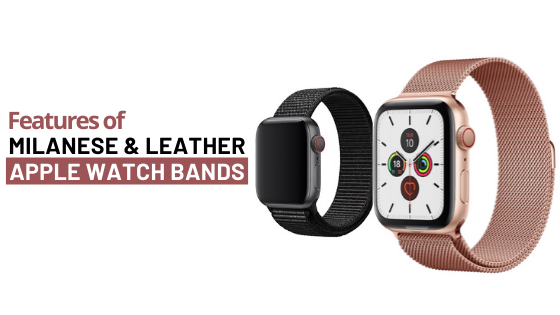 While most of the Apple watch bands fall in the popular territory, some of them go over the board in that sense. How? First of all, it's because of the distinctive styles they have on offer. Second, people can really relate their personality to the luster they provide on their wrists.
If you go by the initial impressions, you'll not find any mainstream things in the Apple watch series. The same goes for all the Apple watch bands starting from sports to chain link bracelets. So, let's now discuss the common features of Milanese and leather Apple watch bands that attract you towards them.
The Common Features
If we go by the basic features, the leather and Milanese loop are quite similar in terms of formality, maintenance, and durability. Let's find out the primary elements that both of these materials have in common.
Both of these materials require regular maintenance to make them sustainable for longer. As you enjoy all the features, leather experiences some adverse effects to moisture while the Milanese loop band can be scratched easily. So, you need to be very careful while wearing these precious wristbands.
Both of these bands can be versatile in many situations. However, we can see that the Milanese loop is more lustrous and can be worn at typical parties. The leather band also poses some formality and can also be worn on casual get-togethers. It's about matching your personality and clothing with the type of event you are attending. Any mismatch in fashion with your wristband would not look good.
Both Milanese loop Apple watch band and the leather counterpart are offered in various colors for you to have a variety. So, no matter if you choose the Milanese loop or the leather watch band, you'll have enough variety to attend anything.
Now, enough with the similarities. Let's jump onto the distinctive features both of these Apple watch bands bring into the picture.
The Distinctive Features
Here we cover every point that one of them has, and the other doesn't. So, let's start with the details.
While the Milanese loop is a link bracelet, it is adjustable to an extent. You can lift off the sturdy magnetic buckle and adjust the band according to your list unless it is too small. However, the leather Apple watch band doesn't have any of those features. To resolve that issue, you can just choose the right size for your Apple watch dial. For your information, the 38 and 40 mm watch dials have one size, and the 42 and 44 mm watch dials have another.
The leather Apple watch band catches moisture pretty quickly. So, if you can stay away from excessive humidity, you're good to go with leather. However, if you go out often and come in contact with water, the Milanese loop will be a better option.
But the Milanese loop also has its downsides. It is prone to scratches that totally ruins the appearance.
As the materials differ, the comfort level will also be different. The Milanese loop band is more comfortable for variable wrist sizes just because it can be adjusted. The leather watch band is more suitable for the ones who are blunter with their everyday tasks.
The Milanese loop has small holes in its design. This mesh design allows your covered part of the rest to breathe easily. So, the band doesn't shed any smell while you go for a run. It can also act as the sport loop Apple watch band because you can take it out while doing any physical activity. You have to be extra careful because of the delicate material prone to scratches.
Here, the leather watch band stays behind because it can be smelly at times. It can absorb moisture, which can result in a bad smell.
Both of these bands have a different price range. Just as you can conclude from the differences mentioned above, the Milanese loop Apple watch band is costlier. It not only gives you a better appearance but also offers some more features for a more brutal living style. A leather Apple watch band isn't far behind other than the categories as mentioned earlier.
The Bottom Line
With so many options available in the market, you can choose whichever you prefer. However, we always recommend making an informed decision because Apple watch bands don't come cheap.
It's probably better to have two of them to match the formality of the occasion. But that's just our pick. You can choose your own.