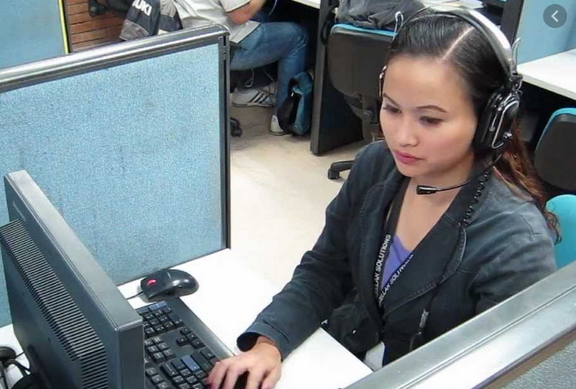 We've all heard about call centre agents working from home, wrestling with their pets or dealing with crowing roosters in the background – all while trying to stay composed and answering queries from customers on the line.
This is the kind of professionalism Filipinos are known for, even in times of a pandemic, knowing full well service to clients does not have to ground to a halt even when they need to take cover in their own homes. These workers are the faces of business process outsourcing (BPO) companies in the Philippines, which will surely survive the crisis and its aftermath.
For sure, the outlook on the industry is grim, at least in the short term. The entire industry will most likely contract by 30 per cent to 40 per cent, depending on the duration of the pandemic.
BPO companies in the Philippines, one of the country's top two dollar earners, bore the brunt when the government put the capital into lockdown in March to stem the spread of the new coronavirus disease (COVID-19). As companies in the US and across the world – especially those relying on business process outsourcing to the Philippines – shuttered operations, the demand for outsourcing services also dwindled.
But for those that managed to survive the initial walloping from the virus, operations slowly continued and these companies took advantage of business process outsourcing to the Philippines. Immediately, Filipino call centre agents and other third-party service providers went to work.
The point is, global trade will have to keep going even as the crisis drags on.
Australia, which all thought to be an unsinkable ship, is now battling wave after wave of fresh coronavirus cases, and consequent lockdowns could eventually cause an economic contraction of 0.75 per cent by the end of the third quarter. Yet, nations such as Australia will continue to pump prime economies to control a recession.
As companies begin to assess their capital outlays for the year and the succeeding years, there will always be a need to reduce costs while improving operating efficiencies. The easiest way to achieve a downsized yet agile business continuity plan is to tap BPO companies in the Philippines.
Expectedly, Australian companies will continue business process outsourcing to the Philippines.
"Australia is a key market for the Philippine BPO industry. Approximately 20 per cent of all outsourced business is coming from Australia," says Ralf Ellspermann, Chief Executive Officer of PITON-Global in Manila. PITON-Global, with 19 years behind it, is a leader in the call centre and back-office outsourcing space.
Labour costs in the Philippines are much lower, by 60 per cent, compared to Australia.
Companies will also benefit from the Philippines' cultural affinity with the West. Filipinos have excellent English language skills, thanks to a culture moulded by an education system patterned from the best in the world. This, in effect, also means the Philippines offers a large, highly qualified and skilled labour pool.
The Philippines also boasts an outstanding infrastructure, backed by a government that has already detailed a massive infrastructure program called "Build, Build, Build", which carried the economy to a new high pre-pandemic and will continue to do so post-pandemic.
These days, the 20-year-old industry employs more than 1.3 million Filipinos and generates more than A$35 billion in revenues, equivalent to almost a tenth of the country's gross domestic product.
And even if the pandemic crippled the operations of some BPO companies in the Philippines, top-notch service continues. Customer expectations are still sky-high and they demand world-class 24/7 support.
Business process outsourcing has also gone beyond the usual call centre outsourcing. While call centre-related services make up 60 per cent to 70 per cent of total outsourced business, there are a lot more business processes now handled by agents in the Philippines.
'The Philippines is not only the ideal BPO destination for call centre but also for back-office related tasks. From application verification, order processing, content moderation, enterprise data management to fraud detection, disputes and chargebacks, it's all expertly handled by us here in Manila. Today, there's hardly any business process that can't be outsourced," Ellspermann adds.
There's no outsourcing destination on this planet that can handle these business processes better. For sure, BPO companies in the Philippines will continue to thrive and become more agile.