Written by

Blainey Woodham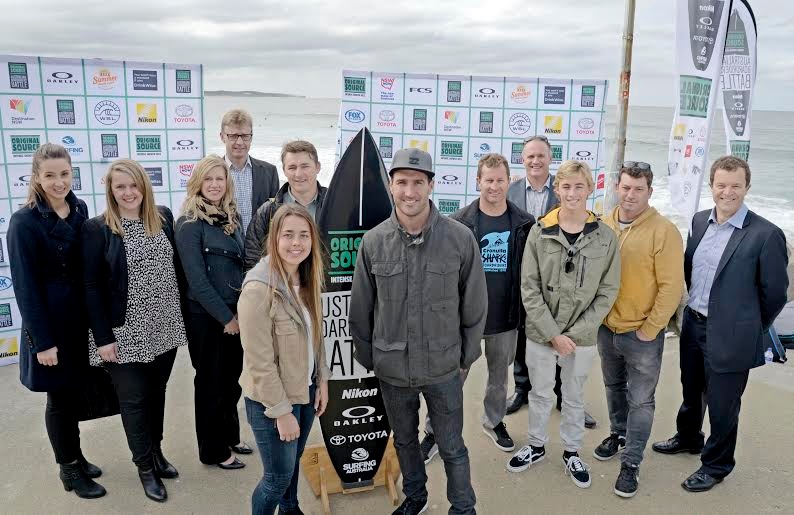 CRONULLA
4th August, 2015
: Surfing Australia today announced the Original Source Australian Boardriders Battle Series III, the country's biggest grassroots, boardriders event series with $110,000 in prize money.
It will involve more than 60 of Australia's best boardriders clubs in eight State qualifying rounds starting in September and culminate in a two-day, National Final for 20 clubs on the Australia Day Long Weekend on
23-24 January, 2016
at Cronulla in Sydney.
The Original Source Australian Boardriders Battle is proudly supported by naming rights partner Original Source and major support partners in Toyota, Nikon, Oakley, Sutherland Shire Council, the World Surf League, XXXX Summer Bright Lager, DrinkWise, Milwaukee, FCS, Surfing Life, Fox Sports, Destination NSW and Boost Mobile.
The series is officially sanctioned by the World Surf League, which allows Australian WSL World Championship Tour surfers (men and women) the opportunity to represent their local boardriders club at respective State qualifying events and the National Final.
In total $110,000 is up for grabs across the entire National Series including the National Final. There is $29,000 available across the eight State qualifying events, while $81,000 will be on offer at the National Final. The winning boardriders club will receive $20,000, while $36,000 will be split between the clubs finishing second to 20th.
Additional National Final prize money includes $12,000 across 12 Skins heats; $5,000 across 5 Women's heats; $5,000 for the Fox Sports Patriot Club Award; $1,000 each to the Wayne Bartholomew and Layne Beachley Medal Winners; and $1,000 for the Milwaukee Heavy Duty Hack. FCS is also providing a $1000 product pack to the winning club.
The National Final to be held at Cronulla Beach on the Australia Day Long Weekend will again offer a World Tour surfing event-like experience for the clubs and the fans. Live broadcast to big screens on the beach and major infrastructure along with great sponsor activations will ensure a fantastic celebration of club surfing culture is brought to life. The event will also be broadcast live on Fox Sports nationally over the weekend.
Original Source Head of Brand Belinda Groves said: "Following on from the success of last year's event, we're proud to continue celebrating the best of grassroots surfing.
"The state events and National Final are vibrant and intense, just like the experience Original Source 100% naturally fragranced shower gels deliver. We love the enthusiasm the surfing community has for the series, it's a perfect fit."
Snapper Rocks Surfriders are the defending two-time champions after winning Series II earlier this year ahead of Coffs Harbour Boardriders in second and Culburra Beach Boardriders third.
"The ABB has put club surfing on the map nationally," said 2012 WSL World Champion and Snapper Rocks Surfriders member Joel Parkinson. "It's been huge. I grew up surfing in a boardriders club and I know I would never have achieved what I have in surfing without my club, so when I get the call every year for the ABB I drop everything to be there.
"Just as the club was so important for me and my surfing, I know it'll be important for all the young guys and girls surfing for the club now. I want to play a part in that.
"To have won the ABB twice has been huge for Snapper. It's a big thing to be able to say you're the best boardriders club in the country, we wear that tag proudly, and we'll be surfing hard to make it three in a row at Cronulla."
Each club team will include one junior (Under 18) surfer, four Open age surfers, and one over 35 surfer. Each team must include one female surfer.
An exciting event format will see club teams battle it out in a Women's division, five-person Teams' division and a Skins competition.  The National Final will include a lucrative, winner-take-all Skins format across 12 heats with a $1000 jackpot in each heat. For the first time this year, the top four clubs following the Skins, Women's and Teams events will contest a Grand Final involving a one-hour heat similar to the Teams relay format to decide the 2016 Original Source Australian Boardriders Battle champion.
"The Original Source Australian Boardriders Battle has become a critical program as a part of the Surfing Australia sport development program," said Surfing Australia CEO Andrew Stark. "In the last two series we have injected over $250,000 into clubs to help build their capacity and importantly through the major national media coverage we have built the profile of clubs in their communities and more broadly.
"We are extremely excited to be hosting this national event program for our club network and thank our valued sponsorship partners for making the series a reality."
Coffs Harbour Boardriders will be celebrating its 50th Anniversary this year and club president Lee Winkler said it was still on a high after finishing second this year.
"This is Coffs Harbour Boardriders' 50th Anniversary year and the success through the Australian Boardriders Battle brought 50 years of establishment together and resonated throughout our surfing community," he said. "This success also strengthened the club brand and drove our commercial worth to new heights and along with the prize money our new clubhouse will be able to be constructed soon, giving our juniors a state of the art training facility and a place Coffs Harbour Boardriders can call home."
Culburra Boardriders from New South Wales was the youngest club at this year's National Final having formed less than 12 months earlier in 2014 and club president Jason Moon said the event's impact was massive for both the club and the local community.
"Firstly as a club, the Australian Boardriders Battle was an excellent platform to launch our club onto the national stage and as a result it has over 100 new members including 48 new junior members," he said. "This was our first competition as a club and we could not have envisaged how well it would impact our club and our whole area."
The Original Source Australian Boardriders Battle also includes a $61,000 Monster Raffle giveaway with one lucky ticket holder to drive away in a new Toyota RAV4 valued at $55,000. Other prize packs will be provided by Milwaukee, Original Source, Oakley, FCS, Nikon and Boost Mobile. The Monster Raffle is open to all Surfing Australia affiliated boardriders clubs with proceeds returning to the boardriders club community.
Minister for the Environment, Minister for Heritage, and Assistant Minister for Planning and Member for Cronulla Mark Speakman said he is looking forward to the final returning to Cronulla Beach for another year.
"It is great to see the Australian Boardriders Battle returning for another year, and I can't wait to welcome the finalists to Cronulla Beach in early 2016.
"The final has again been secured for Cronulla by the NSW Government through its tourism and major events agency, Destination NSW, and I wish all the competitors the very best of luck," Mr Speakman said.
For more information on the series, visit
www.australianboardridersbattle.com
The Original Source Australian Boardriders Battle Schedule:
EVENT 1 - Scamander, TAS -
September 19, 2015
EVENT 2 - Fleurieu Peninsula, SA -
October 10, 2015
EVENT 3 - NSW Nth - Yamba, NSW -
October 31, 2015
EVENT 4 - Gold Coast, QLD -
November 7, 2015
EVENT 5 - NSW Central - North Narrabeen, NSW -
November 14, 2015
EVENT 6 - Trigg, WA -
November 21, 2015
EVENT 7 - Phillip Island, VIC -
December 12, 2015
EVENT 8 - NSW Sth - Kiama, NSW -
January 9, 2016
NATIONAL FINAL:  Cronulla, NSW -
January 23 - 24, 2016