Written by

Elise Hendriksen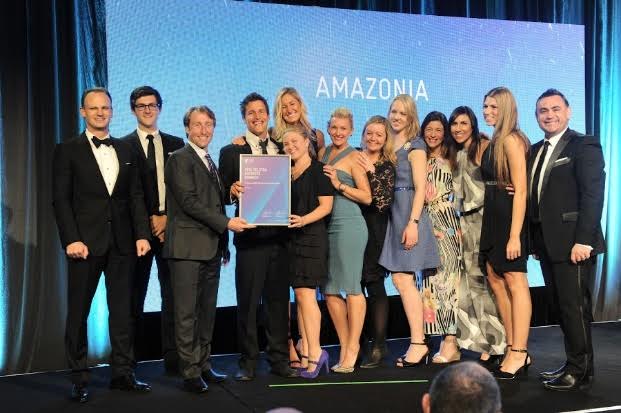 22nd July 2015 - 29 year old Dwayne Martens has added one of the highest business accolades in the country to a string of awards for his leading health food business Amazonia, winning the 2015 New South Wales Business Of The Year Award in the Telstra Australian Business Awards last night.
The Telstra Business Awards have been running since 1992 celebrating the achievements and entrepreneurial spirit of Australia's micro, small and medium businesses.
Will Irving, Telstra Business Group Managing Director and Telstra Business Awards Ambassador, said: "The five New South Wales winners are brilliant and inspiring businesses that are being celebrated for innovation, industry leadership, creative use of technology and their contribution to the local economy.
"Amazonia is a very value-driven and highly ethical business that shows good diversity."
Founded eight years ago by 22-year-old Dwayne Martens in pursuit of bringing the nutritious acai berry to fame, Amazonia is now a multi-national, multi-million dollar sustainable business.
Dwayne accepted his award last night, highlighting the passion behind Amazonia's vision for change.
"We are part of the change, the betterment of humanity and we're just getting started. We are addressing the biggest issue humanity has faced so far; Lifestyle disease contributes to over sixty percent of deaths in developed countries. We are a solutions based business and understand that it's not simply about taking products, but providing education and support to encourage healthier habits."
"We live and breathe this, so it's as simple as emphasizing our passion."
The first Amazonia product was an organic freeze-dried acai powder, packaged out the back of a commercial kitchen and distributed by a passionate young Dwayne Martens, before joining business partner Chris Norden to expand the Amazonia business. Now accompanying their freeze-dried acai product, Amazonia offer a frozen acai range and popular supplement range called Raw, which contains a variety of nutritional products, free from synthetics and additives.
"My proudest achievement, by far, is Amazonia's commitment to sustainably producing products from plant to packaging. Organic farming, maintaining and creating thriving eco systems in the Amazon, supporting local families through fair trade and using recyclable, vegetable-ink printed packaging are just some of the initiatives we've implemented."
"We've faced our challenges over the years and one of our biggest strengths has been our resilience in the face of adversity. At one stage we lost everything in the QLD floods and had to essentially start from scratch," said Martens.
"From those first years of door-to-door selling, to now having a whole team behind me and the freedom to innovate and create, I'm so grateful for what we've accomplished."
Also a finalist for this year's Earnst & Young Entrepreneur of The Year Award, Amazonia are at the forefront of innovation and are a shining example of entrepreneurial spirit and the future of sustainable business.
Telstra Business Awards:
https://www.telstrabusinessawards.com/about/about-awards/
Amazonia: http://www.amazonia.com.au/
ABOUT AMAZONIA
Amazonia is an innovative Australian health-food business that import acai berries from the Amazon and offer a range of whole food supplements, which are largely certified organic and vegan. In 8 years, Amazonia has grown from a single market stall to a multi-million dollar enterprise, whilst maintaining a strict ethos of social and environmental responsibility.  Extending into whole food supplements with their Raw Range, Amazonia is fast becoming one of Australia's largest food and supplement suppliers with a focus on simple, raw and whole nutrition. Dwayne and his team have preserved over 4000 acres of Acai trees in the Amazon, helped over 4000 families and converted over 2000 acres of coconut trees to organic standards in Thailand, to name but a few of their sustainable initiatives. This is a direct reflection of Dwayne's desire to create positive change through business. Their latest Raw Nutritional range was developed by nutritionists, naturopaths and doctors and includes greens, protein, vitamin C, immune, multi, energy and pre-biotics. The recognition of quality and efficacy is evident with six private hospitals already using the range and many more to come.