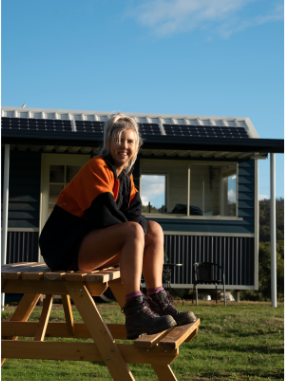 Blundstone Gives a Step Up to Renovators with new House Rules Partnership
Fit-for-purpose and original work boot brand, Blundstone, has embarked on its first partnership with popular renovation series, House Rules High Stakes. The first episode aired on April 6th at 7pm, and saw the highly anticipated return of the series with eight new teams transforming a high-rise penthouse above a 32-story building in the Gold Coast, the program's toughest challenge yet.
Blundstone are proud to be a part of a new series that offers advice on how people can be productive and keep busy in these times of uncertainty. The series will provide quick and easy ways to rejuvenate Australian homes and highlight the need for the right tools for the job, right down to footwear! The perfectly matched partnership also comes at a pinnacle time for the brand as they celebrate 150 years of providing quality work boots.
"We are excited to start our collaboration with House Rules High Stakes and are thrilled that the Blundstone work and safety boot range is able to provide protection and support to everyone involved, giving them the confidence in challenges and helping to make light work of hard work," says Adam Blake, Blundstone Co-Chief Operating Officer for Global Brands, Sales and Range Management. "Throughout the series, we hope that viewers gain inspiration for renovation projects they can undertake at home or in their outdoor spaces, and realise that Blundstone boots are the perfect footwear for DIY jobs".  
The contestants, tradies and crew will all be wearing Blundstones, highlighting the versatility of the products for any setting and activity. The range provides boots that are suitable for all building jobs, no matter how big or small, indoors or outdoors, and they even have kid's sizes for little home helpers. Some styles offer water resistant qualities and all products are committed to being durable and of high quality, with innovation being key in the development of each boot.
The Blundstone safety boot range complies with AS 2210.3:2019 and ASTM F2413-18 standards, are available where hard work is taken seriously via select stores throughout Australia, and backed by a 30-day comfort and six-month manufacturing guarantee.
For further information, please visit
https://www.blundstone.com.au/work-boots
About Blundstone
Blundstone is the original work boot that you can be confident will protect you because it is fit for purpose.  Founded in Tasmania in 1870, quality, comfort, protection and durability have always been a part of their heritage.
Blundstone safety styles are built with features that provide protection against impact and penetration, plus resistance to cuts, chemicals, heat, electrical hazards, rolling forces, and other foreign stimulus. Since inception, Blundstone has been developing new ways to provide unmatched comfort and protection from the elements. The brand invests heavily in research and collaborates with partners to access the best and latest technologies available. Their commitment to quality has seen them grow into a global business loved in more than 50 countries worldwide.
About XRD® Technology
XRD® Technology provides supreme and repeated impact protection by absorbing up to 90% of energy with every step taken. This feature changes the level of performance, comfort and confidence for the wearer and reduces fatigue and orthopaedic issues.