Written by

Alexandra Baxter, PhD Candidate in Law/Criminology, researching human trafficking and modern slavery in Australia, Flinders University
Yes, there was slavery in Australia. Yes, there is slavery in Australia now.
It occurs as forced labour, sexual exploitation and forced marriage.
These situations rarely involve the actual chains and bars we commonly associate with historical slavery. They are nonetheless conditions of enslavement: a person is forced to work under threat; is controlled by another; is dehumanised or treated as a commodity; and is not free to leave.
Relatively speaking, modern slavery is rare in Australia. Perhaps a few thousand people fit the strict definition, compared with about 40 million globally.
But every number is the story of a human being. Their stories are, however, rarely heard as modern slavery in Australia remains largely invisible.
Australian statistics
The best official data on modern slavery in Australia come from the Australian Federal Police, the agency to which all alleged human trafficking and slavery offences must be referred. Between 2013 and 2017, as reported to the federal parliament's Inquiry into establishing a Modern Slavery Act, there were 496 referrals.
Read more: At last, Australia has a Modern Slavery Act. Here's what you'll need to know
The cases represent just a fifth of the iceberg, according to Anti-Slavery Australia, a research and policy centre that provides free legal services to victims of modern slavery. It estimates more than 80% of victims go undetected. This means about 2,000 more people in modern slavery than the AFP numbers indicate.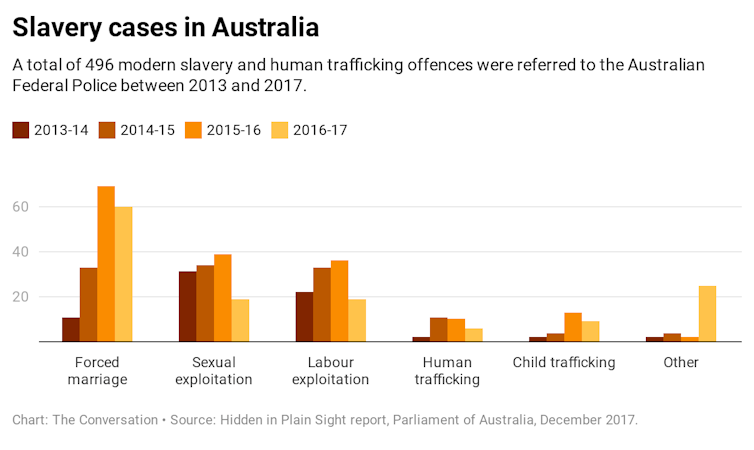 Authors: Alexandra Baxter, PhD Candidate in Law/Criminology, researching human trafficking and modern slavery in Australia, Flinders University
Read more https://theconversation.com/forced-labour-sexual-exploitation-and-forced-marriage-modern-slavery-in-australia-hides-in-plain-sight-140838