Written by

Berto Pandolfo, Senior Lecturer Product Design, University of Technology Sydney
Around the world, people are racing to design and manufacture much-needed ventilators to address a global lack of supply. One New York hospital has reportedly attempted treating two patients per ventilator out of desperation.
On March 26, a joint statement published by the American Society of Anaesthesiologists advised in regards to COVID-19 patients that:
… sharing mechanical ventilators should not be attempted because it cannot be done safely with current equipment.
Ventilators help a patient breathe by assisting the lungs to inhale and exhale air. These machines are used to treat patients suffering from conditions including pneumonia, brain injury and stroke.
The SARS-CoV-2 virus (which causes the COVID-19 disease) attacks the respiratory system. When infected, a patient's ability to breathe is compromised. In mild cases, breathing or respiratory support can be provided using noninvasive means, such as delivering oxygen-rich air through a face mask.
In more severe cases, when a patient suffers acute respiratory distress, an invasive form of respiratory support is required. This is provided through an artificial airway. A tube attached to a ventilator is inserted into the patient's the mouth or nose (and down the windpipe), or via a surgically-made hole in the neck.
Read more: What steps hospitals can take if coronavirus leads to a shortage of beds
Breathe in, breathe out
The principle function of a ventilator is to pump or blow oxygen-rich air into the lungs; this is referred to as "oxygenation". Ventilators also assist in the removal of carbon dioxide from the lungs, and this is referred to as "ventilation".
One basic type of ventilator is the Bag Valve Mask (BVM). The BVM, also known as the Ambu Bag, is operated manually by a person squeezing a self-inflating bladder. This is an essential tool for ambulance crews, first responders and critical care units. It is light, compact and easy to use.
However, in situations where a steady and controlled air exchange (oxygen in, carbon dioxide out) is needed, mechanical ventilators are required. These look like a quintessential medical product.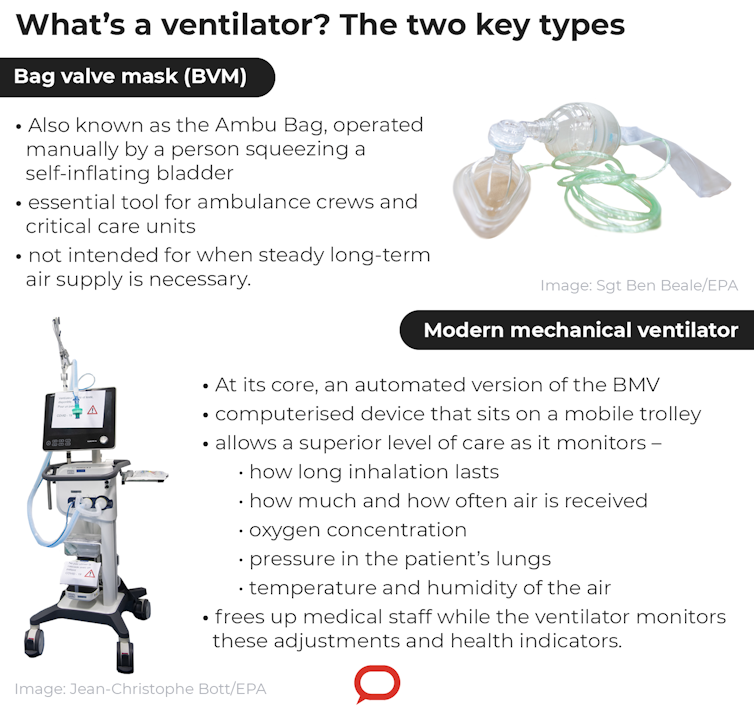 Authors: Berto Pandolfo, Senior Lecturer Product Design, University of Technology Sydney
Read more https://theconversation.com/icu-ventilators-what-they-are-how-they-work-and-why-its-hard-to-make-more-135423