Written by

Sarah Mokrzycki, PhD Candidate, Victoria University
In recent years, there has been a surge in "female empowerment" stories in the Australian picture book market. This long-overdue movement was largely inspired by the success of the crowdfunded book Goodnight Stories for Rebel Girls, spawning many imitations since its publication in 2016.
In April 2019, I examined the 100 bestselling picture books at Australian book retailer Dymocks: an almost 50/50 mix of modern and classic stories (the majority being published in the past five years). I discovered that despite the promising evolution of the rebel girl trend, the numbers tell us that picture books as a whole remain highly gendered and highly sexist. Worse – female protagonists remain largely invisible.
Ballerinas and princesses
In the Dymocks bestsellers list, 46% of books had male protagonists, while only 17% had female protagonists (in 32% of books there was no lead character). There were only seven female led books in the top 50, compared to 26 male led books.
Sixteen books in the list showed characters in specific occupations (outside of parenthood). In the female-led stories, protagonists only showed ambition for traditional feminine pursuits. There were three ballerinas, three princesses and one fashion designer - Claris, a mouse, who "dreamed about clothes" and "read about handbags in Vanity Fair". (In this story, a misbehaving girl is also chastised for being "neither proper nor prim!")
In comparison, the male-led stories showed protagonists in roles ranging from farmers and chefs to zookeepers and scientists.
Not much has changed in the past 20 years. A 1998 study found there were four primary occupations for female characters in picture books – scullery maid, daughter, princess and mother, while there were ten for males – which included detective, aircraft inventor and knight.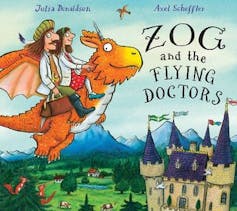 Authors: Sarah Mokrzycki, PhD Candidate, Victoria University
Read more http://theconversation.com/i-looked-at-100-best-selling-picture-books-female-protagonists-were-largely-invisible-115843