Written by

Stephen Morey, Senior Lecturer, Department of Languages and Linguistics, La Trobe University
At the May 18 federal election, voters in every electorate of Australia's House of Representatives will have a choice of multiple candidates. Preferential voting means that we rank candidates in the order that we prefer them.
So, how does preferential voting work?
Voters must number every box on the ballot paper. You can number them in any order, but you must number each of them. So if there are eight candidates, you must number one to eight inclusive.
Read more: How much influence will independents and minor parties have this election? Please explain
You don't have to follow how-to-vote cards
Supporters of political parties hand out "how-to-vote" cards that advise voters how to fill out their preferences, but you certainly don't have to follow them. You can still vote "1" for that party's candidate, but change the order of your later preferences.
For example, suppose you want to vote for the candidate of the Liberal Party, and it recommends that you vote "1" Liberal and "2" for the candidate of the United Australia Party (UAP), led by Clive Palmer. If you don't like the UAP, you can still vote Liberal "1", and mark your other preferences in any order you choose.
As long as each candidate receives a different preference, your vote is formal (valid). And as long as you vote "1" for the Liberal party candidate, your vote is still a full vote for the Liberals.
What a valid vote looks like
Let's take an imaginary electorate that has the following candidates.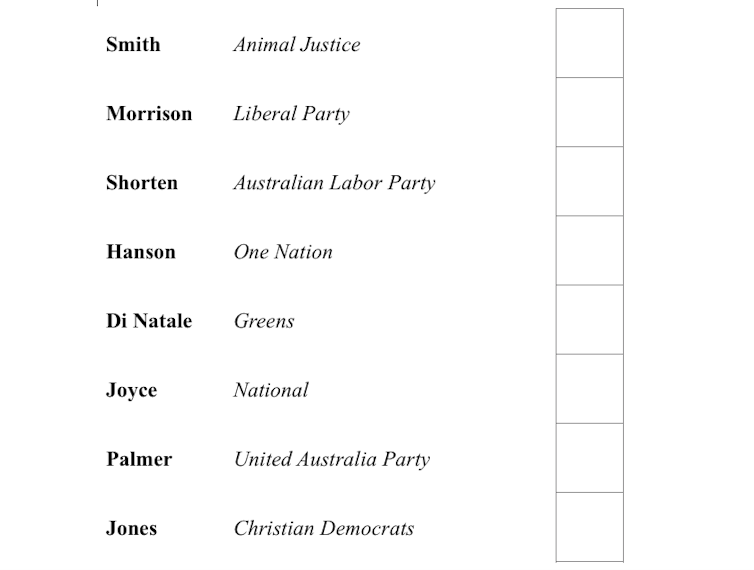 Authors: Stephen Morey, Senior Lecturer, Department of Languages and Linguistics, La Trobe University
Read more http://theconversation.com/explainer-how-does-preferential-voting-work-in-the-house-of-representatives-116348