Written by

Hal Pawson, Associate Director - City Futures - Urban Policy and Strategy, City Futures Research Centre, Housing Policy and Practice, UNSW
Labor's bold stance on housing tax reform and investment makes this one of the likely policy flashpoints in the coming election campaign. How does the Coalition government's housing record stand up to scrutiny? What would be in prospect in a third Liberal-National term? And exactly what is Labor's alternative pitch?
Read more: Housing policy reset is overdue, and not only in Australia
The Coalition record
Under the Abbott-Turnbull-Morrison governments we've seen a housing market featuring both rampant inflation and damaging volatility. Despite recent falls in some cities, late 2018 prices remained 29% up on 2013 across the country – 42% in Sydney.
While first home buyer numbers grew in 2018, the total remained well below 2007 (pre-GFC) levels. Unless this changes the rate of young adult home ownership is likely to drift still lower.
During this term of government, official action to moderate housing market instability has been left almost entirely to the Reserve Bank of Australia and the Australian Prudential Regulation Authority, through their influence on the cost and accessibility of housing finance.
The government has mostly turned a blind eye to more far-reaching reforms that could squarely address Australia's boom-and-bust housing dynamic. The prime source of recent volatility has been the erratic behaviour of landlord investors, as the chart below shows. They are responsible for around 35% of residential transactions across the country.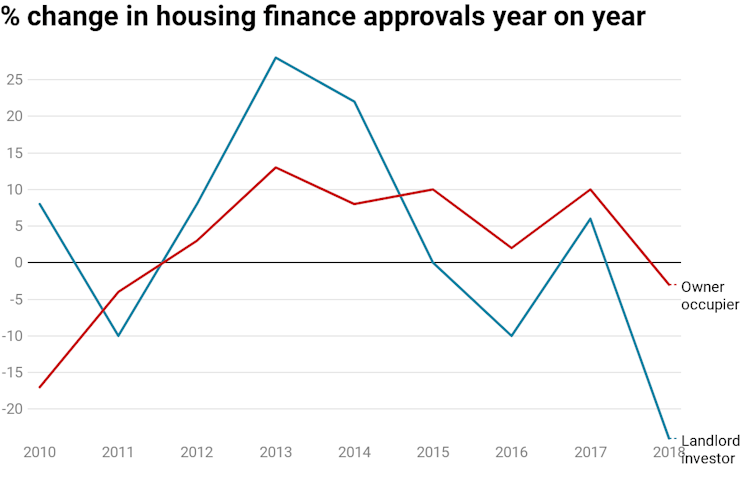 Authors: Hal Pawson, Associate Director - City Futures - Urban Policy and Strategy, City Futures Research Centre, Housing Policy and Practice, UNSW
Read more http://theconversation.com/on-housing-theres-clear-blue-water-between-the-main-parties-113556