Written by

William Peterson, Senior Lecturer in Drama, Flinders University
Review: Sutra, OzAsia Festival.
Sixteen boxes, open on one side and lined up on stage, start flipping toward the audience – the heart-stopping, thunderous crashing of giant wooden boxes larger than a coffin. A dancer pulls a Shaolin monk from one of the boxes with a long pole, the delicate tension and release between them animating the monk. Suddenly, robe-clad monks fling themselves out from a sea of prone boxes, two at a time.
Children in the audience squeal with delight. We are witnessing magic.
Sutra, presented in its Australian premiere as part of Adelaide's OzAsia Festival, more than merits the critical acclaim heaped upon it. Touring in its tenth year, this spectacular work features 19 Shaolin monks flying, leaping and moving gracefully and purposefully across the stage along with giant boxes that become dramatic characters in the action.
Read more: Dancing Grandmothers offers a moment of communion
Belgian choreographer Sidi Larbi Cherkaoui's fusion of the choreographic universe of contemporary dance with the kung fu techniques of the famed Shaolin monks is both masterful and unexpected. The 19 monks in Sutra are extraordinary acrobats, and we take great delight as they fly, spin, kick, leap, and somersault across the stage.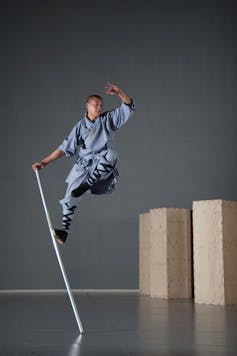 Authors: William Peterson, Senior Lecturer in Drama, Flinders University
Read more http://theconversation.com/sutra-brings-a-state-of-grace-to-the-stage-106337