Written by

John Daley, Chief Executive Officer, Grattan Institute
This week we're exploring the state of nine different policy areas across Australia's states, as detailed in Grattan Institute's State Orange Book 2018. Read the other articles in the series here.
House prices might now be falling, but Australians' anxiety over housing affordability is not. Price falls of a few percentage points in Sydney and Melbourne are cold comfort to first home buyers. They are still paying 50% more than they would have five years ago.
Further price falls are likely, but even then housing will still be less affordable than it was two decades ago.
Read more: Three charts on: poorer Australians bearing the brunt of rising housing costs
Home ownership rates are declining across Australia, especially among the young and the poor. An increasing proportion of low-income earners are in rental stress in all states except Queensland and Tasmania.
STATE HOUSING SCORECARD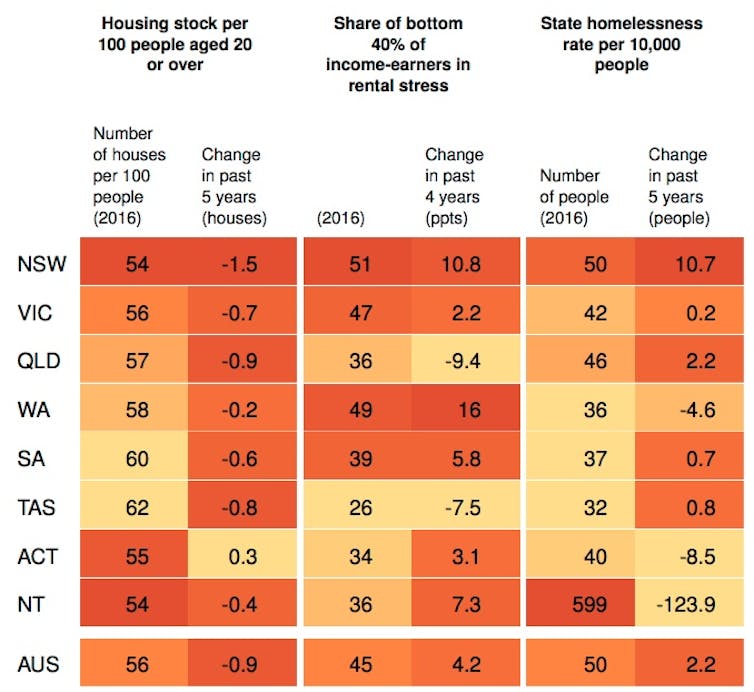 Authors: John Daley, Chief Executive Officer, Grattan Institute
Read more http://theconversation.com/to-make-housing-more-affordable-this-is-what-state-governments-need-to-do-105050