Written by

Brigit Busicchia, PhD Candidate, Political Economy, Macquarie University
Have you noticed that some of Australia's favourite baked goods, such as croissants and buttery biscuits, have been creeping up in price? This becomes less surprising when one considers that globally, the price of butter has risen by around 60% over the past year.
In Australia, just as milk producers keep expressing concerns about farm-gate milk prices offered by cooperatives and dairy processors, butter prices have reached record levels on international commodity markets.
While butter prices have more than doubled since July 2016, farm-gate milk prices in most producing areas have remained stable. Is there a paradox? Not really. The key ingredient butter producers require is not just the milk - but rather the milk fat.
What is driving the butter price spike?
Despite relatively stable milk production levels, butter production has dropped in some of the major producing countries since late 2016. In the European Union, butter production for the first 6 months of 2017 was about 5.5% lower than during the same period in 2016.
In Australia, butter production has dropped by 18% between 2016 and 2017.
The reasons for lower butter production levels in Australia are complex. First, we are seeing lower than usual milk fat levels and the diversion of milk fat solids towards the processing of higher value-added dairy products such as cheese and cream, to meet a rising demand from Asian and US markets.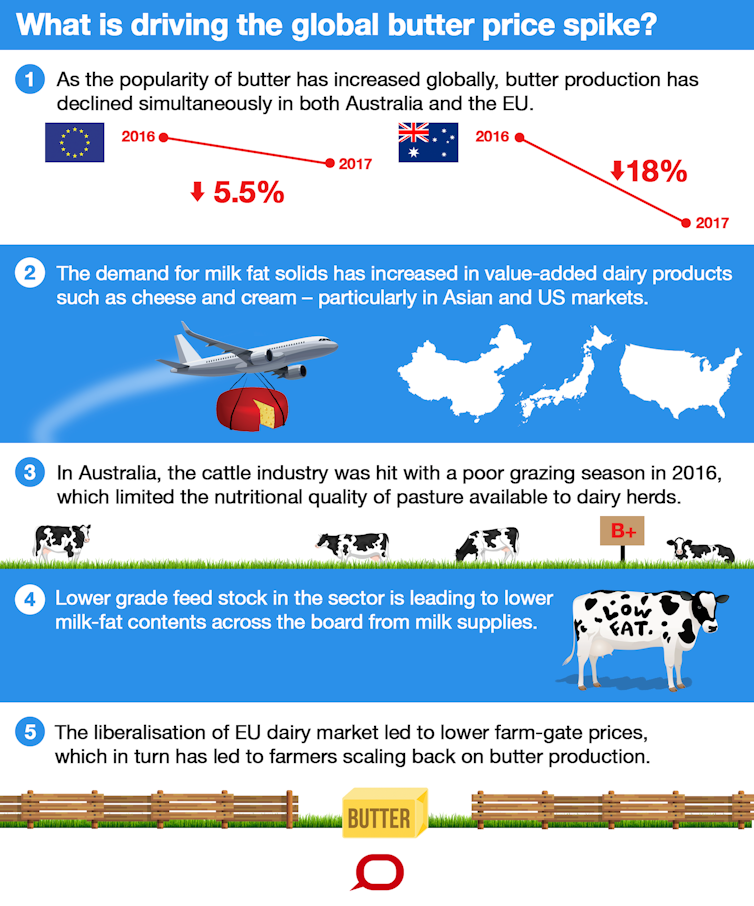 Authors: Brigit Busicchia, PhD Candidate, Political Economy, Macquarie University
Read more http://theconversation.com/what-is-behind-the-rising-price-of-butter-85968