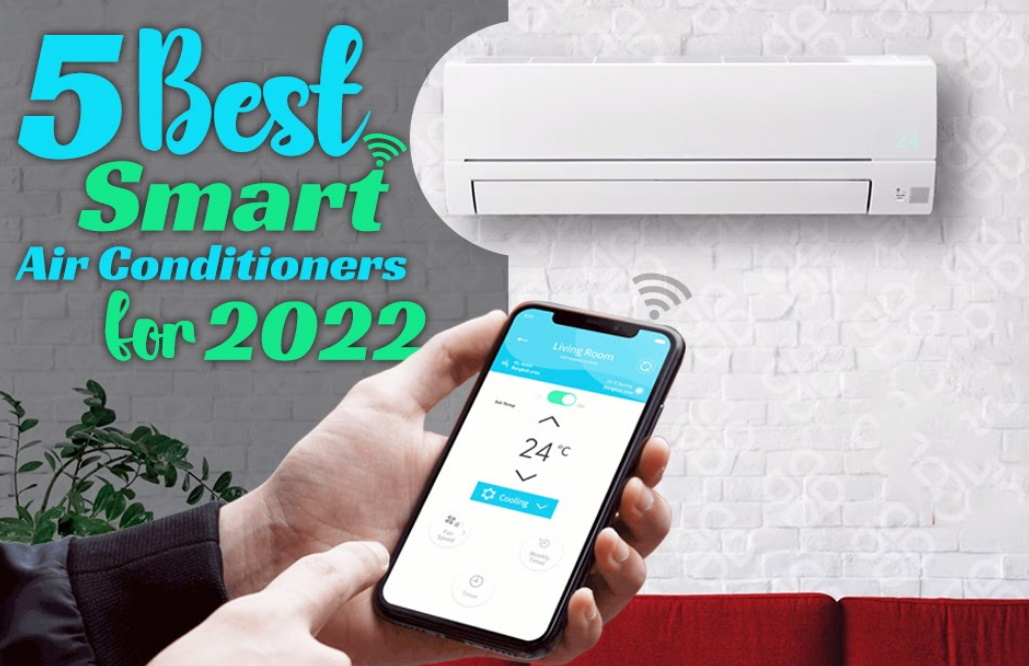 The air conditioner is the basic necessity of summer. But turning your home into a 24/7 cool place can jack up your energy bill. Smart Air Conditioners have various benefits. You can turn it off or enable Energy Saver mode from your office desk if someday you forget to turn the Air Conditioner off. 
Smart Air Conditioners are, no doubt, more expensive than traditional ACs. But you can easily identify that Smart ACs can potentially save money from energy bills in the long run. When you go out to buy a new air conditioner for your home or office, you might get confused as there are various types of ACs. In this article, you'll know about types of ACs and the best smart ACs of 2022. Let's get started!
Types Of An Air Conditioner
There are four types of ACs, regarding their working tactics and physical design:
1.
Reverse Cycle air conditioning 
The reverse cycle air conditioning is a flexible, efficient and adaptable form of ACs. It refers to a refrigeration cycle useful in both summer and winter. The reverse Cycle air conditioner will provide you with cool in summer and heating in winter. Thus, you can function according to your requirements. 
2.
Portable Air Conditioner
Traditional air conditioners limit their usage and cooling to where they are installed. But this new version of air conditioners has solved this issue. Portable air conditioners can be moved to any place in your home. It will keep you cool whether you're in your bedroom, couch, living room or kitchen. 
3.
Stationary Wall Mounted AC
Stationary wall-mounted or split system air conditioners include two different units, indoor unit and outdoor unit. The indoor unit is placed on the wall where you want to install AC. At the same time, the outdoor unit is usually placed on the ground. The two units are programmed to work together to cool the place. These are mostly used traditional ACs. 
4.
Cassette AC
Cassette ACs have the same working as wall mounted ACs. The only difference is that indoor units of Cassette ACs are installed in the Ceilings. In contrast, an outdoor unit is placed outside in fresh air. Thus, only its design is different, but its working is the same as Stationary Wall Mounted ACs.
Best Smart Air Conditioners
To ease your difficulty in finding the best smart air conditioner, here we have listed the top 5 Smart Air Conditioners in the market. In case you want to buy a smart AC at lower rates, head to a quality conditioning company as they provide good quality at lower prices.
1.
Mitsubishi Electric MSZ-HR25VF / MUZ-HR25VF Wall Mounted Split System
Mitsubishi Electric range of classic air conditioners has advanced smart technology. Besides providing good value for its price, it can also be functioned according to inverter technology. 
The new 5.0Wk model comes up in a compact and stylish design, adding beauty to your interior. An optional Wi-fi interface is also available with this model, through which you can enable control and monitor the usage of AC from your smartphone. It also offers a scheduling system; an automated weekly timer allows you to change the schedule according to your requirements. 
2.
Actron Air CRE-140AS URC-140AS 14kW Cassette Split System
Next on the list is a cassette split system by Actron Air. This smart technology can provide you with cooling (13.75kW) and heating (15.30kW).
 It includes a built-in drain pump fitted in standard, premium wire control, and cassettes 4-way panel. Actron Air conditioner cools your high-temperature room in just a few minutes with its advanced 4-way cooling panel. If you are interested in getting a cassette AC, the smart technology of Actron Air is the premium choice. 
3.
Funai MAC-SK35HPN03 Mobile Air Conditioner White
Funai Mobile air conditioner is a portable type of AC. It can be controlled through remote control as well as smartphone. Moreover, it offers three different cooling modes with a capacity of 2.5-3.5kW. 
The finest air conditioners by Funai also offer inverter technology. The inverter technology has become a must, as it can make the air conditioner useful in both winter and summer. If you want to move your AC to wherever you want, Choose the portable AC by Funai as it has the top-notch smart working ability. 
4.
Toshiba RAS-09U2KHS-EE / RAS-09U2AHS-EE Wall Mounted Split System
How can we forget Toshiba while discussing top-grade smart ACs? Toshiba is one of the leading companies that provides superb smart air conditioners for domestic and commercial purposes. 
The mentioned model of Toshiba is not different in appearance from its other colleagues. But it offers the highest quality features that delight many users. It can process through an area of 25 sq.m. It has an attractive minimalist design to enhance the aesthetic of your room. 
Besides smart technology, it also offers convenient adjustment of airflow, rapid change of air temperature and minimal vibration. Thus, it offers the finest correspondence of price and quality. 
5.
LG B09TS Wall Mounted Split System
 LG is also a well-known provider of great air conditioning technologies. LG WS split air conditioner gives a compatible control approach with Google Assistant. Using Google Assistant, you can even ask questions from your Lg WS AC. 
Smart app also lets you access and control your home AC from your office desk. You can also check your real-time energy source to manage the energy used by LG WS AC. Thus, it provides a user-friendly interface that enhances your experience with LG.
Bottom Line
No doubt traditional ACs were also pretty fine. But the advanced smart technology has something unique that makes your Air Conditioning experience wonderful. Moreover, it also greatly reduces your energy bills. So, when are you going to buy your smart ABC Air conditioner?