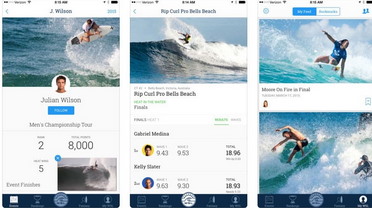 When it comes to surfing, Mobile Surfing App Development empowers surfers with the latest details on local weather and climatic conditions. In addition, Mobile Surfing Apps allow users to explore surfing related news, travel, training and gear, all in one place.
Magicseaweed
If you are on the lookout for long rage surf forecasts, the Magicseaweed Mobile Surfing App forecasts include surf height, swell height, period and direction, wind speed and direction, air and water temperatures and also the popular Magicseaweed Star Ratings as well.
With the Magicseaweed Mobile Surfing App, users will have access to more than 150 panoramic, multi-view surf cams worldwide, swell, wind, period and pressure charts, live buoy wind data and real-time surf reports from a network of trusted reporters.
The Magicseaweed Mobile Surfing App also provides users access to Magicseaweed editorial features, the latest surf news, local surf-spot and beach business directory and of course your favourite surf spots, accessible across any device.
Surfline
Using the Surfline Mobile Surfing App, surfers of all skill levels can find great waves with exclusive access to the world's largest network of surf cams, live surf reports and long range swell forecasts for thousands of surf spots worldwide, all in one place.
Established in 1985, today the Surfline Mobile Surfing App offers over 700 surf cams to view live surf conditions and see what's happening at your favourite local spots and users can also save your favourite spots, surf cams and swell forecasts all in one place with quick, easy access.
Surfline Mobile Surfing App users can view reports for hundreds of surf spots around the world from Surfline's team of expert forecasters and thereby know when the wind turns offshore, when the swell will arrive, what the water temperature is and what time the tide drops as well, making surfing more fun and safe.
The Surfline Mobile Surfing App also provides latest news and event coverage so even if you can't make it to the action yourself you can watch the biggest and best surf sessions around the globe as they unfold, live.
Windy Mobile Surfing App
Whether you are tracking a tropical storm, planning a trip, pursuing your favourite outdoor sport, or you just need to know if it will rain this weekend, the Windy Mobile Surfing App provides you with the most up-to-date weather forecast around.
The Windy Mobile Surfing Android App Development is trusted by professional surfers and users can view all forecast models at once and explore over forty different weather maps powered by Satellite and Doppler radar as well.
Surfers around the world love the smooth and fluid presentation of the Windy Mobile Surfing App that is fully customisable with detailed weather forecasts for any location including temperature, rain and snow accumulation, wind speed, wind gusts, wave forecasts, tide graphs and the wind direction as well alongside detailed local surfing maps.

World Surf League
The World Surf League is the home of all the world's best surfers competing at exotic locations around the globe to become this year's WSL champion.
World Surf League Mobile Surfing App users can now watch live event broadcasts and keep up-to-date with your favourite athletes anywhere, anytime.
The World Surf League App Developer has also included event alerts, so you never miss a wave, surf rankings, a Fantasy Surfing League and the latest video highlights, wipeouts, news and more, updated daily.
Beachsafe Mobile Surfing App
Developed by Surf Life Saving Australia, the Beachsafe Mobile Surfing App includes the location, weather, surf conditions, hazards and local facilities for all Australian beaches.
Users of the Beachsafe Mobile Surfing App can also obtain expert advice about rip currents, flags, signs, waves, marine creatures, surf skills and more.
Find beaches in seconds with your device's GPS and then use the map view to quickly locate beaches near you, refine by town, city, region or beach and also save your favourite beaches.
Users of this App can also quickly and easily see if a beach is patrolled by surf lifesavers or lifeguards, view detailed weather forecasts, check the swell and wind forecast and see tide information as well.
Surfers can also access detailed summaries of each beach written by coastal safety experts, review a beach's hazard rating, learn about first aid and surf skills also.
Dorsal - Shark Spotting Surfing App
A valuable tool for surfers, the Dorsal Mobile Surfing App is the worlds most advanced shark reporting and alert solution. Using the Dorsal Mobile Surfing App, surfers and local community members can immediately alert other surfers to shark sightings or attacks in their area.
With over 250,000 users, the Dorsal Mobile Surfing App features reports from official channels, the public, Dorsal aerial surveillance partners and over 100 media outlets covering Australia, the USA and Hawaii
The Dorsal Mobile Surfing App makes it easy for surfers to Search your local area to see if there have been any shark sightings in the last 12 hours or submit your own sightings to warn others, including video and image uploading as well.
Conclusion
Using a Mobile Surfing App, surfers can obtain all the information they require about waves, winds, tides and more in order to make the most of their surfing session. Get downloading and hit the beach in search of the perfect wave!