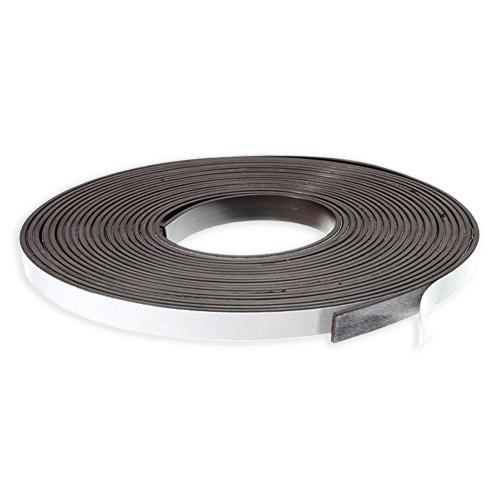 Magnetic tape is defined as a tape that utilizes magnetism instead of traditional adhesive. These tapes are easy to adjust, remove, and reuse. Magnetic tapes are commonly used across different applications and industries. You can always find them in commercial areas as a versatile and creative alternative to common adhesive tape.
The magnetic tape is commonly made from barium ferrite or strontium ferrite. These elements are wrapped in heat-sensitive plastic material, creating the finished product.
Magnetic tape is known for its:
Easy application and removal

Versatility

Flexible properties

Suitability to various industries and environment

Cost-effectiveness
Uses of magnetic tapes
Commercially made magnetic tapes are used in multiple settings for various purposes. You can see them in factories, exhibition halls, and shops. You can also find them in places where you can see signs, dividers, posters, point-of-sale, and placards displayed temporarily.
You can also use these tapes as:
Temporary storage for light metal objects.

Storage for light tools and equipment for ease of access.

Creative storage for small metal containers in your kitchen.
Types of magnetic tapes
Magnetic tape comes in various types with different lengths and using different materials, with various backings for different uses. Its size is normally measured in millimeters or meters. They are easy to cut, allowing you to get a specific length based on your needs.
White and black are the typical colors of magnetic tapes. The gloss white coated magnetic tape is a popular choice due to its aesthetic property. Most types of magnetic tapes are durable and have a strong pull force. However, there are stronger magnetic tapes that are available for heavier applications.
The traditional back tape has a magnetic back instead of an adhesive one. It is best used in areas with many ferromagnetic surfaces, such as steel racks in warehouses.

Plain black magnetic tape is a variety of adhesive back tape that has no adhesive. It allows the user to put their adhesive, making it ideal for special settings.

Adhesive back magnetic tape has a basic adhesive layer on its back that allows you to stick the tape to any surface that is not magnetic. You can double the magnetic tape by laying another magnetic tape on top for an enhanced magnetic charge.
Magnetic tape has two forms: A and B. Opposite polarity attracts. If you place two pieces of magnets of the same form on each other, one will repel the other.
How strong are magnetic tapes?
The strength of the magnetic tape is calculated based on its areal surface. For instance, a 30-centimeter-long tape that is two-centimeters wide has an area of 60 centimeters.
Multiply the magnetic force per square centimeter. A magnetic tape with an area of 60 centimeters with a magnetic force of 100 grams per square centimeter has a pull force of 6000 grams or six kilograms.
The main purpose of magnetic tape is to mount objects to ferrous surfaces. You can also use it to stick to any materials together. However, you should be careful when using the magnetic tape near stronger magnets as it could affect the tape's strength.
With its flexibility, you can use magnetic tape for many applications in different environments. It has been used for many years and still widely used due to its many advantages from efficiency to cost-effectivity.
Author Bio: Ester Adams is an experienced independent content writer with a demonstrated history of working in the writing and editing industry.  She is a multi-niche content chef who loves cooking new things.