What did we do before cloud storage? It's hard to imagine not having the convenience of accessing, editing and sharing documents instantly from any device. Google Drive has become one of the central pillars of our online world, and this has only been exemplified by the rise in working from home caused by the coronavirus pandemic. With shared cloud storage, it doesn't matter if colleagues are working in the same office, city, country or even from abroad.
If you use Google Drive for working with Docs, Sheets, Slides or Forms, you will know it is a comfortable experience. Despite there being no dedicated Google Drive PDF editor, there are third-party free PDF editors for Google Drive that integrate with the cloud and offer increased functionality. One of these applications is Lumin PDF, which gives its users the ability to edit a PDF in Google drive, annotate text and images and insert e-signatures. Read on to see how you can do more with PDF files in Google Drive.
Edit a PDF online in Google Docs
If you wish to simply take the text out of a PDF document and change it, there is the ability to do so with Google Docs. If you have a saved document you can view it without any problem on Google Drive, but can't make any direct changes. 
To edit the PDF in drive you have to open the PDF and click the option up the top;
Open with Google Docs
. Here, a new document is created and a copy of the text from the PDF is inserted. This is done using Optical Character Recognition (OCR) technology, where the text from a PDF image is converted into format that can be read by the computer. With your PDF content in a Google Doc you are now free to edit any part of the text. This workaround is okay if you want to simply take the text from a PDF to use elsewhere, but the phrase "edit a PDF in Google Docs" is actually a misnomer, as the original PDF document remains untouched.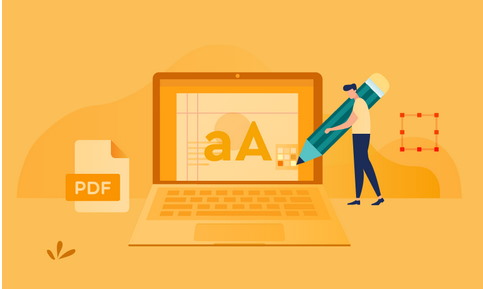 What else can Google Drive do?
Annotate - This is handy if you have a document that is to be shared with colleagues. Pending access permissions, multiple people can view the document at the same time and add notes and comments to text and images within the file. This is updated in real-time, allowing for efficient co-working. Additionally, if the document is downloaded and sent through email, the comments won't disappear. 
Search and copy text - With PDFs there was never the ability to search and copy text without the use of special programs. This would cause problems if you were required to review a long legal document to find specific wording, for example. Once again, OCR technology comes to the rescue. In Google Drive there is no need for conversion, you can search and copy text directly from the PDF.
As you can see, there are some Google Drive PDF capabilities but they are limited. Trying to edit a PDF using Google docs isn't going to get you very far, which is why third-party online PDF editors in Google Drive are used. 
How can you leverage third-party apps?
The best PDF editors for Google Drive are able to be used just as easily as the Google product itself; that is, with intuitive design and the ability to edit PDFs in Google Drive on Android or iOS just as easily as on a desktop computer. Lumin PDF is a great choice as it syncs directly, meaning you can open and edit PDFs easily using Lumin's advanced editing software. Any changes appear instantly in the PDF stored on your Google Drive.
So what else can you do? Here are some features the best Google Drive PDF editors provide:
E-signatures

- Whether working remotely or not, it no longer makes sense to print PDFs only to sign, scan and then send. E-signatures mean you can provide final approval to a document within seconds and without an office set-up.
File compression

- One of the big advantages of PDFs is that they can be viewed exactly the same on any device or browser, regardless of the application being used. This is because custom fonts, images and other graphic elements are included as part of the file. The downside of this is that PDFs can be larger than your normal documents, potentially causing problems when it comes to sending or storing them. Large PDFs can be compressed with Lumin, making them a fraction of the size without sacrificing quality.





Merging and splitting

- These are much needed capabilities for anyone who routinely works with PDF documents. Merging involves taking parts of different or the same documents and putting them together into one. This is especially useful for presentations or reports where pages need to be compiled and reordered. Splitting involves extracting parts of a PDF to form a new document. Although these are fairly standard features, it can only be done in Google Drive with the help of a third-party application.





Cross-platform

- The most versatile PDF editors allow users to store, edit and share PDF documents from different operating systems. This means you have the same functionality whether you edit a PDF through Google Drive on iPad, Android mobile, a computer running MacOS or a Windows laptop.
What should I do next?
We have looked at ways Google Drive can be used to work with PDF documents, as well as how it can really benefit from linked software. While some of Lumin's features have been highlighted, there is more to be found on
their website
, with guides on how to use the integrated Google Drive PDF editor, as well as some PDF
templates
that can be used in business and everyday life.