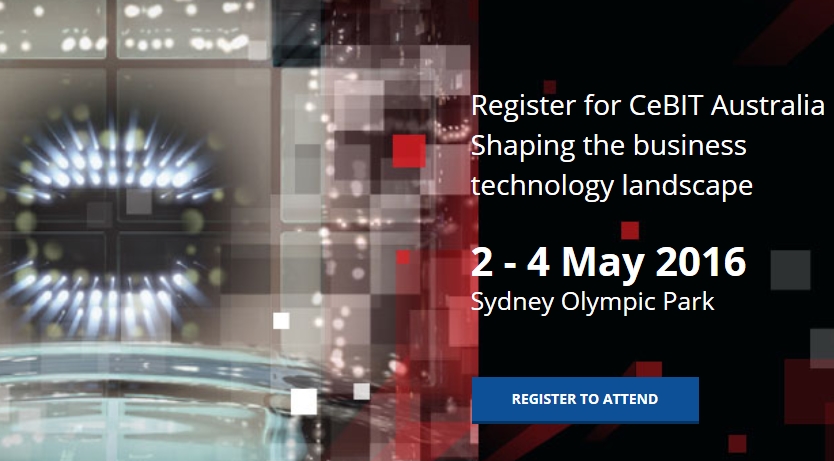 CeBIT Australia, the largest and longest running business technology event in the Asia-Pacific region kicked off today, welcoming thousands of ICT professionals to explore the future of the business technology landscape through an exhibition and ten dedicated conferences at Sydney Olympic Park.
The Hon. Mike Baird MP, Premier of NSW was joined by the Lord Mayor of Sydney Clover Moore to open CeBIT 2016 with a ministerial address that emphasised the value of technical innovation to the NSW economy.
"We are very proud to continue our support of CeBIT. This is a very significant conference and we are determined to do everything possible to have Sydney and NSW at the forefront of tech in this great nation," said The Hon. Mike Baird MP, Premier of NSW.

Kathryn Parsons, Co-Founder & Co-Chief Executive Officer of Decoded said in her opening keynote that the future is being written in lines of code.
A passionate advocate on a mission to spread digital enlightenment by teaching students and professionals to 'code in a day', Ms Parsons explained that innovation is not a once off achievement, but rather a constant culture required to foster agile innovation methodologies.
"Accelerating learning experiences to develop an understanding of code, data, future technologies and cyber security to embrace digital transformation are at the forefront of driving the agenda for coding on the curriculum.
"Creative risk needs to be viewed in a more positive environment, making technology education amazing, and empowering anyone to understand the languages behind the screen," said Ms Parsons.
Over 80 start-ups are featured on the CeBIT exhibition floor, showcasing new innovations including apps, software, robots, cardboard goggles and business related products and services. Start-ups highlighted on the NSW Government stand include Wollongong IT, TapIT, Metamako, ICT International, Momentum Cloud, Targ, ATP Innovations, Advantage Wollongong, University of Newcastle, SynFlyt, My Online Clinic.
Thomas Zuccarelli, COO, Utillix, the Google Earth of underground infrastructure which reveals 'what lies beneath' before any digging begins, launched his app at CeBIT today.
"It has been terrific to officially launch Utillix amongst the technology community – from start-ups to government agencies. As an Australian-based company CeBIT has given us a platform to promote our app that we wouldn't have gotten anywhere else', said Zuccarelli.
On display, is the first dedicated keyboard for both square and round smartwatches. Developed by TouchOne it has a patented intuitive fast input display and has been downloaded from Google Play over 8,000 times since launching in early April 2016.
Knokal is a start-up on a positive track having earlier this year exhibited at the Startup Spotlight at South by SouthWest (SXSW).
An app to reduce road accidents caused by people using their mobile phones while driving is on show from Tamad Technology; the app automatically sends an estimated time of arrival text on behalf of a user at a distance to arrival that the user presets.
Teleporting apps bring convenience to multi-device users with technology from Xigrom enabling people to easily teleport live apps from one device to another, to pick up exactly where they left off on the second device without interruption.
Business processes are getting a dose of German efficiency with the Australian launch of HORUS Business Modeler at CeBIT. The HORUS solution easily integrates into existing ERP technology.
CeBIT Australia 2 – 4 May, Sydney Olympic Park. Register for CeBIT Australia: http://www.cebit.com.au/register/