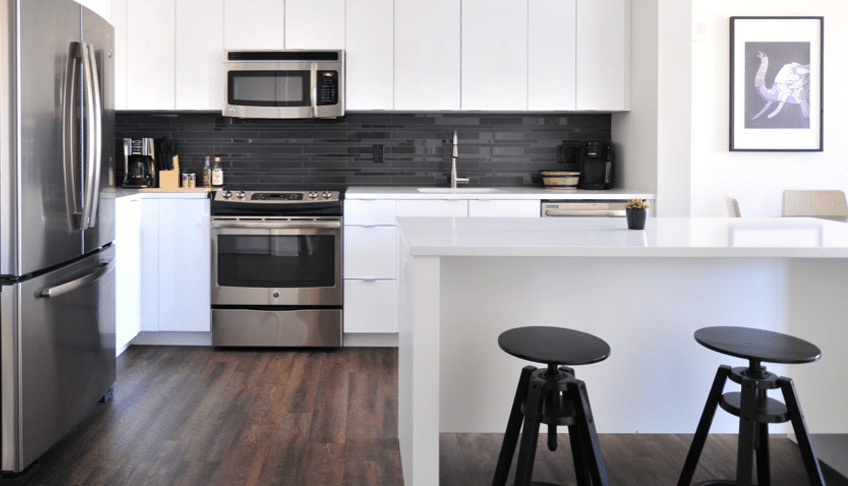 With laminate flooring fast becoming one of the most popular flooring types today, you're probably wondering what the benefits of laminate flooring are.
Of course, laminate flooring is incredibly affordable and offers homeowners the chance to get an elegant look for their flooring, without the cost of timber. However, there are a few other benefits of laminate flooring that make these durable and versatile sheets of plastic a winner for just about every home on the market.
Let's take a look below at a few of the key benefits of laminate flooring for your home and why you should certainly consider it.
Laminate Flooring and Durability
Off the top, laminate flooring is one of the most durable flooring types out there.
As laminate is essentially plastic sheeting, you're getting the durability and support from what's underneath these sheets, which if often concrete or a solid timber floor. That in mind, you're getting a floor that's covered with a hardened plastic cover that looks beautiful and won't dip, sag or crack over time.
On top of this, an aluminium oxide coating sits overtop these laminate sheets which means you're getting engineered protection from everything including stains, dents, fading and even scratches.
That in mind, laminate is going to look newer for a whole lot longer.
To end, laminate flooring isn't just an easy-to-install and cost-effective solution, it's also a flooring type that's going to withstand heavy foot traffic and even the damage sustained by pets and children.
The Low Cost of Laminate Flooring
One of the more popular benefits of laminate flooring is the low cost of the sheets.
As you'll already know, laminate is essentially an ultra-durable plastic, which means it can be manufactured incredibly quickly and affordably. That in mind, you're going to notice that laminate flooring could be priced at just a quarter of a timber floor, and sometimes even less than this.
Further good news comes from the fact that laminate is designed to last, which means you're investing in something affordable that won't simply wear away or degrade in time.
It's also good to note that laminate flooring manufacturers are getting increasingly better at creating faux floor looks, and brands like FloorVenue have mentioned that you can get your hands on some near-perfect-looking timber and tile looks without the high cost.
The Design of Laminate Flooring
As we mentioned above, laminate flooring does a fantastic job at mimicking the more expensive flooring types, and this is fantastic news for those looking to get a modern and elegant timber, tile, marble or even custom look for less.
You're able to rely on laminate printers that offer high-definition printing which will give you the chance to get just about anything printed atop your laminate and it will look hyper-realistic.
In most cases, hardwood, tile and marble can't be differentiated on laminate and the real thing at first glance, making laminate the perfect solution for those who need just a dash of elegance in a home.
Effortless Installation
When it comes to a new-build home, or a renovation, we're happy to say that laminate is close to being one of the most effortless materials to install.
As an entirely manufactured material, you're able to rely on simply tongue and groove systems and other clip-based attachment systems that allow you to connect all of the laminate sheets easily.
Whether you're hiring contractors for this, or doing it on your own, you'll quickly see just how easy and how fast you can put down laminate flooring in a living room, kitchen or bedroom.
Ultra-low Maintenance
To end our list of the key benefits of laminate flooring for your home, we'll highlight maintenance.
As we outlined, laminate is essentially a plastic, making it easy to clean. All you're going to need to do to keep your laminate flooring looking just like new is vacuuming and mopping or wiping it down.
The protective coating and durability layers stop scratching from occurring and will keep the printed textures and styles free from damage, which means all you'll need to do is keep the top layer free from dust or marks and you have a faux timber floor that looks the part for decades to come.