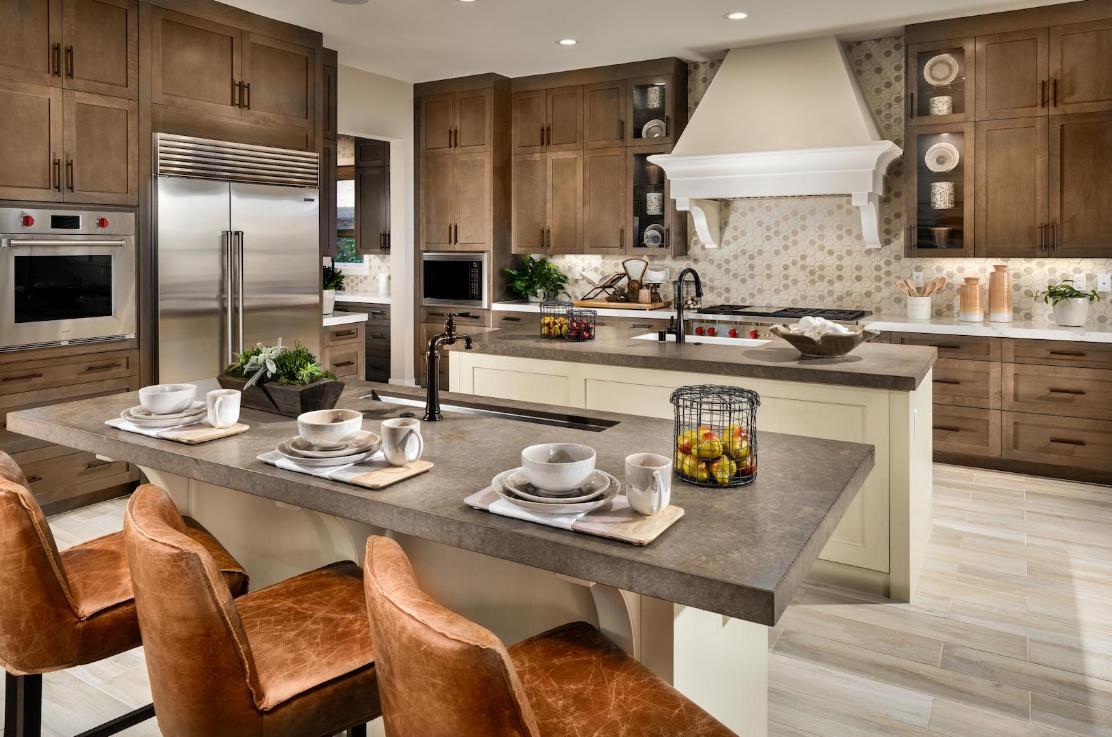 For many people the kitchen is the beating heart of their home. Nowadays a kitchen has become a place of gathering, where most of us take their meals, socialize and spend a lot of quality family time. And since it is the most important room of your house, it only comes natural that you wish to think ahead and go the extra mile when it comes to planning the perfect kitchen right off the blueprint phase.
It's a challenging task, requiring quite a bit of investment, time and effort, but it will all pay off in the end.The advantages of building your own custom kitchen is that you get a chance to create the cooking and dining area of your dreams.
Before you know it, you will be serving shrimp at your house warming party. Here are a few design tips to help you along your journey:


Always Consider Functionality
Usually when it comes to designing our dream home we tend to get lost into the "fun part" of design, downloading full catalogues of light fixtures and different types of portugese tiles.
But the first thing you need to do is take functionality into consideration. Ask yourself a few questions regarding your lifestyle: How much time do you plan to spend in the kitchen? Will it be used for cooking or for social gatherings as well? How big is your family? How much storage do you need?


It Starts With the Sink
There is an old expression about "throwing out everything but the kitchen sink". This goes to show just what an essential part of the household the sink really is. This is where you'll be washing the fruits and vegetables, fill the pots, rinse the pans or maybe just have a drink of water.
To decide on the size and shape of your future kitchen, you must first decide on the type of sink you need to have, then roughly construct the rest around it.
Places like Buildmat offer a wide variety of quality stainless sinks and accessories to choose from. So according to your needs you can decide on a single bowl or a double or you can contact them for a custom-made that will be as wide and deep as you see fit.


Do the Research
While you should definitely oversee the project, the groundwork will mostly be done by a contracting company. They will provide useful advice on state of the art kitchen design solutions, but it is important to show you have a general idea of what you are aiming for.
Do not rush to the first google result when it comes to the company. Ask around or read online reviews. You can and should even give a few phone calls and compare budgets. Remember that cheapest is almost always not the best.
Have a short list of companies drop by and discuss your ideas together. They will bring a valuable input on layout and logistics. And in the end, follow your instinct and go with the team you feel most comfortable with. With the right people the possibilities are endless and you can start working on your dream kitchen.


Wiring, Plumbing and Ventilation
Planning electrical circuits may not be as fun as selecting the faucets, but it is of course vital to your new kitchen. Whether you are remodeling an old house or building it from the ground up, you have to make sure all the technical stuff is in check.
For this, you will need to pay a visit to your city's building department and make sure your ideal version meets the standards of the local building code.
Make sure to check all the key elements required, such as the outlets above countertop areas (who knows what special appliances will be invented in the years to come), and dedicated 240-volt circuits that can handle a cooktop, an oven, a dishwasher, garbage disposal devices and a fridge.
Vent hoods are another element where design meets practicability. In many areas all kitchens are required by law to have a mechanical ventilation system equal to 1% of stove output and an equivalent amount of makeup air. Rely on your building crew to be up to date with other home safety regulations.


Design and Theme
Your kitchen should match the "feel" of the house, especially that of the closest rooms to it. A balance should be created when choosing materials such as cabinetry, countertops and appliances. Make sure they blend with the rest of the house and also look aesthetically pleasing.
The theme can evoke a recognizable architectural style or era such as western frontier, south colonial, greek or local rustic. Are you aiming for a modern, sleek look or a cozier traditional one? You will need to have this in mind when selecting your appliances, fixtures and decor.
Remember that a smaller kitchen could also benefit from more cached, built-in appliances to save some space.


Before Setting out to Buy
Make sure to go through the entire budget, then go through it again. Keep in mind that ambitious project budgets have a tendency to balloon. This is normal but must be managed at all times. But in the end you will see this as one of the best investments of your life.
As they say, "The Torch of love is in the kitchen." So make yours as bright and roomy as you wish!