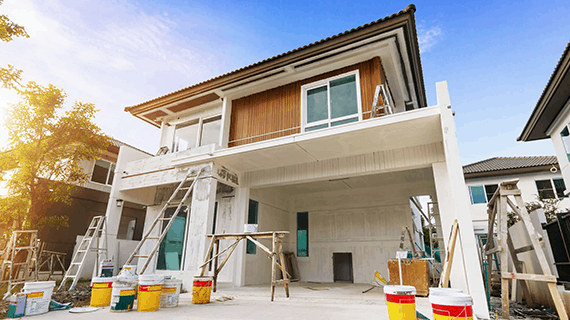 Picking the right color for your house exterior can be a little tricky if you do not have any prior experience in this regard. Light color if chosen to be painted in the wrong way can turn your house exterior into something flat and boring, while on the other hand, too much bold colours painted in the wrong segments of the house with no sense of contrast and hues can make the exterior look terrible. To save yourself from the pain of this, it is important you take help from reliable painting services. If you are looking for painting services Melbourne, it is important that you discuss with them with all important dos and dont's you need to consider for your house exterior.
To get a better idea of what you want and not want for your house exterior, we have come up with some beneficial points to consider:
Accentuate Your Home's Features
When you are considering picking paint color for the exterior of your house, you need to see that the color you go for accentuate the most standing out features of your home. It is one reason why you need to keep knowledge about some architectural sense related to residence as history has a lot to show you about the range of color that work well together. In addition to that, you need to consider that color if used in the right way can hide any flaws in your exterior, therefore aiding in enhancing the appeal and the market value of the property you own.
If you are on to painting a relatively older house exterior, you would likely want to use only the precise scheme of color. A way to utilize it is making a form of archeology that means you can simply take help from an expert to dig down and trim for analyzing them and creating a genuine color of your home. On the other hand, you can also take help from a color chart and choose shades that were popular at the time the building was built.
Have a Little Fun with The Past
Flying in the face of history can be a fun task for some. Rather than opting for only precise color, choose to add a fusion of modern color to add some drama. With the help of bright color on old detailed architecture, you can create exciting results, provided that the commission approves the design. Also, you need to see what the neighbors are doing. Sure standing out seems like a good idea, but looking too odd among your neighbors can draw a bit of unwanted attention.
Pay Attention to Your Environment
Also, you need to consider what is referred as acceptable in the scheme of color that you are going to select with the professional painters Melbourne. Have a good look at your surroundings and make sure that you match well with them. With all suburban homes around, make sure not to go for historical tones, and if you are seeing some trees around you, it is better that you follow the natural theme.
Learn from Nature
The scenery around your home is filled with color ideas. The types of trees dominant in the area can help you decide the mood of the earthy hues in your color palette for the exterior of your home. If there is beach around your home, fresh oceanic color with rusty details can add to the beauty of your home. Moreover, picking the pink shades can bring a lot of depth into the exterior of your house that will look wonderful at sunset times. Also, the type of flowers prevailing in your front yard can be of great help in selecting the details to add.
Roof Design
Select a scheme that goes in sync with the tones that are present on your home. It is better to select only those shades that go in tone with the natural material you are using in your home. Sometimes, it is better to not go with any solid tone and add just a subtle finish that will complement your home in the best way.
These are some of the tips that can help you pick the color scheme for your house exterior. For more information, it is better to get help from painting services Melbourne that have the right expertise and experience in the field.