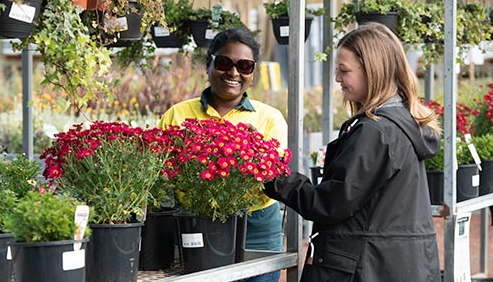 It's easy to become overwhelmed with choice when faced with the dizzying array of gardening and landscaping tools available at your local hardware or nursery, but sticking with just a few high-quality essentials will help you to save space, as well as get the most out of your investment.
1. Gloves
A pair of well-fitting and durable gardening gloves is absolutely essential before you can get started. These will keep your hands safe from insect bites, dirt and sharp objects. Look for a pair that is breathable and water resistant, and protects your wrists.
2. Hand trowel
For digging in the soil, transferring seedlings or shovelling potting mix, a hand trowel is one of the most oft-used tools around the garden. You'll want a high quality trowel, as they withstand a lot of stress and a cheap one will eventually snap in the neck area. Look for a firmly fitted blade that won't come loose over time and avoid trowels with painted handles, as paint is sometimes used to cover up poor-quality wood.
3. Pruning shears or secateurs
Pruning shears are great for trimming small woody stems up to about 20mm. Choose a pair of secateurs with a parrot-beaked blade, this will ensure a good, clean cut and help the stem to heal quickly with minimal bruising. The handle should be comfortable and ergonomic. Before you get started with your pruning, consider wheter you should get a professional tree maintenance service like treeserviceremoval.com to do the heavy work.

4. Rake
You'll need a rake to pick up leaves, grass clippings and other debris from your lawn, and to level mulch in the veggie garden. Look for a rake that has a wide head for efficiency. You can get steel, plastic and bamboo heads. While plastic is lightweight and flexible, the tines tend to snap frequently.
5. Garden hose with trigger nozzle
Your garden hose should be long enough to reach all parts of the yard, made of kink-resistant material and be UV resistant. Choose a hose with brass couplings rather than plastic. Add on a good-quality trigger nozzle with a selection of spray options, including a fine mist for seedlings.
6. Spade
A good quality spade is a solid investment, and this versatile tool will help you to cut through roots, turn soil, add compost or mulch to your garden bed, and dig holes to plant trees or shrubs. For a wooden handle, choose one with the grain running lengthways rather than horizontally, as the latter can mean that the handle is weak and vulnerable to snapping. You can also get fibreglass handles which are lighter and won't rot. Look for a sharp, stainless steel head.
7. Garden fork
A four-pronged garden fork with a D-shaped handle is a great tool for turning compost, lifting and dividing perennials and aerating soil. Like the spade, you want a good quality hardwood or fibreglass handle with a stainless steel head. Don't confuse the garden fork with a pitchfork, which is good for spreading mulch but doesn't have the strength to bite into compacted soil.
8. Garden hoe
A garden hoe with a long handle will save your back, easily allowing you to break up soil, pull up weeds and dig trenches for planting. As with other garden tools, look for a sharp, stainless steel head and comfortable, sturdy handle.
9. Long-handled garden shears
You'll need a pair to manage your hedges, shrubs and trees, as well as cut through stems thicker than 20mm. A pair with aluminium handles will be lighter than wooden handles. You can buy models with telescopic handles for extra reach.
10. Wheelbarrow
It's much easier to move large quantities of soil, mulch, compost or other materials around the garden with an easily manoeuvrable wheelbarrow. Look for a wheelbarrow that is sturdy but lightweight. Plastic wheelbarrows are lighter than steel, but steel barrows can be used to carry heavier loads.