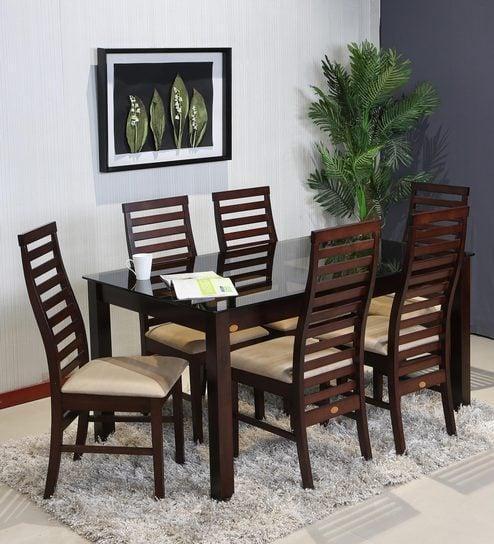 Your dining table is that much-loved place that brings your family together at mealtimes. You tend to spend priceless moments of gaiety and joy over carefully prepared recipes. Given the significance and utility of a dining table, you cannot afford to compromise on the make or features of this vital piece of furniture. Therefore, whether you're planning to buy your first ever dining table or looking for a replacement for your existing one, you need to consider some crucial points before moving forward with your purchase.
The concerning part about buying a dining table is that the market for the same is large and overwhelming. When you key in the search query "buy dining table and kitchen tables", you're likely to come up with thousands of results to leave you at your wit's end. Here, we have collated a few guidelines to help you pick the perfect dining table for your home.
Tips to Guide Your Dining Table Buy
In contemporary times, dining tables have attained an altogether new meaning and worth. As you begin your search, you're likely to find tables in various shapes and sizes to match your needs and budget. Kevin Sykes from Modern Digs Furniture says that dining tables are an essential piece of furniture that can serve many purposes in any home. From serving as a place for eating meals with loved ones to providing a solid platform for your work-from-home requirements, they do it all.

Buy a bigger dining table than you need
One of the most difficult things for interior designers and the salesperson at furniture stores is to convince people about the need of buying a slightly bigger dining table than what they 'feel' is necessary. In all. probability, you'd also say, "Why do we need a larger-sized dining table when we hardly sit at one?" or "There are just four in the family!" Well, along with the exact number of heads who'll be using the table regularly, you may want to account for guests, visiting family members, or small parties wherein you would require more table space to lay out the prepared dishes, crockery, and cutlery. However, it's equally important to restrict the size of the table to only as much as needed as empty chairs would make your dining room look empty despite planters, bar carts, sideboards, and other pieces of furniture.

Measurement and size
This brings us to the point regarding the measurement and size of the dining table that would fit into the room. Ascertain the space constraints in your living space before heading out to furniture stores. Don't fall for a dining table only because it is aesthetically appealing and catches your fancy. Despite being pretty, you may find that that the table barely fits into your dining room or does not leave enough place for chairs. In all practicality, you need to consider the walkway around the table along with its footprint. It's a good idea to provide for at least three feet of space on all sides of your newly purchased dining table unless you have decided to keep one side against the wall to take care of space restraints.
Measure the width and length of the room in which you intend to place the dining table. Then subtract a minimum of six feet from the measurements to attain a target dining table width and length. Remember, this measurement is adequate if you intend to put the table in the center of the room. In case you already have other furniture pieces, such as sideboards, trolley tables, a bar table, etc. then account for them before freezing upon the size of your dining table.

The shape of your next dining table
Going short on space? Rectangular or square dining tables require more floor space than round ones. Compact and sleek they tend to offer smaller footprints and leave enough space for maneuverability. Round tables prove to be a good idea for breakfast nooks, kitchen-dining spaces, as well as contemporary open-concept areas for living and eating.

Natural lighting in your apartment
It's common to find dining table buyers asking for a piece that would feel light and airy in their apartments. As most homes fail to have an abundance of space or natural light, the solution to this request lies in a glass table. Glass tends to lighten up any space and opens up the ambiance by reflecting light. Though glass tables need more upkeep and maintenance than their wood-topped counterparts, they are the best option when space and natural light constraints are a priority. When you choose to invest in a glass-topped dining table, prepare yourself for errant and frequent smudges. Simple swipes with a glass cleaner will help in cleaning the top easily and quickly. A glass table can be paired well with slightly bold chairs and can be enhanced with a simple centerpiece.

Metallics are a good choice
Modern dining tables made of silver, brass, iron, gold, and other metallic hues have a strong presence of their own. They tend to pair well with different kinds of décor, patterns, colors, and styles. Given this, you need not worry about your favorite wallpaper matching with copper dining table legs. Go ahead and use your creativity by mixing various metals. Try not to be too loud in your selection of different metals as it can mismatch with the rest of your interiors or make it look tacky or redundant.
Buying a Dining Table
A dining table is a lot more than just a piece of furniture to share a fulfilling meal with your family or friends. It's also the place where you gather to catch up, share stories, or work. As this is one of the most functional and useful pieces of furniture in your living space, you need to select it wisely. Determine your exact needs and availability of space before checking out the different sizes, styles, shapes, and materials available for grabs. Once done, you may look forward to preparing many more meals to serve on your new dining table.