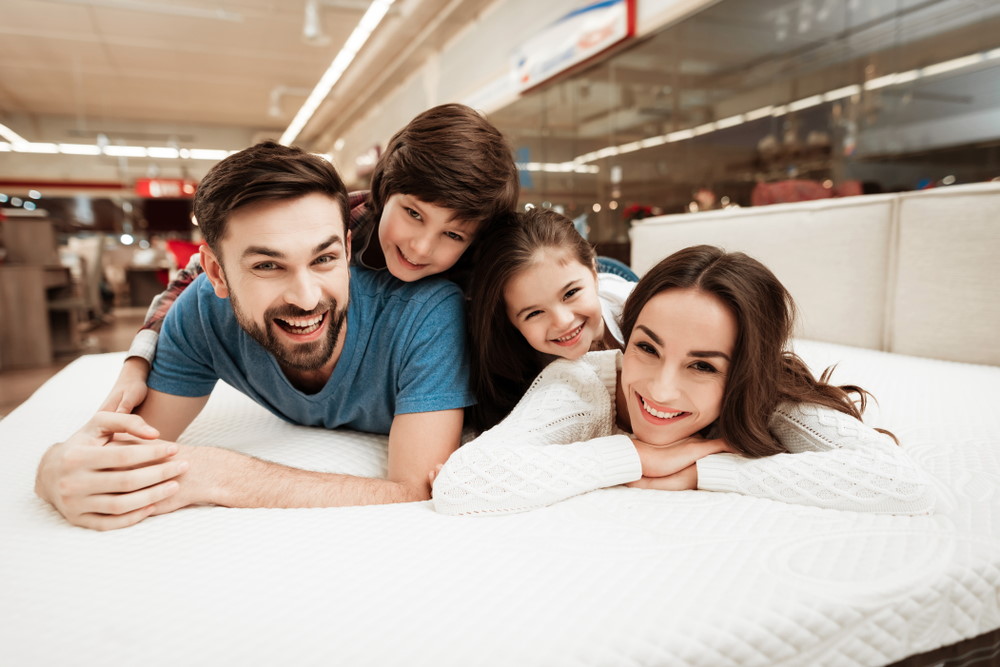 Sleeping is something that takes about a third of your lifetime. Thus, having a good night's sleep should be in anyone's priority. However, there are plenty of things to consider when it comes to getting a night of good quality sleep.
Luckily, there is one major factor that can essentially help you sleep better at night, and that factor would be a comfortable and high-quality mattress. Continue reading this article to know the essential components you should look for when buying the best mattress for your home:
1. Padding Comfort
A high-quality mattress will have additional padding to keep you comfortable throughout the night. Although a mattress with extra padding can be more expensive, the added costs will surely be justified by the additional comfort it can provide when you sleep.
The most popular types of cushion padding are cotton, polyester, and polyurethane foam. A layer of these paddings can significantly increase the comfort levels of your mattress. However, it's essential to note that the amount of padding in your mattress should also suit your sleeping position for a more comfortable sleep and body weight support. Here are some things to consider regarding mattress paddings:
If you usually sleep on your side, you should look for a mattress with extra layers of padding to support a narrower body weight distribution, and to avoid pressure points while you sleep.

If you like to sleep on your stomach, you should be able to benefit from firmer types of paddings.

If you mostly sleep on your back, you should look for medium-firm padding for even weight distribution.
2. Firmness
The firmness of a mattress is one of the essential components you should look at when choosing a rated top mattress in Australia. Finding the right firmness for your body type and sleeping position is important to ensure a good-quality sleep.
It is important to note that a good mattress will neither be too firm nor too soft. If a mattress is too soft, it will not provide adequate support to keep the spine aligned during sleep. This can cause your body to sag into the mattress, which can lead to body pains and aches.
On the other hand, if a mattress is too firm, it can cause hot spots in your body that could also result in body aches and pains. However, when you accidentally buy a mattress that is too firm, you can always buy a pillow top cover to soften the mattress. Depending on how firm you would like your mattress to be, this can be a great option to consider if you feel like it's too hard.
3. Temperature Regulation
In order to sleep comfortably, your mattress should have good temperature regulation. This is because body temperature plays an important role in ensuring a good night's sleep—especially during the hot summers of Australia.
Some mattresses have integrated cooling technology to help keep your body cool and dry while sleeping. One example of this is a poly foam mattress. This kind of memory foam is manufactured with temperature-sensitive material that provides a more breathable surface compared to other types of memory foam mattresses.
Other types of temperature-regulating mattresses are made to adapt to your body weight and heat. This enables the mattress to become softer and more comfortable as your body naturally heats its foam material.
4. Durability
Aside from being comfortable, another essential component to consider is the mattress' durability. It's great to have an exceptionally comfortable bed; however, you should also look at how long will the mattress stay that way.
Remember that buying a top-of-the-line product does not always mean that it will last long. Fortunately, you can always check the product if it's durable or not before buying. You can do this by lying down on the mattress and looking for hot spots or pressure points in your body. If you find out that it loses its apparent comfort, this can be a sign of a poorly made mattress.
5. Warranty
A good mattress can last up to 10 years or more. Nonetheless, having a manufacturer's warranty on your mattress keeps all future worries aside and allows you to sleep more comfortably, knowing that you have invested in a high-quality product.
Most mattresses in the Australian market will have a 5-year manufacturer's warranty while other brands may offer a 10-year limited warranty on their products. However, you should also be aware of manufacturers that offer too-good-to-be-true warranties, as most of these are only used to lure customers into buying their products.
If you're looking for a top rated mattress with a 10-year warranty in Australia, check out this product video to learn more:



6. Weight
Mattress weight varies greatly from the materials used in production and manufacturing. Nonetheless, the overall weight is also an essential factor to consider when buying your next mattress.
As you most likely will be changing your bed sheets on a regular basis, it would be in your best interest to look for a lightweight mattress. This will not only allow for simple bed sheet changes, but also makes it easier to move around.
Although some mattresses that have innersprings can sometimes be on the heavier side, it does not mean that you should not consider buying them. In any case, you should also weigh the pros and cons of having a heavier innerspring mattress over a lightweight one.
7. Height
Nowadays, most mattress brands manufacture their products to look thicker. This is because they want to give their customers the impression of a high-quality product. However, more is not always better. For example, if a thick mattress is combined with a standard bed foundation, your bed can end up being taller than you want it to be.
Keep in mind that unreasonably tall beds can be unsafe for someone with disabilities and older persons. Additionally, it can also be uncomfortable for shorter people to sleep in taller beds.
In case you choose a mattress with more than 9 inches in height, you can always buy a low-profile foundation to compensate for the additional height. However, you should also keep in mind that a shallow bed can also be quite uncomfortable. When choosing the right bed height, here are some factors to consider:
Chronic Pain - If you or your partner suffers from any condition that causes chronic pain, your bed should be at a height where it is easy to get in and out without causing more pain.

Bedroom Aesthetic - A standard bed height does not usually get higher than 25 inches. However, if your bedroom has high ceilings, it would also be best to have a high bed to make it look more balanced. In case you don't want a high bed, you can also make it look taller by adding a headboard or canopy.
8. User-Friendly
Apart from being comfortable, another critical factor to consider is the mattress' user-friendliness. This is especially true when your bed is going to be occupied by more than one person.
For example, when a couple sleeps on a low-quality mattress, one of them could be enjoying his or her sleep while the other struggles all night trying to look for a comfortable position.
To prevent such things from happening, you should look for a mattress that has excellent movement isolation to avoid hotspots when sleeping with a partner.
9. Value for Money
Lastly, you should never forget to consider your budget. Before making any purchasing decisions, it's essential to think about the value you are getting for your hard-earned money.
Generally, you will want to pay a higher price for a product that will last longer and will be more durable. It is also a good idea to buy from Australian brands with proven track records of producing durable and high-quality mattresses. In any case, you should look for a mattress that caters to all your needs and requirements while still being comfortable and within your budget range.
Making the Purchase
Purchasing a new mattress is going to be a major decision. This is why aside from everything listed above, here are some additional tips to consider before making that purchase:
Read Online Sales Policies - Since online mattress sales in Australia are becoming more common nowadays, customers usually have no opportunity to try the mattress before making the purchase. And if you, too, are considering buying online, you should first read and understand the seller's policy on returning products that are not satisfactory. You should know whether the buyer or the seller is required to pay the cost of returning the mattress.

Read the Fine Print - Most retailers make special offers to bait customers, one of which is a 90-day free trial. However, before you favor one retailer from the other, make sure to read and understand the details of the offer, as such offers are usually associated with unexpected fees.
Closing Thoughts
There are plenty of options to choose from when shopping for mattresses in Australia. Thus, it's essential to know what exactly are the qualities you should look for when buying one. Fortunately, the things listed above should be more than enough to help you get the best mattress for your needs.