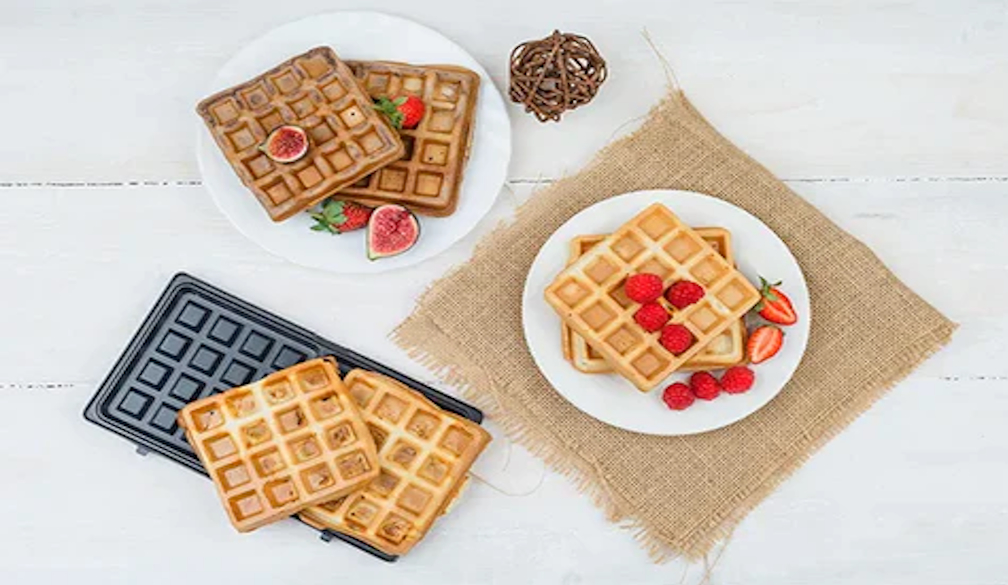 If you're on the lookout for a waffles recipe that can take your breakfast and brunch game to the next level, then you don't have to look any further. Our curated list of unique and delicious waffle recipes is all you need. From matcha waffles with black sesame syrup to bacon and cheddar waffles with maple syrup, there's something for every palate. 
Whether you're planning to host a brunch party or simply looking to elevate your breakfast routine, these waffle recipes are sure to impress. So, put on your apron and get ready to whip up some mouthwatering waffles. 
Recipe 1: Black Sesame Syrup and Matcha Waffles.
Consider preparing some black matcha sesame waffles for an unusual but tasty waffles recipe that will charm your brunch visitors. The luxurious flavor of black sesame makes it an exquisite accompaniment to matcha's rich flavors. Mix flour, matcha powder, sugar, baking powder, salt, egg yolks, milk, melted butter, and vanilla extract for waffles. Beat egg whites into it, folding them gently into the mixture. Cook in a waffle iron. For syrup, toast the black sesame. Mix it up with maple syrup and a touch of cornstarch to thicken. Cook and drizzle on waffles.
Recipe 2: Waffles Red Velvet with Cream Cheese Frosting 
Red velvet is a popular flavor for cakes and cupcakes, but have you ever tried it in waffle form? Red velvet waffles served with cream cheese frosting is an indulgent breakfast that can be used to add magic to your brunch. Combine some flour, cocoa powder, sugar, baking powder, salt, egg, a cup of buttermilk, butter, food coloring and a teaspoon of extracted vanilla. Cook using a waffle iron. The cream cheese frosting is made of butter, cream cheese, powdered sugar and vanilla extract. Place a scoop of cream cheese frosting on top of the waffles to end the day with a delicious, indulgent treat for the weekends.
Recipe 3: Churro Waffles with Cinnamon Sugar
The churro waffles recipe provides crunchiness but with an inner lightness that any waffles enthusiast should find a liking for. Mix flour and sugar and sprinkle it with a little bit of baking powder – and a spoonful of salt in the whisker and you've got this sweet delight. Combine the egg whites, milk, melted butter and vanilla extract, then incorporate them into the dry components. Preheat the waffle iron and add the batter on top. Then, sprinkle the mixture of sugar and cinnamon in a shallow bowl. Serve it hot and enjoy the combination of crunchiness, tenderness and softness.
Recipe 4: Maple Syrup with Bacon and Cheddar Waffles.
Elevate your brunch with a new twist – bacon and cheddar waffles. It will be ideal for people who prefer to have meat in their meals rather than sugar. These flavors combined will be a satisfying mix of smoky bacon, sharp cheddar cheese and sweet maple syrup. Whisk flour, sugar, baking powder, and salt to make these savory waffles. In another bowl, beat eggs, milk, melted butter, and vanilla extract and add this mixture gradually to the dry ingredients. Spread in the cooked bacon and shredded cheddar cheese batter on the heated waffle iron and cook it until ready. Lastly, top the waffles with maple syrup and enjoy.
Recipe 5: S'mores Waffles with Marshmallow Fluff and Chocolate Sauce
Revisit cherished memories with each bite of these "more" Waffles. Undoubtedly, this delightful waffle recipe will transport you to your favorite camping adventures. The ingredients comprise flour, sugar, baking powder, and salt. In a separate bowl, whisk together eggs, milk, melted butter, and vanilla; then blend this mixture into the dry ingredients. Pour the batter into a waffle iron to cook each waffle to perfection. Once cooked, adorn each waffle with a generous spread of marshmallow fluff, a drizzle of chocolate sauce, and a sprinkle of graham cracker crumble on top. Relish the sweet essence of treasured moments as you indulge in this deliciously flavored concoction.
With a dash of creativity, a sprinkle of love, and the right ingredients, your waffle brunch is bound to be a cherished event, leaving your guests with warm memories and satisfied palates. So, gather your waffle iron, don your chef's hat, and embark on a delicious journey that celebrates the joy of communal dining and the endless possibilities that waffles present.