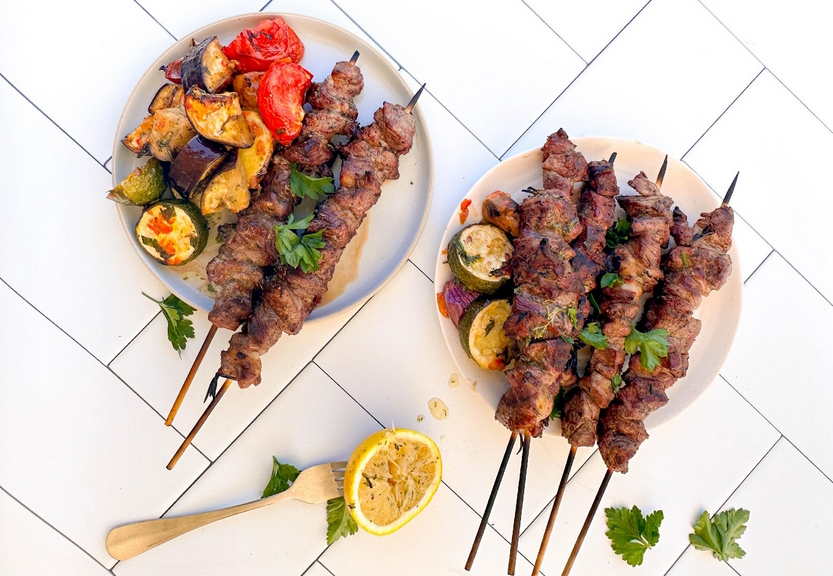 Ahead of Orthodox Easter, Greek-Australian best-selling author and content creator Leah Itsines has teamed up with Australian Lamb to share her grandparent's recipe for succulent BBQ Lamb Souvlaki with Briam (traditional Greek-style roasted vegetables).

This easy yet flavourful recipe uses garden-fresh ingredients to elevate classic lamb skewers,  perfect for any occasion; from Easter feasts, to family dinners or long lunches with friends. 
Leah Itsines' BBQ Lamb Souvlaki with Briam
Lamb:
Prep time: 15 minutes
Cooking time: 8 – 10 minutes (or to your liking)
Serves: 4 if 2 large skewers each
Vegetables:
Prep time: 15 minutes
Cooking time: 45 minutes – 1 hour
Serves: 6 – 8
Baked vegetables:
Serves: 6
1 zucchini, sliced into large rounds
3 potatoes, sliced into bite sized pieces
3-4 mushrooms, quartered 
1 red onion, quartered
2 garlic cloves, crushed 
2 tbsp fresh parsley, finely chopped
2 tomatoes, 1 quartered and 1 grated 
Salt & Pepper to taste
Olive oil, drizzle 
Directions: 
Pre-heat oven to 180 degrees celsius. 

To a large mixing bowl, add all vegetables and season with olive oil, garlic, salt, pepper, parsley and top with the grated tomato. Mix well to ensure everything is well coated. 

Pour onto a tray and bake in the oven for 1 hour or until vegetables are tender. If you need midway, give the vegetables a mix to ensure they cook evenly. 

Serve with lamb skewers.



Lamb Skewers: 
Makes: 8-10 Large Skewers 
2kg lamb shoulder, bone out 
1 large rosemary sprig 
Salt, Pepper, Dried Oregano
1 Lemon, juiced (but keep the half!)
Olive oil 
10 wooden skewers 
Directions: 
Soak skewers in water for as long as you can (this helps them not burn on the BBQ!)

Remove excess fat from the lamb shoulder, and slice into bite-sized pieces. This may take some

manoeuvring

, so take your time in getting the right pieces. 

Add to a bowl and season with fresh rosemary, salt, pepper and dried oregano. Season to your liking - lamb is a really flavourful meat and takes on whatever you give it, so don't be shy here! 

Begin to skewer the meat, adding however much you like per skewer. If you wanted to get a little more vegetables in, you can switch each piece of lamb, with a piece of a vegetable like capsicum or zucchini, and then repeat with the lamb so you have a more colourful skewer. 

Once all finished, cook on a BBQ of your choice (coal or gas) until lightly pink in the middle. 

Serve with the vegetables.