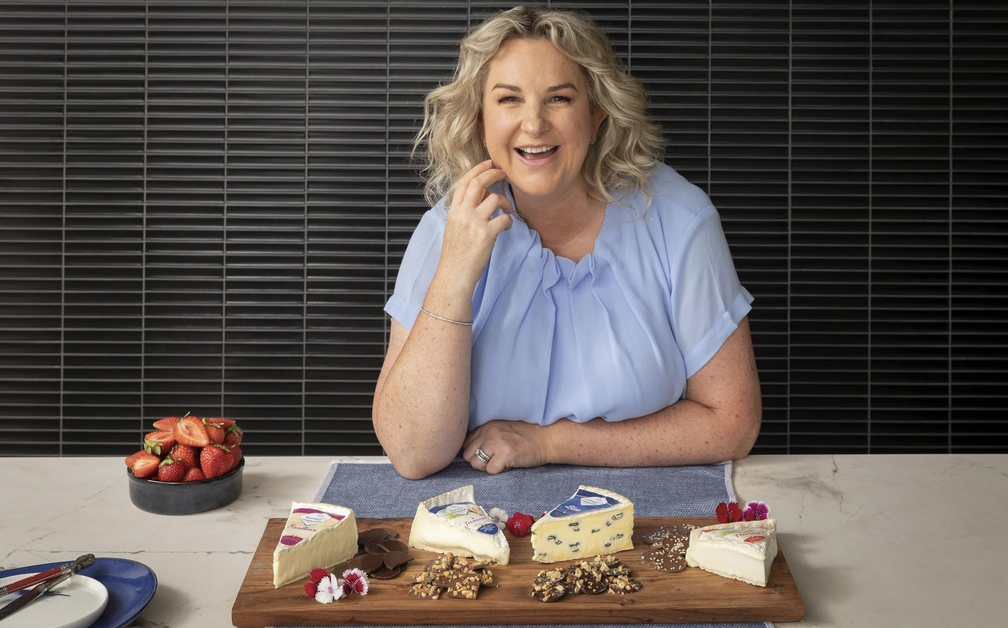 Wow your guests this Easter with a new taste sensation - cheese and chocolate. Chocolate expert Kirsten Tibballs (pictured) says you should ditch the crackers, and instead put a slice of cheese on top of a piece of delicious chocolate for "a match made in heaven". Here are her four favourite pairings, guranteed to impress.
French goat's milk cheese paired with milk chocolate and sesame seeds.  
The sweet tones of milk chocolate with hints of roasted sesame seeds harmonise beautifully with the slightly acidic nuances of my favourite  French goat's milk cheese, Fromager d'Affinois Florette. 
Match 60% cheese to 40% milk chocolate and sesame for the ultimate flavour experience that balances perfectly on the palate.  
The signature tangy flavour, and smooth, creamy texture of the cheese, paired with the crunch of sesame and chocolate, is hard to surpass.   
High intensity dark chocolate with velvety cheese 
The decadent, lush, creamy flavour of this French triple cream cheese is complemented by the intensity of cocoa in the Madagascar chocolate.  
The richness of the cheese and the subtle fruity notes of the chocolate create an exceptional union that will leave you wanting more.   
Fromager d'Affinois Excellence, with its buttery and velvety coat, paired with an intense dark chocolate, is the ultimate texture and flavour experience.  
Blue cheese paired with dark chocolate and walnuts.  
Replicate the classic combination of cheese and nuts by matching this blue-veined triple cream cheese with dark chocolate and scattered walnuts.  
A beautifully balanced mild and creamy blue cheese pairs with the robust flavours of walnuts and slightly sweet afternotes of chocolate.  
An incomparable combination of sharp and creamy Fromager d'Affinois Bleu with the subtle tannins from walnuts and hearty cocoa tones is a must-try.   
Milk chocolate and roasted almonds disc with creamy cheese. 
The creamy taste and ooze of this cheese is truly unmatched but to take it to the next level, try lathering it on a roasted almond milk chocolate disc.  
Melt-in-your-mouth chocolate meets melt-in-your-mouth cheese with the additional pop of texture from the roasted almonds.  
This combination creates the most luscious, creamy milk flavour paired with the perfect roasted notes.