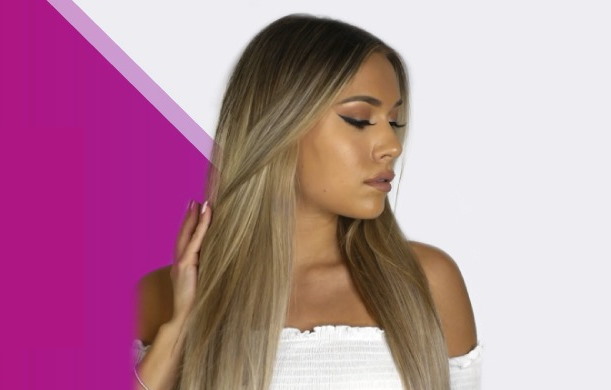 Do you want to add length and volume to your hair without breaking the bank? Then you should try Eden hair extensions, clip-in style!
With these temporary human hair extensions, you can achieve an instant glamorous look without the steep prices.
If you have any questions about buying the new clip in hair extensions from Eden, you'll get all the answers you need from the information below.
What are Eden Hair Extensions Made of?
Every Eden hair extension is made from 100% triple-wefted, high-quality Remy human hair. Each product comes from a single donor, which is why it lasts more than its competitors.
Unlike other human hair extensions, they are ethically sourced from Indian temples.
What are the Different Weights of Eden Hair Extensions?
There are three styles of hair extensions online, with each coming in 10 pieces of 1x8, 1x7, 2x6, 2x4, and 4x1 wefts.
Eden buyers can choose from any of the following:
120 grams
This fits women with long and fine human hair. While it may be the smallest of the range, it can effectively improve length and volume.
Since it can add dimension to your hair naturally, you'll love its subtle effect.
160 grams
This is best for most hair types in Australia, except for those with a very thick mane.
This range is specially made for women who have medium to average thickness hair beyond the collar bone.
220 grams
As one of the most popular hair extensions online, the 220-gram set is very versatile.
This range can work with all hair thicknesses and styles -- even those of shorter lengths, like the popular bob cut.
How Long Does My Hair Have to Be to Use Clip Ins?
For best results, your natural hair should be at least six inches long.
How Long Do Eden Hair Extensions Last?
With proper care and maintenance, you can get your Eden hair extensions to last for 6 to 12 months.
What Shade Should I Choose?
You can search the colour sample website and order as many as 11 items. With this, you can see which look is close to your blonde or brunette hair.
You can also contact the Eden website and send a picture of your blonde hair in natural lighting. We'll do the colour matching for you.
It's 99% accurate, and you're sure to receive the results within 24 hours of your inquiry.
How Do I Take Care of My Eden Hair Extensions?
As Eden hair extensions are made with human mane, you should take care of it like you would your tresses.
Here are the things you need to do to maintain its quality look:
It's best to comb your clip-ins with a soft bristle brush before washing them.

Wash your new clip-ins with lukewarm water and a moderate amount of sulphate-free shampoo. Make sure to rinse off the product thoroughly.

Remember to condition your hair extensions. Leave the sulphate-free product for 20 to 25 minutes before rinsing it off.

Air-dry the extensions after shampooing or conditioning them.

Clean your hair extension after 10-15 uses, or earlier if you use multiple hair products on them.
Can I Dye My Eden Hair Extensions?
Yes. Since Eden hair extensions are made from 100% high-quality human hair, they can be dyed to any hair colour you want.
Although this is the case, you have to keep the following information in mind before you start colour matching:
Use sulphate-free products every time.

Test the colour on one part of your hair extension before dyeing the entire set.

Deep condition your Eden hair extensions after colouring them since the dye can dry them out.
Can I Use Hot Products on My Clip Ins?
Yes. However, you should apply a heat protectant spray before you do so.
You can also rinse your Eden hair extensions first as this can help remove the vitamin-enriched coating on the strands.
My Eden Hair Extensions are Shedding! What Can I Do to Stop it?
New hair extensions typically shed after the first few uses.
If you feel like your product is shedding excessively, please send your information to the Eden Australia service team.
Do You Accept Afterpay?
Yes. With the buy now, pay later with Afterpay, you can spread your payments in four interest-free portions.
Can I Return Or Exchange My Hair Extensions?
Yes, of course!
The Eden website has a low-risk, 60-day return policy. If you don't love the product, you can return or exchange it within the 60-day time frame.
Note that returns will only be accepted if the security seal is intact and the hair extensions have not been tampered with, opened, or used.
Do You Deliver Hair Extensions Outside of Australia?
Yes. Eden offers free shipping worldwide, granted that your shopping cart costs at least $179.
There's also an option for next-day delivery if you need your new hair extensions right away.