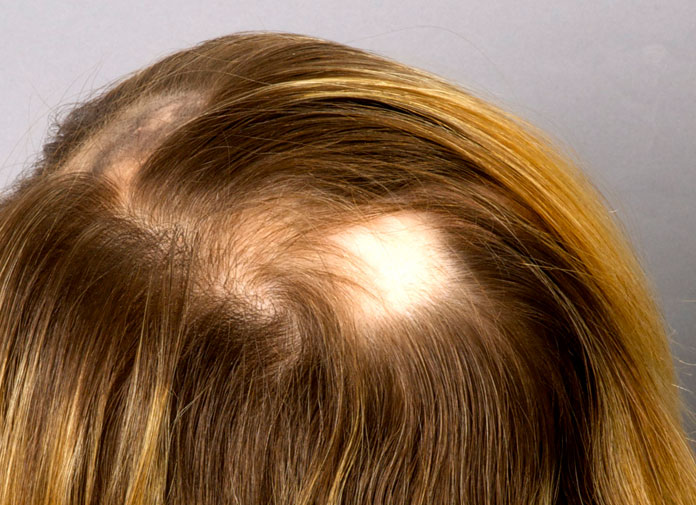 You may have heard of alopecia androgenetica before. This is the classic male pattern baldness and female hair pattern loss that occurs.
However, there are other forms of hair loss that occur. One of these is alopecia areata in which hair is lost in patches that are usually oval or round in shape. These patches can occur anywhere on the scalp.
This condition often starts before a person is 30 years old, and is commonly seen in both men and women.
The exact cause of alopecia areata is not known for certain, but researchers have found a link between people who have autoimmune disease and the occurrence of the condition, which suggests it could be an autoimmune disorder.
Autoimmune disorders are conditions in which a person's own immune system attacks the body. Other examples of such conditions include lupus and rheumatoid arthritis.
There may be a genetic influence as 20% of people who are diagnosed with alopecia areata have a family member who also had the condition.
The use of corticosteroid medications and anti-inflammatories may be helpful and some patients also benefit from PRP therapy. The PRP is a treatment that is offered at many hair clinics around the world.
Hair products such as minoxidil may be beneficial for some people and may help hair to regrow where it has been lost. Such products though, may not prevent more bald spots from developing if you have alopecia areata.
Hair transplant is also an option in some cases of alopecia areata. However, it does depend on a couple of factors. If hair has been lost for a year with no sign of regrowth, then the person may be a good candidate for the FUE hair transplantation procedure.
How to get the best hair transplant in Turkey
Turkey is a country which has many medical professionals and clinics, including clinics that offer cosmetic procedures for people with hair loss issues.
To get the best hair transplant you can get you should consult with a specialist and find out what options are available if you have alopecia areata. For example, you can contact specialists at the Vera Clinic.
There is no cure for alopecia areata although hair may grow back in some people, which is why it is best to wait a year to see if hair regrows.
Alopecia areata cannot be cured though and there is ongoing research into the condition. It is thought that the immune system attacks the hair follicles causing them to fall out.
Because the immune system is believed to be involved, corticosteroid shots may help to some extent as they reduce the immune response of the body.
The hair may eventually be lost from other regions of the body as well, including the eyebrows. Some people may lose so much head hair that they do go completely bald.
Alopecia areata also seems to affect the nails with many individuals having nails that have pits or dents in them. The nails may also become less shiny and may have white lines or in rare cases, may fall out completely.