Berndhard Jack Hermansson more popularly known as Jack Hermansson is a Sweden born Mixed Martial Artist, he competes in the middleweight division of the Ultimate Fighting Championship.
Jack was born on June 10, 1988 in Uddevalla, Sweden. He is also nicknamed The Joker, and has been active since 2010.
He has a Mixed Martial Art Record of (20-5).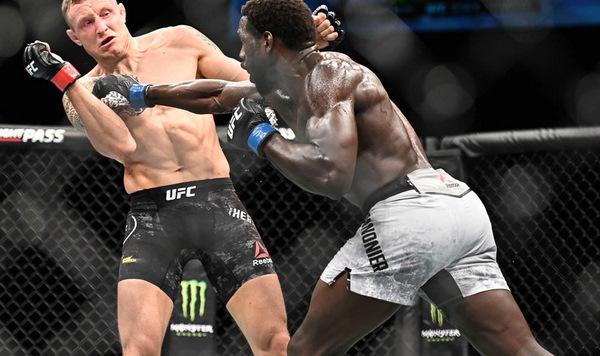 In latest UFC News during the UFC Fight Night 160, Jack hermansson lost to Cannonier, There were some seriously brutal fights that took place during the night, None more than the fight between Hermansson and Cannonier, Jack Hermansson is still recovering from the beating he took at the hands of Cannonier.
Jack had been doing really well till this point, and a couple of more wins would have seen him competing for the middleweight title
Before his fight against Cannonier, Jack was on a sort of win streak, having won his last four fights, He even won fights against top performers from the middleweight division, it seemed as if nothing could go wrong for the fighter, but then came UFC fight night 160 and with it came the first los for Hermansson and that to in a long time. If Cannonier had not won by TKO, Jack would be all set to get to the top of the mountain.
But alas that was not the case, as unfortunately for him all the previous victories, Although Jack had been competing with many a top fighters of the division, none of them possessed the brute strength and power that Cannonier had. And once Cannonier was successful in bringing Hermansson down to the ground, he showed just that, a display of raw power, a vicious beating is what some might call it.
However Jack Hermansson would not suffer a lot from this loss and he can still make his way to the top of the division and that too quickly, as after the fight he is likely to drop just a few places in the UFC Rankings, and he can get back to top UFC rankings by securing only a few positive UFC results. Jack Hermansson was at No.5 in the UFC middleweight  rankings before the fight, but he is all set to lose that place and go down a few steps.
Hermansson was visibly distraught after the fight, as he apologised to fans for not giving them a good fight and was really upset, Jack promised to come back stronger from the defeat and in a way it can be a good loss for the middleweight fighter as it would motivate him more, and make him ready to compete for the top prize in the division.
The middleweight division was once populated, with many fighters competing for the UFC championship, but as of recent times many fighters have left the division, including a few former champions, this is good news for Jack as it would make his path to the top a tad bit easier.
Hermansson has already shown everyone what he is capable of, and with this loss only motivating him more, Jack would be in line for a title shot in no time.