Written by

Teresa Wozniak, Senior Research Fellow and co-founder Catalyse Mentorship Program, Menzies School of Health Research
Mentoring is known to be a critical component of job satisfaction and career development. It is also widely recognised that career advancement in medicine, research and health more broadly remains in favour of men.
Traditional academic mentoring programs rely on a unidirectional mentor-mentee relationship: a senior academic mentors a junior (female) academic. This model has been shown to increase mentees' personal achievement, career progress and satisfaction with work environment.
While these are important achievements, Simone Dennis and Alison Behie argue that "by replicating action of the mentors, junior women are merely trained how to navigate a system that favours men". Traditional mentoring programs teach women how to work within, rather than change, a system biased against them. This perpetuates patriarchal structures.
Read more: Why mentoring for women risks propping up patriarchal structures instead of changing them
We have established a mentoring program for women scientists that focuses on diversifying and changing the education sector. This program helps equip them to challenge systemic values and culture.
What's different about this model?
The Catalyse Mentorship Program in regional and rural Australia follows a dual-mentorship model. This means each female mentee is matched with an academic mentor and a corporate-sector mentor.
Our research found the Catalyse academic mentors provided technical university/ research pathways advice. They advised on explicit and implicit academic growth, such as formal university progression, the types of journals to publish in and how to distinguish one's specific work.
The corporate mentors, on the other hand, provided advice on strategy, leadership and interpersonal skills. Advice included "how to generate consensus within a team and with external stakeholders", "how to have difficult conversations", and "how to build and express your personal brand".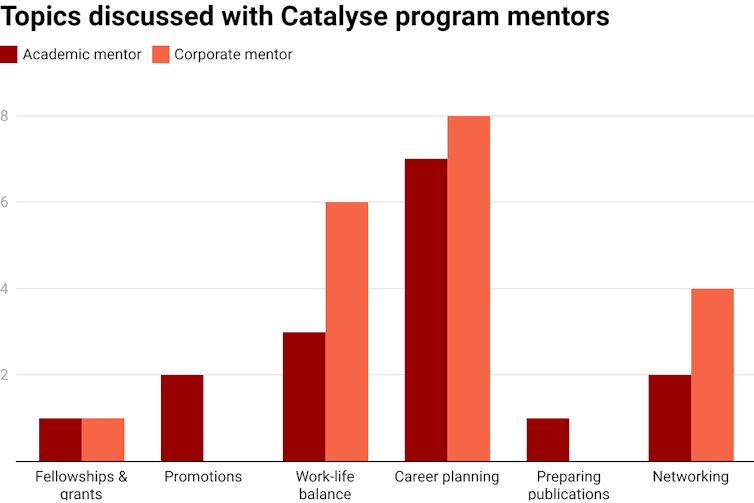 Authors: Teresa Wozniak, Senior Research Fellow and co-founder Catalyse Mentorship Program, Menzies School of Health Research
Read more https://theconversation.com/heres-an-approach-to-mentoring-that-can-help-close-the-leadership-gender-gap-162515