Written by

Matthew Mclaughlin, PhD Candidate, School of Medicine and Public Health, University of Newcastle
Five Australian states and territories are trialling or planning 30km/h speed limits and zones. However, some people question if 30km/h speed limits are actually urgent and necessary, or are instead a so-called "nanny state" policy or revenue-raising activity.
Low-speed streets are about much more than road safety and increasing fine revenue. By building safer streets, governments and cities around the world are creating more liveable cities. The benefits include low crime levels, more physically active citizens, greater social connectedness, increased spending in local businesses and less pollution.
Read more: Getting people more active is key to better health: here are 8 areas for investment
Research shows 30km/h speed limits on local residential streets could reduce the Australian road death toll by 13%. The economic benefit would be about A$3.5 billion every year.
Learning from other countries, it will be important to run public education campaigns to inform communities and opinion leaders. Another key to success is finding a strong political champion of lower speeds in residential streets.
Leadership is needed to counter myths about 30km/h speed limits that are misinforming public and political opinion. As part of the Streets for Life campaign for Global Road Safety Week, the United Nations has busted international myths surrounding 30km/h. In support of domestic demands for 30km/h speed limits, in this article we bust five common myths about 30km/h speed limits in Australia.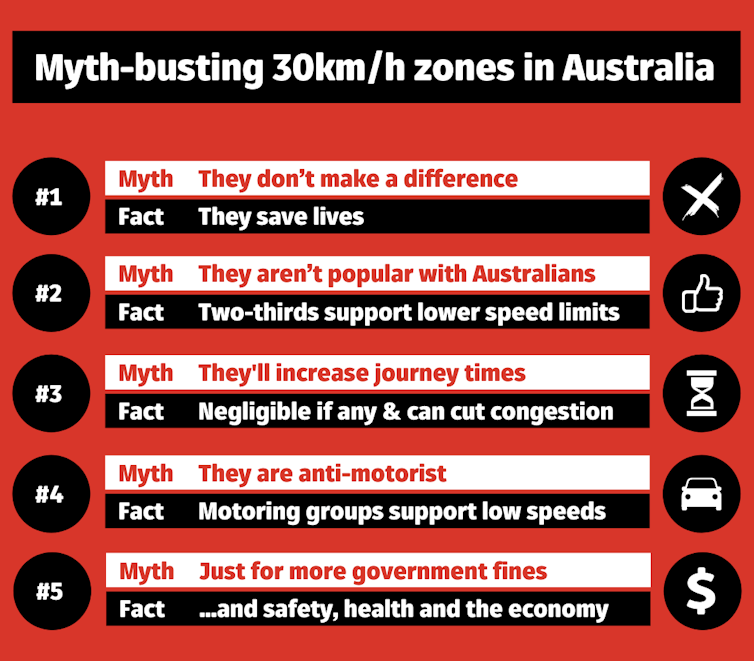 Authors: Matthew Mclaughlin, PhD Candidate, School of Medicine and Public Health, University of Newcastle
Read more https://theconversation.com/busted-5-myths-about-30km-h-speed-limits-in-australia-160547