Written by

Ben Phillips, Associate Professor, Centre for Social Research and Methods, Director, Centre for Economic Policy Research (CEPR), Australian National University
New research on disadvantage in Australia has found the gap between rich and poor is very wide in Sydney, while much of Queensland struggles with educational disadvantage and regional NSW and Victoria are both more disadvantaged when it comes to health.
Previous research on poverty has placed a heavy emphasis on income and economic outcomes at a given point in time. But disadvantage often goes beyond just economic factors. It's also necessary to analyse the educational, health and social inequities in society to get a more accurate understanding of disadvantage.
At the core of our new research, published in our Mapping the Potential report, is the idea that disadvantage in Australia is more varied and complex than many people may think.
How we conducted our research
This research, conducted by the ANU Centre for Social Research and Methods and commissioned by Catholic Social Services Australia, expands on the socioeconomic indexes produced by the Australian Bureau of Statistics by adding more detailed variables across health, education, social and economic domains.
We also incorporated a "persistence" element to disadvantage – in that, disadvantage isn't tied to a singular point in time, but persists for a longer period.
In our research, disadvantage was data-driven. And to quantify disadvantage, we chose variables that were generally considered relevant for each area. For economic disadvantage, for instance, we looked at low incomes, low-skilled jobs and unemployment. Areas with a large share of people with these characteristics tended to be more disadvantaged.
Health disadvantage was based on various chronic health conditions, such as diabetes, heart and circulatory conditions, and obesity.
Educational disadvantage focused on levels of educational attainment and child educational disadvantage - both cognitive and physical development. We used data from the Australian Educational Development Census to gauge this.
Social disadvantage was less clearly defined. We focused on variables that contribute to social capital, or the interpersonal networks that help a society function effectively. Regions with social disadvantage, for example, tended to have low rates of volunteering, internet connection and social cohesion.
Geographically, we analysed these variables at the SA2 level (areas comprised roughly of suburbs and towns) across Australia. We then aggregated the results to the federal electorate level to avoid singling out and possibly stigmatising individual suburbs.
For comparison purposes, each index was standardised to an average score of 1,000 across all SA2s. Nearly all SA2s (95%) had a score between 800 (high disadvantaged) and 1,200 (low disadvantage).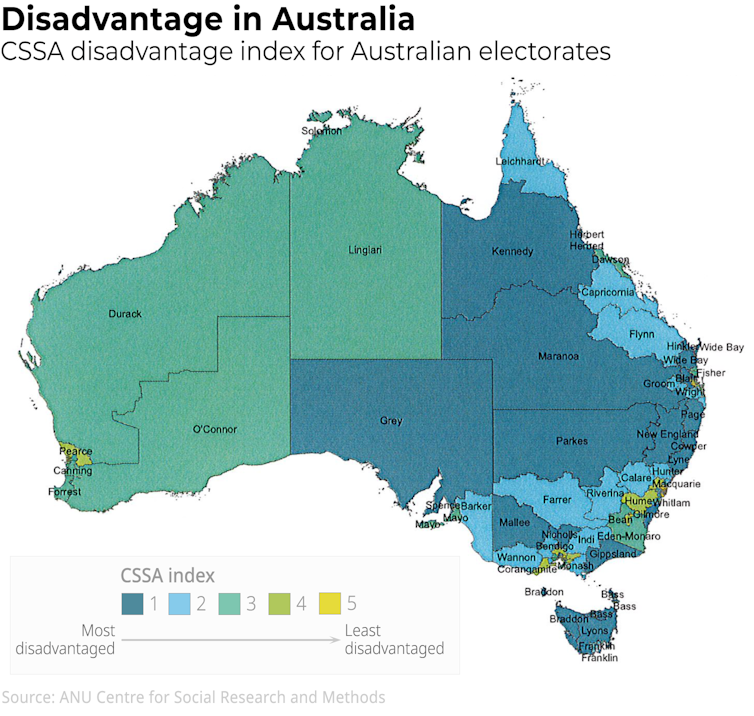 Authors: Ben Phillips, Associate Professor, Centre for Social Research and Methods, Director, Centre for Economic Policy Research (CEPR), Australian National University
Read more https://theconversation.com/where-are-the-most-disadvantaged-parts-of-australia-new-research-shows-its-not-just-income-that-matters-132428